Just after a week ago we covered the DSLRPros 3-axis Smartphone Stabilizer, and today we have another relatively cheap DIY solution for your smartphone or GoPro camera. You can use this rig not only for the new iPhone 6 but also for some bigger in size models such as iPhone 6 Plus or the Galaxy Note 3, for instance.
The video tutorial for building that super efficient ultra minimal DIY rig is produced by the Australian-based filmmaker Nate "Blunty"  Burr.
As we can see building such rig is a really simple and straightforward process. First and foremost, you will need a grip handle which is the base of your rig. It is good to have a 1/4 20 inch socket on the bottom of the grip. This is extremely beneficial when you want to attach the rig to a monopod or a tripod, for instance, or use any other accessory.
Also, you will need a Magic Arm, which is another popular and trusted piece of gear. You can use the Magic Arm to attach an additional monitor, light or mic to your DIY rig. Further, to attach an iPhone or a GoPro camera, Blunty suggests using the "Capta" Phone Mount which is a sturdy and adjustable mount system dedicated to smartphones. You can flawlessly fit it to the size of almost every device in this segment on the market today. And this is everything you will need.
Furthermore, if you prefer to buy a ready-made rig, there are some other affordable smartphone rigs you can use such as Beastgrip.
Beastgrip is universal and adjustable lens adapter and rig system for most smartphones. It allows attaching a broad range of standard conversion lenses, filters, photo and video accessories and gear. It also adds stability and comfort for hand-held shots.
Beastgrip Features:
Universal and adjustable, works with most phones
Provides with comfortable grip for more stable hand-held shots
Simple and convenient in use, works with or without protective phone case
Fast and easy setup, mount and remove your phone in a matter of seconds
Allows to attach any conversion lenses and filters commonly used with camcorders and DSLR cameras
Can be used as a surface mount  in both vertical and horizontal positions
Standard cold shoe mount for mounting additional accessories such as LED light, microphone, and etc…
Five standard ¼"-20 threaded mounts allows to attach it to supportive photo/ video gear such as a tripod, a stabilizer, a slider, etc…
Easy access to a phone buttons and ports with most phone models
Handcrafted in the USA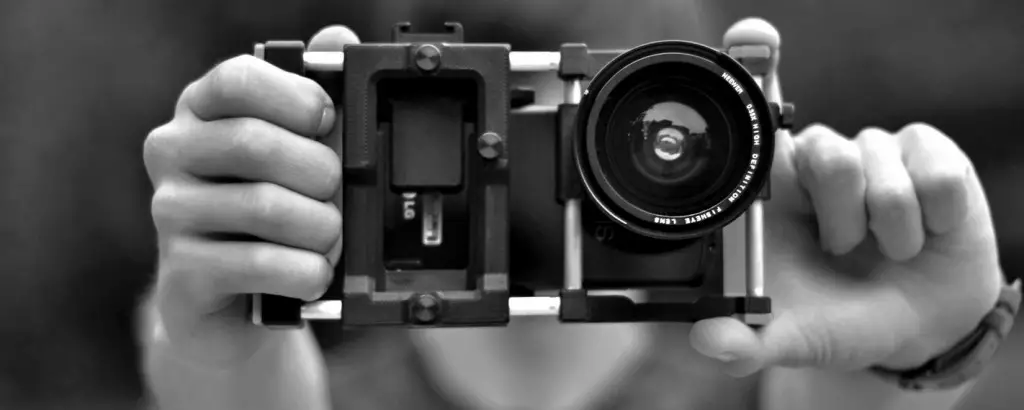 Almost any smartphone can be mounted on the Beastgrip. The rig features two adjustable clamps. The lower clamp has two mounting positions for more convenient and precise adjustment of different phone sizes. The lens mount is adjustable and can be aligned to the position of the camera on your phone as well.
Whether you decide to build your own rig or buy one, currently there are plenty of other available options on the market you can use in order to achieve more steady and professional results while shooting with your smartphone.
Claim your copy of DAVINCI RESOLVE - SIMPLIFIED COURSE with 50% off! Get Instant Access!