There's plenty of cages and rigs on the market for the latest generation of 4K and HD digital cameras such as the GH4, A7s, Canon C100/C300 and the 4K Blackmagic Production Camera. However, due to the different sizes and form factors of the multitude of cameras these days it can be difficult to use one cage for a few different cameras.
Some manufacturers make cages tailored specifically for the precise shape of certain cameras, such as the Movcam A7s cage, for example. Some shooters prefer to do their own DIY rigs, like the one here. The Canon EOS C100 and C300, due to their inherent design, often require taller cages. We also covered the complete beast of a camera system for the Canon C500 and A7s from Cinoflex.
However, New York based manufacturer MYT Works, have a really neat adjustable cage, which will accommodate cameras of different shapes and sizes. Staying true to their "Born out of Frustration" motto and their "for filmmakers, by filmmakers" ethos, MYT Works have come with a very intuitive and lightweight design for their adjustable Satin Cage.
The MYT Works cage is far more intuitive than established designs, which require the cage to be secured to the tripod or slider head via some sort of a quick-release mechanism or similar. However, the Satin cage uses a "latch-free" mode, by incorporating a cradle, which allows the camera operator to freely grab the camera cage, go into hand-held mode and then simply slide the cage back into the cradle. To see how this is achieved, check out the video below.
The MYT Works Satin Cage Features:
Universal cage with height adjustability to accept cameras from DSLR to BMPC/C300
Rosette-based adjustable wooden handle improves ergonomic control
Height adjustable 15mm cheese plates on top and bottom of the cage
Slit to accommodate both 3/8″ and 1/4-20″ camera bases
Machined hand grips on the vertical axes
Rod mounting options available on top, bottom, and above the machined hand-grips
Detachable upper horizontal axis allows operators to use their camera handle
Top plate peppered with 1/4-20″ and 3/8″ holes to accept a variety of accessories
Machined our of high-grade aluminium, the Satin Cage from MYT Works has been designed to work seamlessly with their Satin fluid-free camera head system, or it can be used independently.

The Satin Adjustable Pan-tilt Head is designed as an "ultra-light, heavy load capacity, fluid-free nodal head with a removable cage design". The fluid head is also height adjustable, with infinite dampening capability, has true free-mode motion, and is also maintenance free. The maximum payload it will support is 25 lbs, which is more than enough for DSLR's and BlackMagic Design cameras up to a RED Epic.
The Satin nodal camera head features a "unique fluid-free design, which eliminates the variations in oil viscosity caused by ambient temperature changes in traditional fluid heads".  Unlike traditional fluid heads, in which the oil can get heavy and slow in cold temperatures, thus affecting the quality of motion and preventing the camera operator from achieving true fluid movement with the head, the MYT Works Satin head avoids these problems by incorporating a fluid-less design.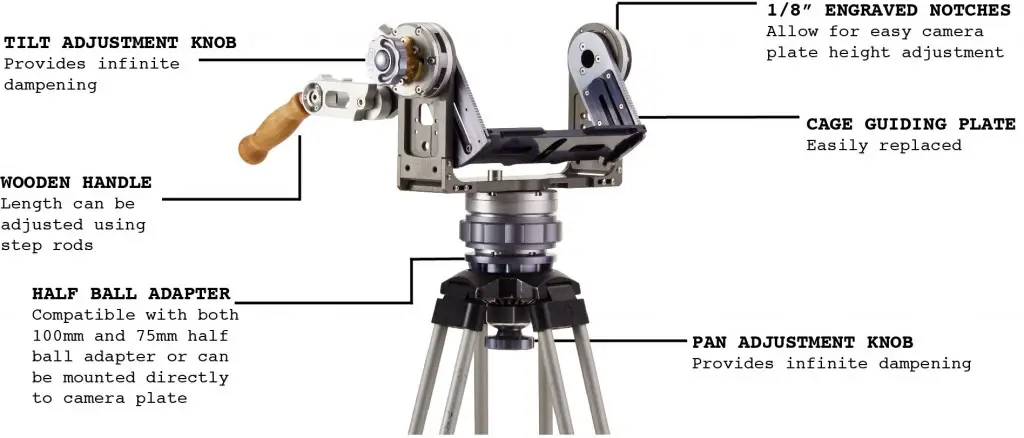 The Satin head is also fully mechanical and uses industrial-grade slewing bearings on the pan and tilt axes. These industrial strength bearings can last a very long time and assure smooth operation. In addition, thanks to the fluid-free design, operators "do not need to compensate for the lethargy of the oil, which is particularly important during the beginning and ending of your move, with no backlash."
MYT Works are also known for making very high-quality sliders and dolly systems, and to learn more on these head over to their website in the link below.
[via MYT Works]
Claim your copy of DAVINCI RESOLVE - SIMPLIFIED COURSE with 50% off! Get Instant Access!