Earlier today Canon announced the successor to their entry-level C100 EOS camera – the C100 Mark II.The Japanese manufacturer still continues to follow the unintelligible conservative marketing policy by delivering almost the same product with some minor improvements and a few tweaks here and there. Recently, we've already experienced this with Canon 7D Mark II; now we see the same with their professional EOS line as well. It's a shame that in 2014 a newly released professional camera still lacks some of the highly demanded key features already embraced by other companies as a standard long time ago – 4K, standard broadcast codec, better color subsampling (at least 8bit 422 on board), etc. But if you want that, you need to spring for the C300.
Yet, there are a few minor ergonomic improvements, better EVF and LCD screen, Build-in Log Look-Up Table and the ability to shoot 1080p at 60fps. According to Canon the new DIGIC DV4 image processor separates the RGB output from the camera's (same as the C100 Mark I) Super 35mm 8.3 Megapixel CMOS imager into three individual 8 megapixel signals (as opposed to 2MB in the EOS C100) for noticeably improved image quality. Uncompressed 8-bit 4:2:2 video output (with time code data and 2:3 pull-down markers superimposed) can be output via HDMI to an external recorder as well. The addition of wireless file-transfer capabilities could be beneficial in certain shooting situations, however I doubt it will be more efficient than conventional offloading of media.
Here is a brief highlights summary of the Canon EOS C100 Mark II features:
Super 35mm format 8.3 MP CMOS sensor and DIGIC 4 Image Processor
Dual Pixel CMOS Autofocus and Face Detection AF
Improved and re-designed OLED monitor and Colour Viewfinder
ISO range of 320 – 102,400
28 Mbps (MAX) ACVHD MPEG-4 H.264 recording. MP4 option at up to 35Mbps
Stereo microphones built-in to detachable handle, XLR connectors included on the handle and built-in microphone on camera body
Wide Dynamic Range (Wide DR) Gamma setting
2 x SD memory card slots with relay record or simultaneous record options
Improved wireless capability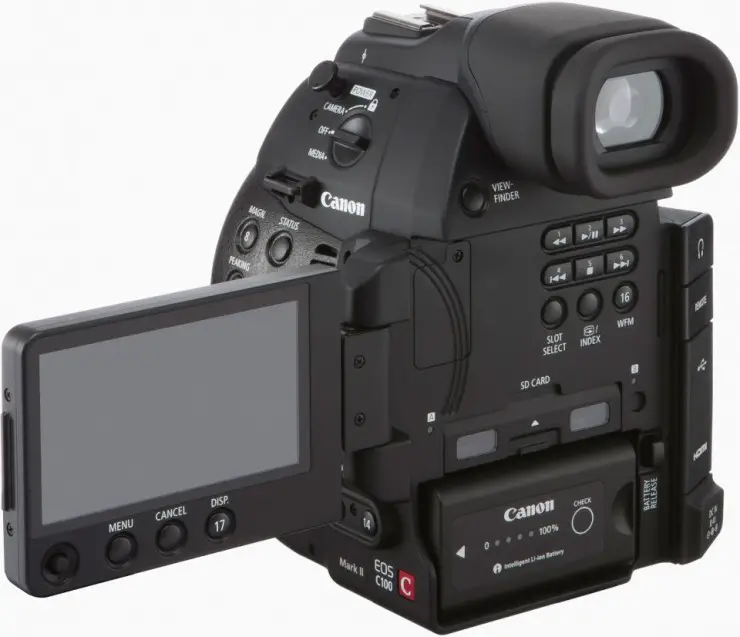 I'm pretty sure that no one expected to see 4K or a better codec in the new C100 as it is billed as an entry-level EOS line camera, but at about $5,499 it's a bit hard to justify the marginal improvements. Probably we would see it in the C300 Mark II? Who knows.
There is one thing for sure, though. Canon continues to sell the outdated technology in their current professional camera lines as long as they consider it profitable and successful. However, with the strong competition on the camera market today I doubt this marketing policy would last long.
The Canon EOS C100 Mark II is scheduled to be available at the end of December 2014 (more likely January 2015) for about £3,569 ex. VAT in the UK.
Claim your copy of DAVINCI RESOLVE - SIMPLIFIED COURSE with 50% off! Get Instant Access!