Lens choice today is not as easy as it used to be in the film days. Back there wasn't much of a choice when you could choose between shooting 35mm or the much smaller 16mm gauge, which unlike the prestigious and Hollywood staple 35mm, was catering to more budget oriented and independent productions.
The gauges/sizes of the film frame were pretty much standard and professional cine lenses were made specifically for either of the two standards, so DP's knew what specific focal lengths would look like when they wanted to get a specific wide angle shot for example.
Sure, just like in the old days, the price/lens quality ration is still a factor when considering a lens. But unlike filmmakers in the time of celluloid, when they'd rent out all the gear, shooters today could actually buy solid lenses for your own camera without mortgaging their house.
However, more often than not,  If you are using a full-frame camera like the Canon 5D Mark III or a Sony A7s, then you know what a 18mm or a 21mm would get you if you come from a stills background. But if you put that lens on a smaller sensor camera like the Micro Four Thirds sized Panasonic GH4, your field of view is much narrower compared to full frame.
Getting a good wide angle shot on a Blackmagic Pocket Cinema camera or GH4 can be a struggle sometimes due to the weird size of the Micro 4/3 sensor, which sits in a "no man's land" between a Super 16mm gauge and APS-C (and the very similar Super 35mm frame size), thus making lens choice for getting those sweet wide angle shots a bit more difficult. Back in this post you can see some recommended lenses we picked for the GH4.

There is some solid super-wide angle and wide angle lenses out there such as the Tokina 11-16mm f/2.8, which I love and have been using it since my Canon 7D days and have used it on almost every music video and corporate job I've shot. When I moved onto the Blackmagic Pocket Cinema Camera and the BMCC 2.5K, those wide angle shots weren't that wide anymore.
There are other decent wide angle zooms from Canon, Nikon, and Sigma, but when it comes to decent primes that won't cost you more than your camera the choice is not that diverse.
SLR Magic have been making some excellent wide-angle prime lenses for those of you shooting with a GH4, BMPCC, or a BMCC and in need of a high-quality prime.
Recently they released their latest SLR Magic 10mm T2.1 Hyperprime Cine MFT lens, which will give you a 20mm FOV in 35mm full frame equivalent, which means a very decent wide angle, making it a really nice wide angle option for your GH4 or BMCC/BMPCC.
The best thing about this lens is that it comes in a native Micro Four Thirds mount and is fast at T2.1, saving you some money on a Speed Booster. It also features a geared ring for follow-focus use as well as a de-clicked & geared aperture ring allowing for a smooth transition between T stops.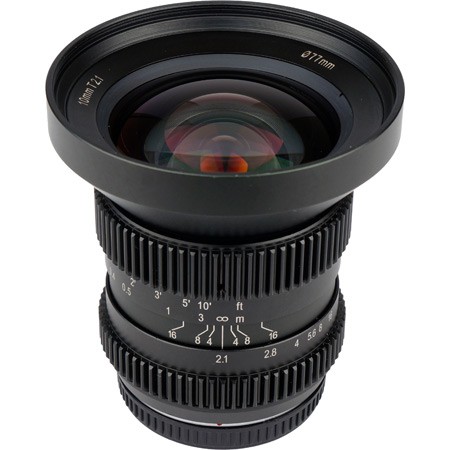 Of course having an optical focal length reducer like the Metabones Speed Booster is great if you want to use Canon or Nikon lenses on your GH4, but if want to build yourself a MFT mount lens kit, the SLR Magic 10mm T2.1 is the place to start.
Although do keep in mind the sensor in the BMCC is smaller than the MFT sensor in the GH4, so expect a 2.3x crop roughly and about a 3x crop on the BMPCC compared to Full frame. Of course, the best way to show off a lens is with some amazing footage.
The cinematic lens test below by Benjamin Beleau is really a thing to behold, both showing his skills as a cinematographer, and also the unbelievably good combination between the Blackmagic 2.5K Raw and SLR Magic 10mm T2.1. See for yourselves below. Make sure you watch it in full screen mode.
Most of the footage was shot along the PCH and at the Santa Monica Pier. Shot on the Blackmagic 2.5K in raw. Graded in DaVinci Resolve 11.1 and edited in Premiere with a tiny bit of After Effects work. Thanks for reading.
You can read up on Benjamin's full review of the lens on his website here.
The SLR Magic 10mm T2.1 Hyperprime MFT lens is available to pre-order from B&H at $799, or in a kit with a 77mm Variable ND filter for $899.
Claim your copy of DAVINCI RESOLVE 16 - SIMPLIFIED COURSE with 50% off! Get Instant Access!