I've been digging around for a while for a decent Thunderbolt enabled portable editing solution. Most of them are either HDD based, or too heavy or bulky to put in a carry-on luggage. I have a couple of portable Thunderbolt/USB 3.0 Lacie SSD's, which I use as media drives to edit from on my Thunderbolt Macbook Pro when I am travelling overseas.
Since my Macbook Pro 2011 has Thunderbolt, but not USB 3.0, I have very limited options when it comes to something that ticks all three boxes: a Thunderbolt port, Bus powered & portable, and Solid State Disk based. I was digging around online, and I found this little drive – Akitio Palm RAID SSD with Thunderbolt! It ticks all the right boxes.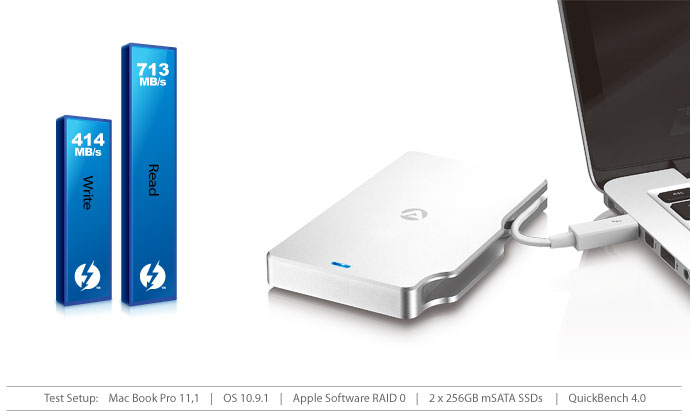 The manufacturer bill it as the "fastest, smallest and highest capacity bus powered Thunderbolt™ device in the world", which is quite a bold claim, but as I haven't seen any other drives that match their spec, why not.
With its tethered Thunderbolt cable and the ability to run on bus power alone, this drive is designed specifically for speed and portability.

And that's the key to portability right there – bus powered RAID drive – small enough to put in my ThinkTank carry-on rolling camera bag and hit the road. I have some editing to do on my feature film (it never ends…) next month when I travel to Eastern Europe for some pick-ups and I may pick up this drive. I wanted to see some reviews, but couldn't find any, so if any of you guys have used this drive – do let me know in the comments your thoughts.
Features
Thunderbolt for lighting fast transfer speeds of up to 10Gbps
2 x 256 GB mSATA SSDs that can be combined in RAID 0 for speed
512 GB total capacity
Reads up to 713 MB/s / Writes up to 414 MB/s
Tethered Thunderbolt cable and cable holder
Heat sink for passive cooling
Durable, compact and portable
Fan-less and noiseless
PC and Mac compatible
Bus powered
Benchmark Test
This test was done with Disk Speed Test from Blackmagic, to get a real world indication of the transfer rate you can expect when capturing and playing video.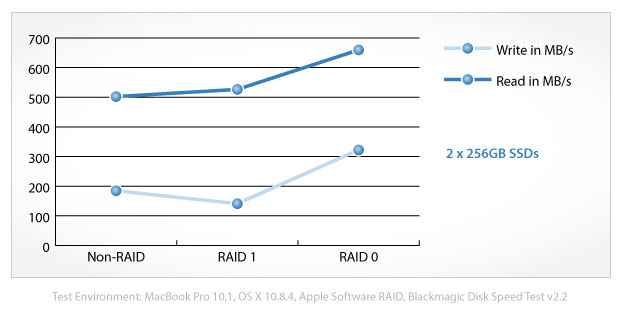 The 512GB Akitio Palm RAID SSD features 2 x 256GB mSATA drives and is available via B&H and priced at $634 and change. Definitely not a budget drive, but for the performance and portability it provides, I may just let go of my portable Lacie SSD thunderbolt drives soon.
Disclaimer: As an Amazon Associate partner and participant in B&H and Adorama Affiliate programmes, we earn a small comission from each purchase made through the affiliate links listed above at no additional cost to you.
Claim your copy of DAVINCI RESOLVE - SIMPLIFIED COURSE with 50% off! Get Instant Access!