Colour grading is becoming an increasingly important skill to use in independent filmmaking, and cameras that can capture a large dynamic range are in demand now more than ever. While high megapixel counts once were a powerful advertising tool, today's "prosumers" and aspiring professionals look deeper. This in part is how Sony has managed to make a 12.2 megapixel camera one of the most desired tools on the market today.
The research and development that the developers at Blackmagic Design and Magic Lantern have put into action are helping today's cinematographers achieve stunning results, and Samuel H of the DVX User Community recently pitted Panasonic's GH4 and Sony's A7S against Blackmagic's Cinema and Pocket Cinema cameras, as well as factory-set and Magic Lantern hacked versions of the Canon EOS 5D Mark III. Also included was a lesser-used player, the Sony NEX-5N. The following lenses were used in hopes of matching frame and optical quality across platforms:
Leitz Elmarit-R 90mm f/2.8 on the A7s, the 5D3, and the 5N+speed booster
Leitz Summilux-R 50mm f/1.4 on the pocket with 0.58x speed booster
Leitz Elmarit-R 35mm f/2.8 on the BMC
Panasonic 12-35mm f/2.8 on the GH4 (didn't have a Micro 4/3-to-LeicaR adapter)
Sharpness Comparisons
Each of the cameras were set to their optimal ISO, with the aperture adjusted to make sure they all matched exposure. They were pointed at a chip chart and objects of various textures, lit with a tungsten-balanced 650 and a reflector. The footage was then imported into After Effects with minor gamma and saturation shifts made to match.
His results found the GH4 to be a clear leader in image sharpness, with the BMCC+RAW, a7s, pocket+RAW, 5D3+RAW all performing with similar abilities just below Panasonic's offering. The ProRes settings on the Blackmagics, H.264 setting on the 5D3, and the NEX-5N fell to the bottom of the pack. 
Dynamic Range Comparisons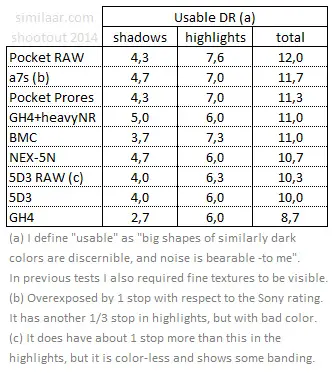 With setting similar to the sharpness test, Blackmagic Pocket Cinema Camera takes the win on dynamic range. The top stop of DR for the Magic Lantern-hacked 5D Mark III was found to be completely colorless, limiting its value in a grade. After Effects was used in testing instead of Resolve, so that may not be an issue in the DaVinci Resolve software.
The Panasonic GH4's 8-Bit video lacks in this area, as it is heavily contrasted by default. Even by changing the settings as much as you can in-camera to benefit a grade, the footage falls short on DR as Panasonic created the camera with a specific profile in mind. With the Sony A7S, as long as the camera's set to shoot 1/3 of a stop below the point of highlight clipping, the footage is at its most usable. A downside of the rolloff is that the colour rendition leaves a lot to be desired, leaving corrections to be made in the grade.
Conclusions
While the a7S was designed with color grading in mind, the GH4 was not. This isn't a sign of a lesser camera, simply a difference in market approach. Panasonic has a long history in creating great cameras for professional videographers, people covering events and shooting for documentary (all formats that lend themselves to minimal grading). Meanwhile Sony has had much more R&D related to creating cinema cameras, as the CineAlta line is proof. Panasonic is aware of their growing independent filmmaker client base, as the GH4 in itself is example of that. Given more time for research and development, the next iteration of the growing Lumix line may be more geared for the grade.
Claim your copy of DAVINCI RESOLVE - SIMPLIFIED COURSE with 50% off! Get Instant Access!