Earlier today, Colorado based video equipment maker Convergent Design announced a new flagship recorder/monitor in the Odyssey Family – the Odyssey7Q+. The latest addition to their lineup of already field proven recorders and monitors like the original Odyssey7Q/Odyssey7 and the Gemini444 and the Nanoflash, expands on the recording capabilities of its predecessor by adding the long awaited 4K ProRes 422 (HQ) recording via HDMI 1.4 for cameras like the GH4 and A7s.
The US company have been working very hard for some time now to give shooters the ability to record ProRes in 4K/UHD via HDMI, and the The Odyssey7Q+ is the solution. Many speculated as to whether there will be a firmware update to the 7Q to enable the 4K over HDMI feature, however due to the technical limitations in the 7Q, such firmware wasn't possible, hence a hardware modification was necessary.
The Odyssey7Q+ retains all the powerful monitor features (and same 1280×800 display) in addition to existing Raw recording capabilities over SDI that the 7Q features, but also adds a hardware upgrade for HDMI 1.4b input to allow for 4K and UltraHD ProRes recording over HDMI. So now, Sony A7s owners have another choice of recorder for UltraHD ProRes capture – the other being the Atomos Shogun, which is due to ship out shortly. GH4 owners can save on the YAGH add-on box and get some pristine 10bit 4K ProRes via the camera's HDMI fed into the Odyssey7Q+.
FS7 owners can also benefit from the 7Q+ by having the ability to record 4K ProRes via HDMI. Currently, Sony are offering an add-on back plate (XDCA-FS7) which allows for 1080p ProRes 422HQ recording on the on-board XQD media cards and V-lock battery support. Keep in mind that internal ProRes recording is limited to Full HD, and with the O7Q+ you can get 4K ProRes from the HDMI on the FS7.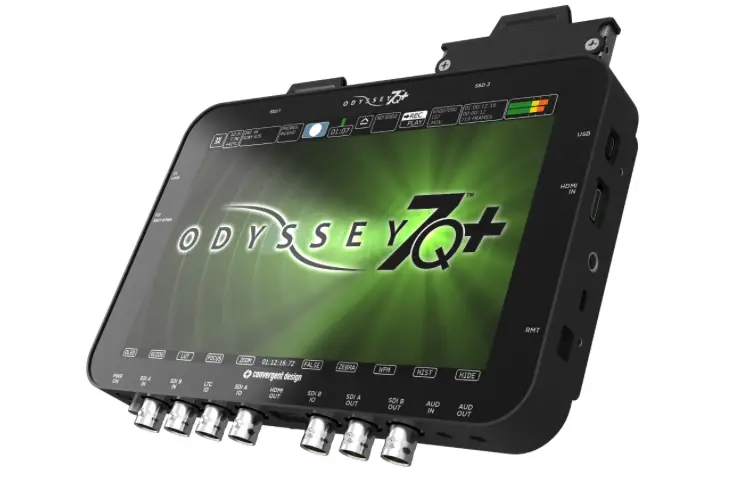 FEATURES
HDMI and SDI I/O – HD/2K/UHD/4K Recording over HDMI or SDI w/ conversion
LUT SUPPORT – ARRI Log-C, CANON C-Log, SONY S-Log, S-Log 2, S-Log 3
ASPECT RATIO GUIDES – Standard and Custom (user adjustable), may be used for framing guides, Horizontal/Vertical Framing Guides Available
FOCUS ASSIST – Video + Edges (Peaking), Edges Only, Enhanced Edges, user choice of color: Red, Green, or Blue
ZEBRAS – Adjustable zebra exposure indicators
FALSE COLOR – False Color with 5 programmable levels
WAVEFORM – Luma only, RGB Parade, Red only, Blue only, Green only, Full Size and Compact Size options
HISTOGRAM Luma only, RGB Parade, Red only, Blue only, Green only, Full Size and Compact Size Options
PIXEL ZOOM – 1:1 and 2:1 Image Magnification with frame drag
OUTPUT DOWNSCALING – Output 1080p HD via HDMI or SDI from 4K/UHD source (allows for additional on-set monitoring)
MULTI-STREAM DISPLAY – Display four simultaneous 1080 or 720 HD streams, HD-SDI and HDMI inputs supported in multiple formats
DIGITAL/ANALOG AUDIO – Multi-channel audio support via SDI, HDMI or 3.5mm analog ports
TIMECODE – Timecode: LTC I/O (BNC) or embedded timecode via HD-SDI & HDMI (limited to specific cameras
IN/OUT MARKERS – In/Out markers set during recording can be used during start/stop/playback and exported to NLE.
UPGRADEABLE – RAW Recording Options available for purchase or rental through our website. (Sony RAW, Canon RAW, ARRIRAW, POV Raw)
DUAL SSD SUPPORT – Dual drive architecture allows for long record time, high frame rate and high data rate recording.
RUGGED DESIGN – Magnesium alloy case for extreme durability in harsh conditions
Convergent Design and Atomos have been going head-to-head with recent price reductions (the Odyssey7Q was selling for a limited time for $1,795 USD) and additional feature announcements and firmware upgrades to win over customers. The Atomos Shogun and now the Odyssey7Q+ have both similar and yet very different feature sets depending on camera requirements, however we'll delve into these in more detail in later posts. The Odyssey7Q+ can also down-convert the 4K signal into HD signal for loop-through monitoring in combination with additional monitors on set.
Convergent Design are also discontinuing the original Odyssey7Q in the meantime, however they will continue to support it. 7Q owners who've already purchased 4K/2K RAW recording options for the Canon EOS C500 or ARRIRAW from the Alexa, or FS700 can port those over towards their new Odyssey7Q+.
CD are also implementing a customer loyalty programme, which allows 7Q owners to extend their existing warranty by 1 year and get $500 worth of credit towards a purchase on their website if they buy a new Odyssey7Q+. At the moment there are no plans for 7Q to 7Q+ upgrade.
Check out the product promo to see the Odyssey7Q+ in action on a multi-cam shoot:
The Odyssey7Q+ is due to ship starting December 19th according to Convergent Design and retail for $2,295 USD.
PRESS RELEASE
December 11, 2014 – Colorado Springs, CO) Convergent Design today announces the new flagship model of the Odyssey Family of Products, the Odyssey7Q+. The Odyssey7Q+ expands on the capabilities of its predecessor the Odyssey7Q, while maintaining all of the functionality, performance and ease of use. The addition of HDMI 1.4b input means that the Odyssey7Q+ can capture 4K and Ultra-HD video over HDMI. Convergent Design will begin shipping the Odyssey7Q+ in quantity in the next two weeks.
With the addition of 4K/UHD recording over HDMI, the Odyssey7Q+ continues to be the most advanced, most capable, most versatile monitor/recorder in the world. The Odyssey7Q+ can record HD/2K/UHD/4K. It can record them via SDI and HDMI. It can record RAW (with Record Options), uncompressed DPX, and Apple ProRes 422 (HQ). The Odyssey7Q+ features an OLED 1280×800 monitor with true blacks, accurate colors, 3400:1, extended color gamut and a 176 degree viewing angle. Along with the best image in the industry, the Odyssey7Q+ also features an extensive array of image analysis tools, including an RGB waveform, RGB Histogram, False Color, Pixel Zoom with finger drag, three-mode Focus Assist and monitoring LUTs. The unique Multi-Stream Monitoring mode allows up to four HD video inputs to be viewed at once in a quad-split view or to be live-switched between in full screen. The Odyssey7Q+ weighs a little over one pound, is just one inch thick and can run on any power source from 6.5-34 volts.
The Odyssey7Q+ offers uncompressed HD/2K recording in DPX stacks as well as HD/2K/UHD/4K video recording in Apple ProRes 422 (HQ), all included in the unit. In addition, Record Options for the Odyssey7Q+ are available for purchase or 24-hour rental via the Convergent Design website. Options include ARRIRAW (ALEXA), Canon Cinema RAW (C500), FS RAW (Sony FS7 & FS700) and POV RAW (IO Industries and Indiecam cameras). In addition to capturing RAW data from these cameras, on certain cameras the Odyssey7Q+ also supports converting the RAW data into video and recording it as UHD or HD Apple ProRes 422 (HQ).
The Odyssey7Q+ retains the form factor and all other characteristics of the Odyssey7Q. The only physical change is the swapping of locations for the HDMI input and output. All Odyssey accessories from Convergent Design as well as third party manufacturers, such as mounting brackets, handles, sunshades, battery plates as well as our Odyssey SSDs are fully compatible with the Odyssey7Q+.
Owners of the Odyssey7Q interested in purchasing an Odyssey7Q+ are invited to take advantage of our Odyssey7Q Owner Loyalty Program. With the purchase on an Odyssey7Q+, Odyssey7Q owners will get a one year warranty extension on their Odyssey7Q, any purchased Record Options replicated on their Odyssey7Q+, and a $500 credit to their account on the Convergent Design website. See the link at the bottom of this bulletin for further details on the Owner Loyalty Program.
Convergent Design is committed to expanding the functionality of the Odyssey7Q+ over time with free firmware updates. Likewise, the Odyssey7 and the now-superseded Odyssey7Q will continue to be supported and expanded upon by Convergent Design. The Odyssey7Q+ is designed around the same architecture as the rest of the Odyssey Family of Products (Odyssey7, Odyssey7Q, Odyssey7Q+). All firmware updates will apply to each device as applicable. There is much more to come for all of the Odyssey models. We're just getting started.
For additional information on the Odyssey7Q+, please visit www.convergent-design.com.
Claim your copy of DAVINCI RESOLVE - SIMPLIFIED COURSE with 50% off! Get Instant Access!