Back at NAB 2014 in April, the Sony A7s was one of the hottest cameras announced. However, it was announced that the only way to get the 4K output from the monster full-frame sensor with full pixel readout was through the HDMI output. Atomos came to the rescue by announcing the Shogun – the world's first 4K HDMI monitor/recorder. It's been a long wait since April, but the folks at Atomos have been hard at work to make this 4K recorder a reality.
And after a few delays, it is finally shipping today 16th December, first to European customers, and from tomorrow 17th December to the US. GH4 and A7s owners in particular should be very happy by this point. In the video introduction below, Atomos CEO Jeromy Young walks us through the Shogun features and what's included.
Atomos Shogun Introduction from Atomos Video on Vimeo.
Here are some of the main points about the Atomos Shogun.
Atomos has teamed up with Italian case manufacturer HPRC, and now the Shogun comes with a high quality protective case included with all purchases at no extra cost. Initially, Atomos were going to manufacture their own cases, but later reached and agreement with HPRC to provide and manufacture cases for the Shogun.
Playback is disabled at the moment, due to some bugs they came across in testing, and true to their philosophy, they've decided not to release this function until fully functional. Playback should be enabled within 2 weeks, hopefully in time for Christmas.
Also missing is DNxHD – this is coming January 2015 as a free firmware update.
The Shogun features HDMI and SDI loop-out to other monitors, and the SDI supports 12G/6G/3G/ and 1.5G.
Really neat 1:1 and 2:1 zoom feature for assisting with focus, and you can navigate through the full image via the touch screen, not limited to the centre of the frame.
HDMI start/stop trigger from most Canon, Sony, and Panasonic cameras and almost any other modern camera with HDMI trigger functions.
HDMI is 10-bit, not 8-bit – GH4 owners can output 10-bit 4K through the HDMI. The 10bit HDMI support function was the subject to a lot of debate online, as most believe (me included) the HDMI in the Shogun to be 1.4b, which is 8bit, but here we heard it from the Atomos boss himself so there you have it – the Shogun has 10-bit HDMI.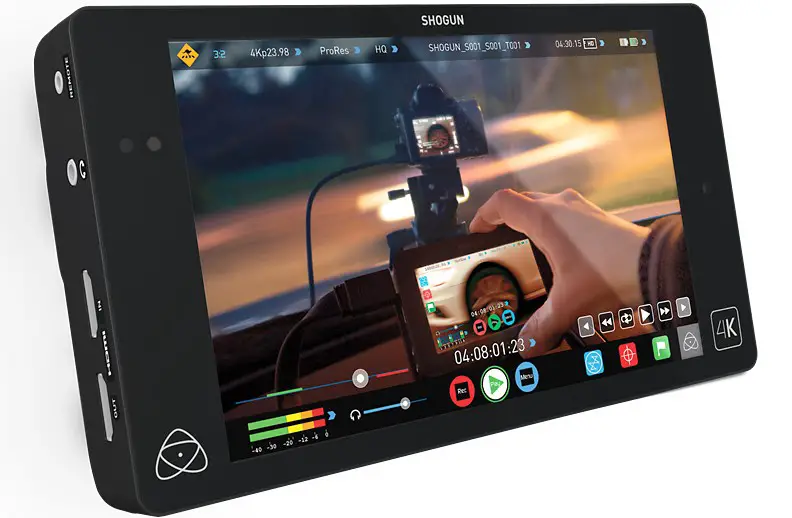 Here's what is included in the HPRC case:
1 x Atomos Shogun 4K HDMI Recorder
5 x SSD caddies
AC Adapter
PowerTap Adapter
NP-570 Battery
Battery Charger
Lemo to XLR Cable
SATA / USB 3.0 HDD / SSD Docking Station
EU/UK/US/World power plug adapters
Limited 1-Year Warranty (3-Year Warranty with Product Registration)
In the case there are slots for the RAID caddie and the Atomos Power Station, both of which will be available in early 2015.
Here's what's NOT included with the Shogun:
HDMI cable
SSD media drives
Atomos make their own HDMI cables, which are coiled and very versatile, or you can use your own cables if you already own such. A full list of approved SSD's can be found on Atomos' website.
The Atomos Shogun is available from B&H for $1,995.
Disclaimer: As an Amazon Associate partner and participant in B&H and Adorama Affiliate programmes, we earn a small comission from each purchase made through the affiliate links listed above at no additional cost to you.
Claim your copy of DAVINCI RESOLVE - SIMPLIFIED COURSE with 50% off! Get Instant Access!