Chicago-based Magnanimous Media recently tested the worth of Metabones' pricey and desirable Speed booster lens adapters against their direct "dummy" adapter counterparts, for EF and Nikon adapters aimed at the Panasonic GH4 and the Blackmagic Pocket Cinema Camera on their YouTube channel.
The benefits of using EF or F lens adapters are numerous. While manufacturers like Panasonic and Olympus are building their Micro Four Thirds lens selections, Canon and Nikon have already positioned their mounts as some of the most universal in digital photography and filmmaking.
Most all Sigma, Tamron, Rokinon and Tokina lenses have Nikon and Canon options, on top of the deep selections made by Nikon and Canon themselves. B&H currently has nearly 200 different Canon EF-mount lenses for sale, and over 200 for Nikon's F-mount (as compared to 100 different Micro Four Thirds lenses total between all manufacturers).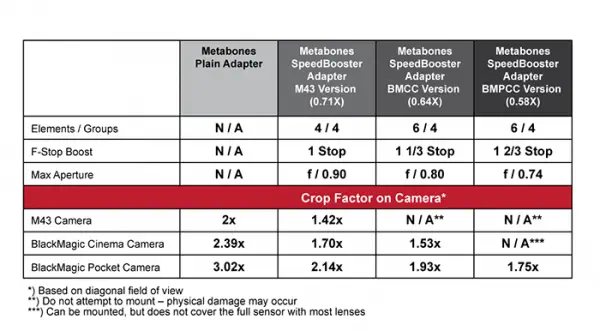 On top of an increased selection, the beauty of the Speed Booster is that it corrects some of the snags found when making the transition from Digital 35mm full-frame into the smaller, Super 16mm comparable MFT format. As DPs have kept in mind for decades, putting PL lenses onto a Super 16mm camera means figuring your focal length is essentially doubled, as the camera has a 2x crop factor.
MFT cameras work similarly with their smaller censors, and a "dummy" adapter means your 85mm f/1.2 lens is essentially a 170mm lens now, without that added compression. By adding a Speed booster, you gain a field of view akin to using a Canon or Nikon crop-censor camera.
Metabones Speed Booster EF to Micro 4/3 (GH4)
For some real world testing examples, Magnanimous Media put the EF to MFT adapters on the GH4 and BMPCC up against their cheaper competitors, as well as the Nikon F to MFT Speed booster for good measure. Surprisingly (to me at least), the footage using the inexpensive adapters wasn't hampered noticeably by lesser-quality glass. The changes between the two are still noticeable, regardless.
The additional field of view marks a clear advantage of the Speed booster, as does the ability to add an additional 1&1/3 stops of light (without pushing the focal range any thinner).
Metabones Speed Booster EF to Micro 4/3 (BMPCC)
Speaking from experience, having an adapter like this on hand for a shoot that uses MFT cameras as either the A-Cam or B-Cam with an EF mount camera and being able to use a unified lens kit makes workflow on set run smoother. You know the footage will match up that much better when you can use the same lens kit across your cameras, and you no longer find your self avoiding the 85mm-and-up lenses.
Metabones' R&D has seen a number of updates applied to their different adapters over time, and they continue to hold the market for lens adapters for a reason. If you're looking to use your F or EF lenses on an MFT camera, keep the Speed Booster in mind.
via [Magnanimous Media]
Disclaimer: As an Amazon Associate partner and participant in B&H and Adorama Affiliate programmes, we earn a small comission from each purchase made through the affiliate links listed above at no additional cost to you.
Claim your copy of DAVINCI RESOLVE - SIMPLIFIED COURSE with 50% off! Get Instant Access!