Atomos quickly built a name in the industry with its array of external recorder/monitors, both for their ability to seamlessly capture from the camera as well as their ability to improve upon what the camera itself can do, in some cases. Many 8-bit shooters have already found that use of Atomos external recorders allows for a 10-bit-like recording, giving added leeway in post production when working with otherwise limited footage.
Now, thanks to their new 4K Shogun recorder, users of the Panasonic GH4 are able to pull more from their footage than the camera itself allows.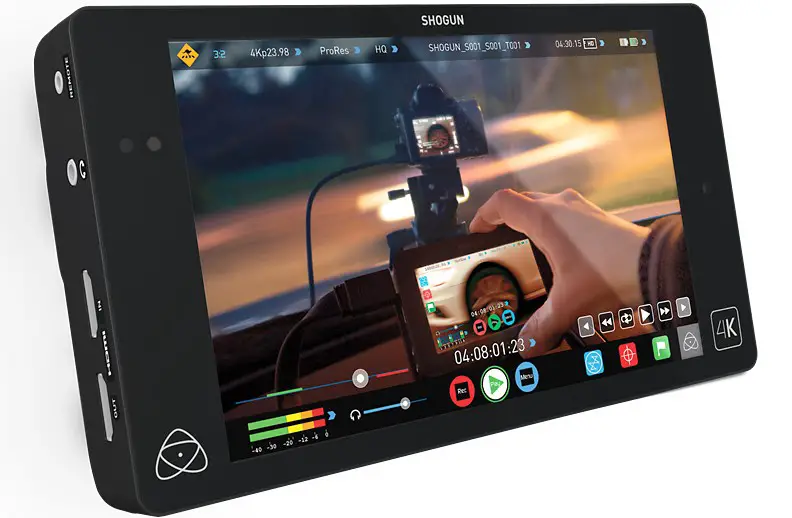 An advantage the Sony a7S has had over Panasonic's GH4 was the ability to shoot in log, while an advantage the GH4 has had over the a7S has been the ability to capture 4K internally. This recorder evens the playing field in both regards. Possibly just as helpful as the added color space provided by the Shogun is the file packaging, as it saves all video in Apple ProRes, a format familiar already to many Blackmagic and C300 shooters.
Atomos Shogun Tests: Panasonic GH4 and Blackmagic Pocket Cinema Camera from FocusPulling (.com) on Vimeo.
For a bit of comparison, Paul at FocusPulling.com mounted the Shogun to the Blackmagic Pocket Cinema Camera (a camera already recording ProRes 4:2:2 internally) to see how the external recorder matched up. The result he found was that the Shogun's ProRes 4:2:2 capture was identical to that of the BMPCC, a camera designed specifically for that output.
This not only means that theoretically you can use the Shogun to seamlessly work with Blackmagic and Panasonic footage in post together, but it also shows how well-crafted the files being output from the Shogun are. No special codecs or odd compression to be found, and in the case of most cameras, the added benefit of a larger monitor and a dedicated recorder.
Even on systems allowing for internal recordings, redundantly storing your footage to a recorder on the go is something you can use to potentially lower your production insurance. With 4K televisions primed to dominate the market in 2015 and H.265 compression making 4K videos easier to stream, investing in a solid 4K recorder is a logical choice for the start of the new year.
If rumours surrounding the Canon C300 Mark II and 5D Mark IV prove to be true, there will be very little reason to look back on 1080p footage as a professional standard this time next year.
Claim your copy of DAVINCI RESOLVE - SIMPLIFIED COURSE with 50% off! Get Instant Access!