Message boards and rumour sites have been buzzing with excitement over the latest rumours for new cameras and lenses coming out soon just before major trade shows like CP+ and NAB, which are looming around the corner. CP+ is in mid-Feb, while we have a couple of months still until April for NAB, where we're bound to see the latest kit from more broadcast oriented manufacturers in terms of video, however so far in January there's a lot of talk about what's coming out.
Sure, some if them need to be taken with a huge grain of salt, but once and a while a credible rumour surfaces. Such is the latest rumour about Samsung, who are supposedly set to release a smaller compact version of the NX1 – dubbed the NX500, which is said to feature some impressive features such a 28MP APS-C CMOS sensor, high ISO's and some variant of 4K internal video recording presumably 2.5K.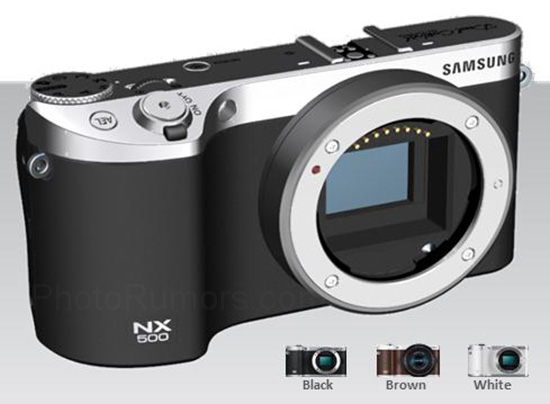 [via Photo Rumors / Source: Dicahub]
The US price is said to be around $799 for the NX500 + 16-50mm lens kit. Considering other cameras in this price range from other manufacturers, they top out at 1080p (the Lumix LX100 does have 4K on board, but a smaller Four Thirds sensor and a fixed lens), and Samsung surge in higher resolution acquisition as well as their championing of the next generation H.265 codec as in the case of their 4K NX1, the NX500 could potentially dominate this segment for video shooters.
Whether the new camera will utilise the H.265 compression from the NX1 is yet to be confirmed, but chances are it will due to the size of the 2.5K files and compression required to preserve quality. A full sensor readout has not been confirmed either.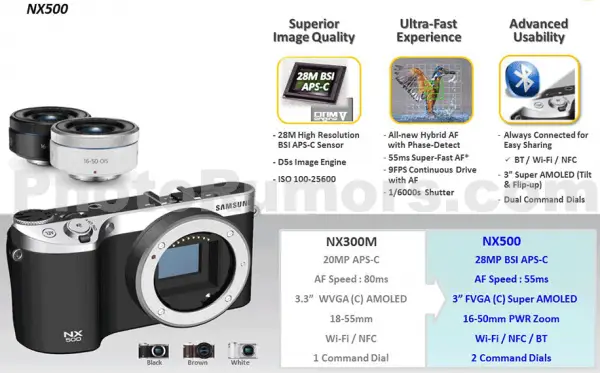 Rumoured Samsung NX500 specifications:
28MP BSI APS-C sensor
D5s image engine
ISO range: 100 – 32,000 (ISO 25,600 Auto ISO limit)
New hybrid AF with PD
55ms super fast AF
9fps with AF
1/6000s shutter speed
Easy sharing with BT/Wi-Fi/NFC
3: Super AMOLED tilt &flip LCD screen
Dual Command dial
In three different colours: black, brown, white
On the video side of things, in which we're more interested, rumours of a 2.5K (2560 x 1440) Quad HD (which is exactly 2 x 1280 x 720p or 4 times HD) in a 16:9 ration are particularly interesting as the current Samsung NX1 does Full 4K DCI (4096 x 2160) in 24 fps. From my experience with the 2.5K raw on the BMCC, which is 2432 x 1366 on that sensor, is still an excellent resolution for 1080p delivery when scaled down.
A mirrorless compact camera with a 2.5K video stream in H.265 (hopefully) would have significant benefits in terms of file sizes despite the cumbersome workflow, that is until NLE's catch up eventually.
While keeping in mind that this is still a rumour as of now, there is a strong indication that the camera is coming very soon as B&H and other resellers had it listed as a pre-order item for a short period of time before it was taken down.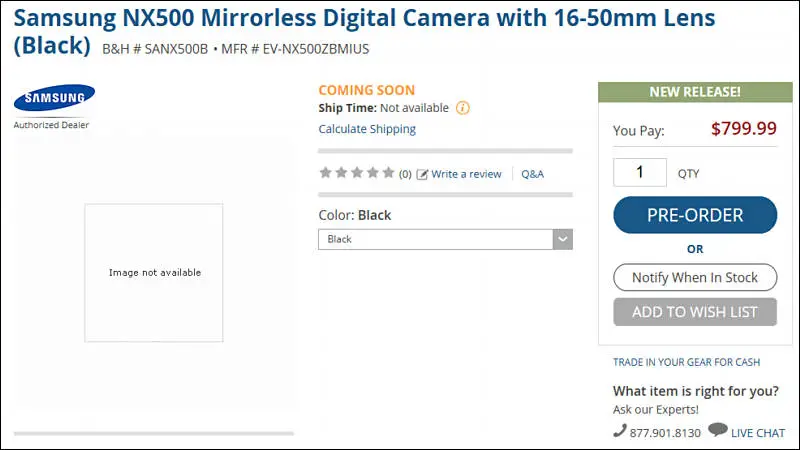 [credit: Personal-View]
With CP+ just around the corner in mid February we're keeping our eyes peeled for the NX500 and will update you when the official announcement comes. In the meantime – what do you guys make of this? Would you rather have 4K or 2.5K? H.265 or ProRes/raw? Let us know in the comments below.
[via Photo Rumors]
Claim your copy of DAVINCI RESOLVE - SIMPLIFIED COURSE with 50% off! Get Instant Access!