If you're currently an owner of an iPhone 5S or later, and you're considering the option to replace it and buy a smart phone that shoots 4K, it will probably be wiser to check the ProCam 2 App first before you take the leap. This is a relevant option not only because ProCam 2 is currently the Free App of The Week on the App Store presently, but mainly because it enables 4K video recording on iPhone 5S and later.
There is a catch, though. The 4K feature needs to be unlocked with an in-app purchase that will cost you additional $4.99. Considering the price, it's worth trying, plus you can't go wrong for that price for sure.  The 4K Ultra HD video will be upscaled from the native sensor resolution 3264 x 1836 up to 3840 x 2160.
The following 4K video is taken on an iPhone 6 with ProCam 2 v4.0. (3264 x 1836 @ 29.77fps, 145.19Mbps, 1.1GB)
And, here is another example of 4K test video using ProCam 2 on the iPhone 6 Plus
Furthermore, even if you don't plan to shoot in 4K, the app is packed with a multitude of useful features such as anti-shake with adjustable sensitivity, flexible video frame rates (30 fps, 24 fps, 15 fps, 5 fps), Full HD time-lapse recording support, manual focus, exposure compensation, shutter speed, ISO, and white balance controls and more. In short, you will have a decent list of settings that usually you will find on your DSLR, if not more.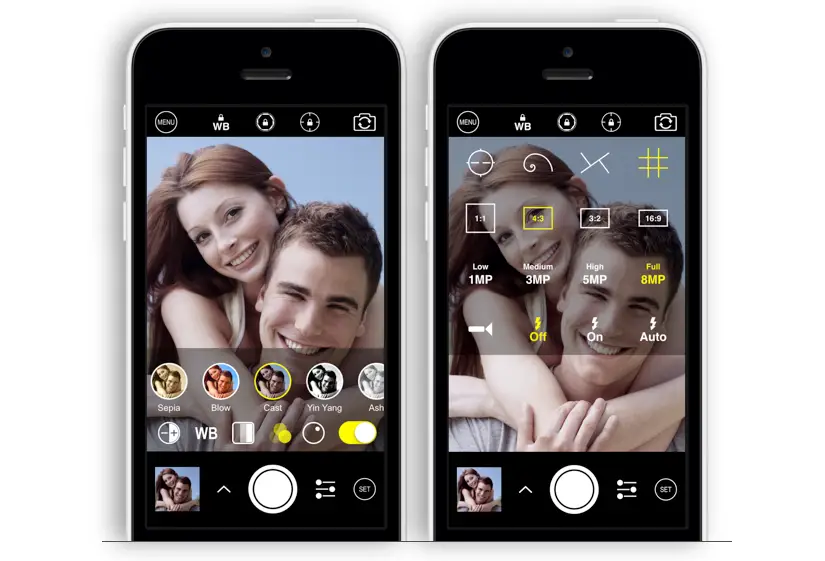 Here are some of the other features ProCam 2 enables on your phone:
Video with zoom, pause, ability to take stills, and audio meter
Level Video – (iPhone 4S and later only)
Slow motion video with four playback speed options (iPhone 5 and later only)
Time Lapse with the ability to add an audio track from iTunes music library
Realtime video stabilization (can be turned ON/OFF)
Video disk space counter
True slow motion video mode with 4 playback speeds (Max fps / 30 fps / 24 fps / 15 fps)
Realtime 6x digital video zoom
The application also provides four aspect ratios, four resolution options, various alignment grips, a nice audio meter, plus it shows you in real-time how much space and battery life is left in your iPhone. The app is intuitive and easy to use offering an appealing fully fledged professional camera experience that deserves a try.
Updated: The app is no longer free. You can download the latest version of ProCam 2 with 40% off the price for a limited time here.
[via: Motion VFX Blog]
Disclaimer: As an Amazon Associate partner and participant in B&H and Adorama Affiliate programmes, we earn a small comission from each purchase made through the affiliate links listed above at no additional cost to you.
Claim your copy of DAVINCI RESOLVE - SIMPLIFIED COURSE with 50% off! Get Instant Access!