Well, I was really hoping for a RED T-Rex, but maybe we'll have to wait a few more years to see that beast. REDuser – the official forum/online community for all things RED, has been buzzing with speculations and more recently a new announcement by RED Fire Chief – Jarred Land about the company's next upgrade to the Dragon line – the RED Weapon. The Weapon will be an upgrade applying to all Dragon owners – both Scarlet and Epic. Unlike in years past, RED nowadays have adopted a more "keep our cards close to our chest" strategy when it comes to announcing new products. However, with the latest announcement that Jarred Land made about the RED Weapon coming at NAB, isn't to say that the rebel company are reverting to their old ways of announcing updates and communicating where they're headed, but more of a "heads-up" for MX owners to consider upgrading their cameras to Dragon sensors, as after NAB it will be more expensive for them to upgrade to a Weapon. From Jarred:
For everyone with a Dragon… NAB is gonna be awesome.

For everyone that hasn't upgraded yet…. you are best to get that done before the show.

It will be worth it.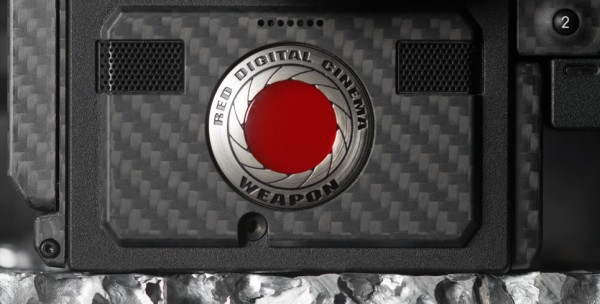 Yes… you need to own a Dragon to upgrade to Weapon. As long as you are a Dragon owner before NAB, you will get a nice chunk of change back to continue along the journey.
Here's what we know so far, summarised by Phil Holland below. You can see the REDuser thread here.
Thus far Jarred has confirmed a few things that are useful for Mysterium-X and Dragon owners to know regarding Weapon. He's sharing this information earlier than expected primarily to give everybody a head start to plan accordingly.
Red Weapon is an Upgrade for Red Dragon cameras. You must own or upgrade to Dragon to be eligible for the Upgrade.
Epic and Scarlet Dragon Camera Brains are eligible for the Weapon Upgrade.
Mysterium-X to Dragon Upgrades will be ending around late June 2015. Upgrades have been running since 2013.
From Monday February 23rd you will be able to upgrade from Mysterium-X to Dragon again at the price of $9500.
Red Weapon Upgrades will have priority based on the time stamp of your order. Carbon Fiber lines will have priority.
It is possible to pay for the Dragon Upgrade and then pay-up to the Weapon Upgrade.
Red Weapon Upgrades are expected to begin around Summer/Fall 2015.
Red Weapon will be using MINI-MAG Red Media and it's not planned to support the 1.8″ REDMAG Media likely due write speeds increasing and form factor.
Existing DSMC Lens Mounts will be compatible with Red Weapon.
Red Weapon will have a full unveiling at NAB 2015. (Or sooner if Jarred gets keyboard trigger happy again!)
** As for what exactly all of this is, we don't officially know just yet.
While this may be great news for Dragon owners, MX owners may feel the pinch in their wallet as they now have no choice but to upgrade to a Dragon before NAB, as the door will close soon afterwards sometime mid year. The RED Weapon upgrade is only available to Dragon sensor cameras. While the Mysterium X has had its day and produced some amazing motion pictures, countless music videos, commercials and everything in between, as with anything, it may have had its day.
Some Dragon owners have also expressed their disappointment with the fact that RED Weapon will be using exclusively the new MINI-MAGs, effectively making 1.8″ RED Mag media obsolete, something a lot of people are heavily invested in, and RED media doesn't come cheap. Jarred pointed out that such is the case usually with any media – it evolves rather quickly.
Here's the image that started the guessing game about what it all means: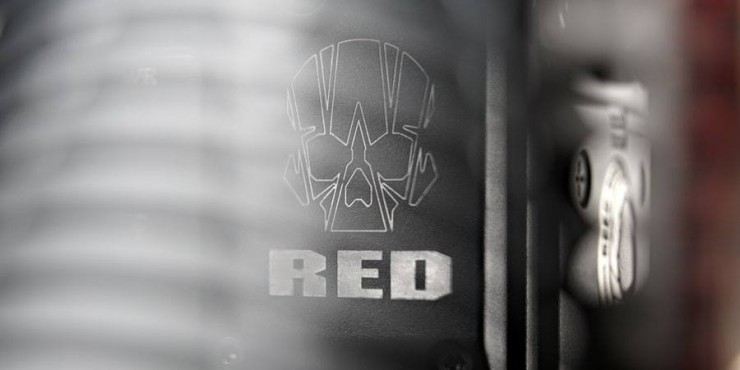 To some it was the RED Skull, to others the W stood for wireless (which seems probable) based on the fact that Jarred later on showed this image of his truck with the new secret camera in a box, with which he's been doing some tests shots at night around LA.
He then shared the following:
I have been driving around with W for the last 2 nights all night long in Downtown Los Angeles testing random new things. I was having so much fun I kept telling myself " ok just one more shot " over and over and over again until the sun came up.

The good old "prototype camera hidden under a cardboard box with a lens sticking through a hole" worked like a charm…. managed to completely avoid the cops.

Touchscreen control from the dash.

Probably need to sleep before I say too much 🙂
This may very well be an indication of improved low-light performance and the WiFi capabilities that have been expected by the majority of RED users.
Another image from what maybe part of the RED Weapon teased by Jarred Land from RED: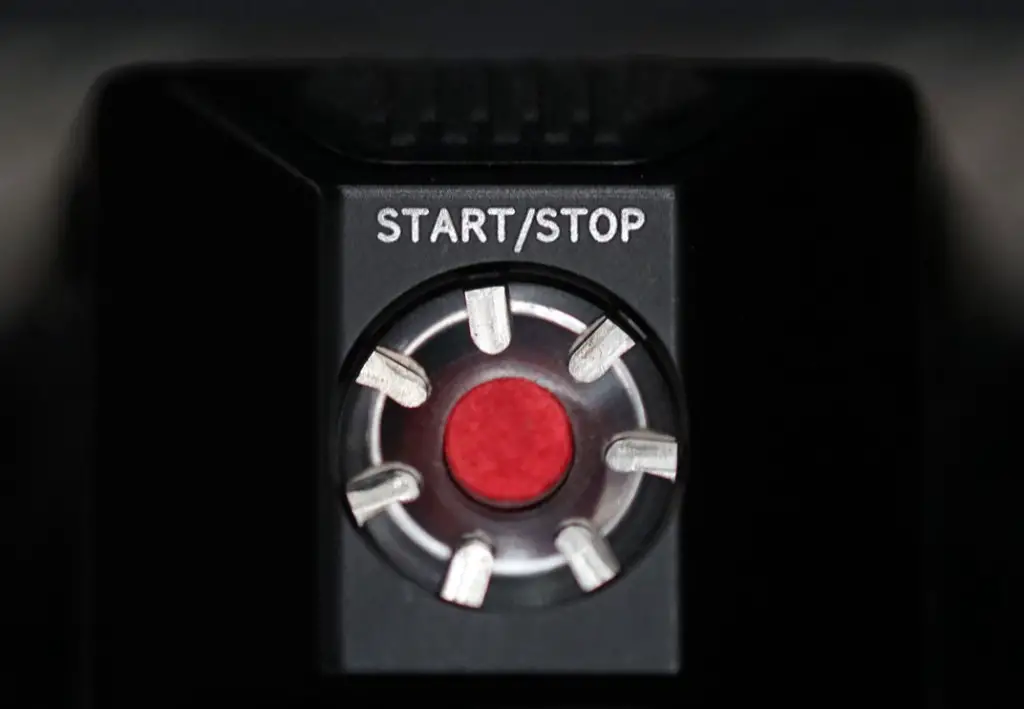 Higher frame rates maybe?
Shane Hurlbut also had something to share on his Facebook page regarding the future RED Camera upgrade: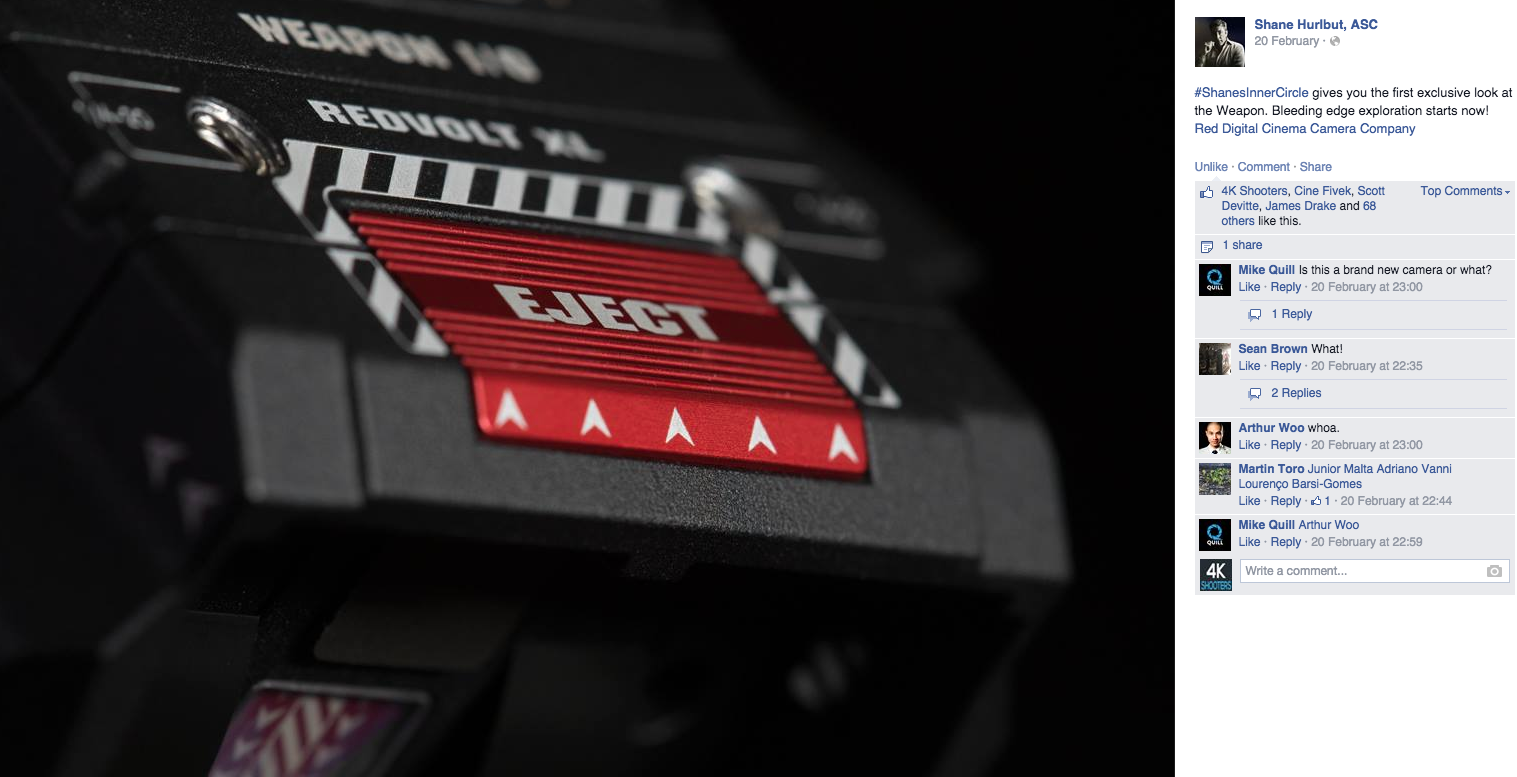 Whatever the RED Weapon ends up being we'll know all about it at NAB where RED are once again aiming to showcase something special. I personally would like to see a lightweight camera body for drones, built-in Wi-fi option, and a reasonable upgrade cost.
Claim your copy of DAVINCI RESOLVE - SIMPLIFIED COURSE with 50% off! Get Instant Access!