At the end of the day, there's nothing wrong with using only one or just a couple of nodes when colour correcting or colour grading your footage in DaVinci Resolve 12. The actual power of the software, however, can be unleashed only when you dip your toes into the multiple nodes workflow. This is where the application simply shines, and for good reason. First and foremost, if you want to work smarter, faster and be a way more efficient and productive when colour grading, this approach is undoubtedly the way to go. In the video ahead Casey Faris explains why by providing a few simple examples that put things into perspective for those who are still not convinced why it's better to use multiple nodes when colour grading images in Resolve 12.
In the first place, if you want to keep your process neat and clean you need to create a separate node even for the smallest change you make in your image. The explanation is very simple. The next time you open your project, it will be a lot easier for you to change only those parts of the image that you don't like any longer or consider that need to be modified further.
The best part is that you can switch on and off every small change you have already made so that you can decide what are the best creative decisions you can make to get the optimal results. In other words, by utilising this approach you are segmenting your grade in little pieces that you can turn on and off every time you want to make another change.
As Casey notes, this approach is super convenient if you change your mind down the line or just want to experiment with things, thus pushing your grade even further. That being said, here's another video that covers the different type of nodes in Resolve 12 and explores their uses.
Again, the main takeaway from the video above is that combining all these different types of nodes is what makes Resolve 12 a truly powerful colour grading application. Just try to stay organised and label all your nodes to make your workflow more straightforward and simple. Do your primary adjustments in the first node you create and then add new nodes to the chain for every new small adjustment to the image you make. Keep in mind that you can also easily swap the position of your existing nodes by simply deleting the lines that connect the nodes to each other.
Speaking of the different type of nodes, think about Serial Nodes as stacks of layers used in other grading and compositing applications. Each Serial Node affects only the results that the previous one in the chain bring to the image. Further, if you want to do more secondary adjustments you should probably use the Parallel Nodes. In this case, they pull the colour information from the master footage instead of being affected by the previous node, which is the opposite of what the Serial nodes usually do.
In essence, a Parallel node structure lets you apply two or more overlapping adjustments at a single stage of a node tree. Use Parallel Nodes if you are doing a lot of secondary corrections that you don't want to be affected when making changes in your primary colour adjustments along the line.
Just as the Parallel Nodes, you can utilise the Layer Nodes as structurally these are quite similar to the layout used by the Parallel Mixer. Think of layer nodes as a horizontal stack of corrections with priority given to nodes lower in the stack. You also have the option of combining all of the Corrector Nodes that are connected to a Layer Mixer using one of the several different composite modes.
Keep in mind that Layer Mixer prioritises nodes connected to lower inputs such that each node's output completely obscures whatever is behind it.
The last type of Nodes that Casey covers is a Splitter Combiner Node. What this type of Node actually does is splitting the image into the three main colours that every image consists of. As we've already covered this in a previous post in more details, you can use the Splitter Combiner Node either to make a fancy colour grading effects or use it to reduce the noise of your image in more efficient and smarter way.
So, those are a different type of nodes that Resolve 12 provides. Knowing each of those better can help you push your creative imagination even further and literally do whatever you'd like to your image. All in all, knowing the ins and outs of nodes in Resolve 12 is an essential aspect of the colour grading process as the visual choices you can make for your projects by only manipulating colours are limitless. This workflow can significantly help you to enhance your storytelling by conveying multiple aesthetics and emotions through colours, thus immersing your audience into the story like never before.
Just as a reminder, you still have time to Get 4 Resolve Courses for the Price of One as part of our 24 HOUR FLASH SALE of the amazing DaVinci Resolve Grading & Editing Training (Plus 200 Stylistic LUTs) produced by Alex Jordan for just $99 (was originally $577)!
These training courses would otherwise set you back $577! Alex's DaVinci Resolve training is super easy to follow and understand, so novices are absolutely welcome, plus you get lifetime access and free updates. The Ultimate DaVinci Resolve Bundle is still available for $99 for ONLY the next few hours until March 8th at 7:59 am EST.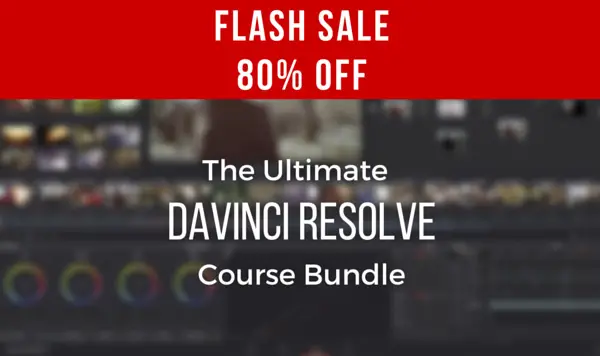 GET the DaVinci Resolve Bundle for $99 HERE!
[source: Casey Faris]
Claim your copy of DAVINCI RESOLVE - SIMPLIFIED COURSE with 50% off! Get Instant Access!