BVE 2015 was buzzing with hand held gimbal systems and drones. It's the 4K of 2015, and we're bound to see even more announced at NAB in April. But for now, let's check out the MOZA 3-axis handheld camera stabilizer from Gudsen. The gimbal can hold camera/lens payloads up to 4.5 KGs making it possible to fly a BMPC or any common DSLR or mirrorless camera with a decent zoom or prime. The MOZA comes with some exciting features not usually found in other gimbals within the same price range. MOZA camera stabilizer comes with a multi-functional wireless thumb controller which allows a single operator to directly control the camera and movements of the gimbal. It clamps directly to the existing handlebar and connects via 2.4GHz wireless.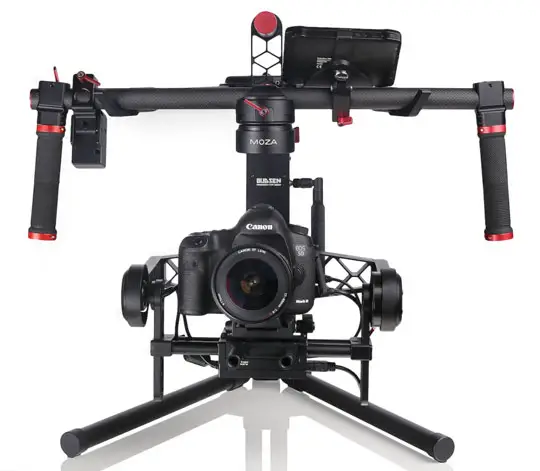 Operators can control pan, tilt and roll directions and motions as well as speed. The device also gives operators the abilities to start/stop camera and make focus adjustment without touching the camera. Power comes the thumb controller, via a built-in rechargeable battery which can run for over 35 hours after fully charged. The regulated 5V USB Power port in the distribution panel offers a convenient power source.
The new MOZA 3-axis gimbal is equipped with a wireless video transmitter, which paves the way of free movement in all directions for the gimbal (no cable interference). The built-in transmitter/receiver system operates on B-band 2.4 GHz and gets the remote control range up to around 50m. The MOZA draws on the advanced stabilization technology and proprietary software whose control and stable accuracy can achieve to the range of 0.02 degree. Once the MOZA is calibrated, its integrated sensors selectively activate the motors to continuously keep the camera level on three axes.
Weighing 7.05lb / 3.2 kg, the MOZA currently supports cameras with a maximum depth of 143mm (measured from the CG), a maximum height of 222mm, and a maximum width of 220mm. The maximum load weight is 9.92 lb / 4.5 kg with compatible camera / lens combinations. MOZA can easily handle cameras including Canon 5D, Nikon D800, Sony A7s, and BMCC, BMPC etc. Besides, it's made of aircraft-grade aluminum and carbon fiber which ensures the ultra lightweight yet durable product. Other advancement includes simplified tool-less balancing and adjusting.
Mechanical performance

Dimensions – 143mm × 222mm × 220mm

Ambient Temperature: -10C°~50C°

Camera

Supported Cameras

· Canon: 1D4, 5D2, 5D3, 6D 7D, 60D, etc.
· Nikon: D800, D600
· GH4, A7S
· BMCC, BMPCC

Supported Lens

·CANON EF 24mm f/1.4 IS USM
·CANON EF 16mm-35mm f/2.8 IS USM
·CANON EF 17mm-40mm f/4.0 IS USM
·CANON EF 24mm-70mm f/2.8 IS USM
·CANON EF 50mm f/1.4 IS USM
·CANON EF 50mm f/1.2 IS USM

Performance

Controlled Angle Accuracy – ±0.02°

Pan Axis Rotation Range ±360°

Tilt Axis Rotation Range ±90°

Roll Axis Rotation Range ±45°

Extension Interface

Power Interface – 0.8A 14.8V x1; 1A 5V x1

Control Interface – Mini-USB

Features

Modes – Pan Follow/Tilt Follow/Lock

Wireless Video Transmitter – Yes, 5.8G B Band

Wireless Thumb Controller – Yes

What's in the box
The payload even though below the DJI Ronin, DP's and gimbal operators can still take advantage of larger cameras like the Canon C100 Mark II.
"MOZA 3-axis handheld camera stabilizer is designed to help cinematographers transform their beautiful dreams into magical shooting experience" says CY Guan, President of Gudsen Technology, "With the release of the MOZA overseas, Gudsen aims to bring small budget but high performance camera stabilizer to a wider range of places."
The complete system including the MOZA gimbal, stand, thumb controller, built-in transmitter and intelligent battery with charger retails for $2,245.00 and is available at Gudsen and through Gudsen' dealers worldwide. Gudsen also includes free shipping on direct sales.
Claim your copy of DAVINCI RESOLVE 16 - SIMPLIFIED COURSE with 50% off! Get Instant Access!