Being one of the first companies that has successfully adopted and implemented 4K acquisition across the board at all budget levels, Sony continue to develop the format by pushing the technology boundaries even further. Recently, the company announced a new 4K SxS memory player, filling the gap in this market segment with another 4K tool this time for playback.
The Sony PMW-PZ1 features multi-format 4K playback capabilities along with the impressive connectivity options providing SxS card slot, HDMI output, 3G/HD-SDI outputs (x4), an audio output and high-quality LCD monitor and two USB ports on the front panel. This combination of functional interfaces enables seamless playback, copying and monitoring of 4K and HD video across an extensive range of applications.
Newsshooter first look at the Sony PMW-PZ1 4K SxS memory player from Chuck Fadely on Vimeo.
The player supports both HD and 4K video (up to 60fps) along with XAVC Intra & Long, MPEG HD 422 and MPEG HD codecs which makes it the ideal solution for the owners of PMW-F55, PMW-F5 and FS7 cameras that demand a tool providing an immediate access to their camera footage. Some of the MPEG features are coming in a later firmware update in Autumn 2015.
The PMW-PZ1 can also be used to copy data in SxS media directly to an external storage via USB-3 port without utilizing other devices. The player is an excellent solution not only for playback in the field and different locations but also can be used as a 4K player tethered to various high-end 4K professional monitors or projectors and even consumer 4K TVs.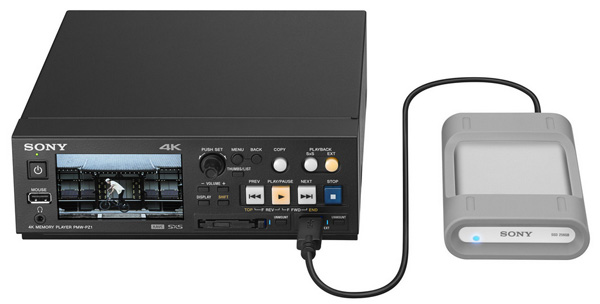 MW-PZ1  provides SxS card slot that will also take XQD and SD cards with adapters. The player also features two USB interfaces – one for connection to external USB storage, and the other to a mouse device for the user to control the device.  An independent audio output is also available on the back panel of the unit.
The PMW-PZ1 is expected to hit the shelves in June 2015 for a retail price in the sub-$3,500 range.
[via Redshark News and News Shooter]
Claim your copy of DAVINCI RESOLVE - SIMPLIFIED COURSE with 50% off! Get Instant Access!