After the previous 6.1 firmware update enabled highly demanded playback on the 4K Shogun, now Atomos release AtomOS 6.2 Firmware providing even more new features to their flagship recorder/monitor.
The current version of the software gives Shogun users much-anticipated new functionality such as 3D LUTs support, world'first 4K DNxHR recording, DNxHD recording, 4K to HD downscaling on loop-out along with additional user interface and compatibility enhancements including larger audio meters and playback preview frame. Here's more info on how to get firmware 6.2 up and running on your Shogun:
To get the latest version up and running you should download and unzip the ATOMSGN.FW file first.
Then copy the file on the recommended drive using the docking station included with your recorder and insert the drive into the device while it's off.
Power up the Shogun.
The screen will show flashing colored lines on the top and bottom of the monitor.
Don't switch off the recorder during the update.
Once completed, the Shogun will power down.
To make sure that you've already got the latest version of the firmware, switch on the Shogun, head to Menu and then choose Shogun Info and check if the version number is the expected one.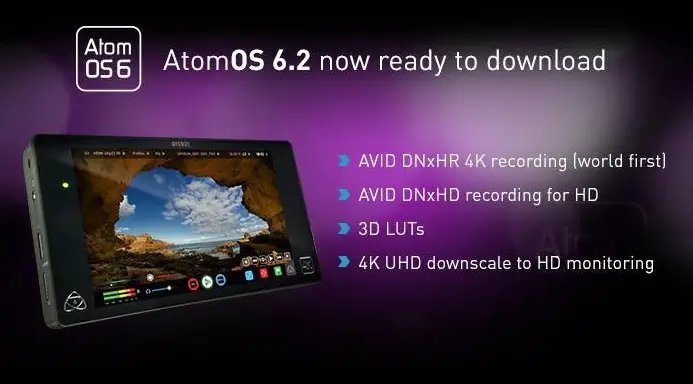 Here is a summary of the new features that come with the AtomOS 6.2 firmware.
Features:
–  Added ability to load 3D LUTs. Load Cube files on SSD (refer Shogun FAQ for file compatibility details) and access via the new Display Options button on the home screen.
–  Record and play back using Avid DNxHD (HD) and DNxHR (4K).
–  Downscale 4K input to 1080p (matching frame rate) on the loop out port. Access the setting via the input menu page.
–  Playback now displays a preview frame of the selected clip in the file browser.
–  Separate analog gain settings for left and right channels now available via the new audio options page. Enable Mic +48V to use Shotgun and Lavalier Mics that require Phantom Power to operate.
– Larger audio meters for easier visibility of ballistic levels.
Bug Fixes:
– Corrected direction of manual gamma setting.
– Improved drive compatibility.
– Take number is correctly reset after disk format.
Atomos Shogun + Sony FS7 Guide:
Atomos Shogun Sony FS7 Setup Guide from Atomos Video on Vimeo.
As per scheduled, the next update 6.3 will be released in mid-April including RAW to ProRes recording for FS700 and FS7 shooters.
[via Atomos]
Claim your copy of DAVINCI RESOLVE - SIMPLIFIED COURSE with 50% off! Get Instant Access!