The GoPro cameras are so awesome, yet so small and capable of yielding incredible pictures and video in a size I still cannot fully fathom. Pick it up, stick it anywhere, whether it's a fixed surface, car mount, harness, helmet or drone and capture your stories. No wonder it's taken the world by storm and can just as easily be spotted capturing super-low or impossible angles on Hollywood films, TV drama's as well as capture your next door neighbours morning bike ride. In 2014, the GoPro Hero4 Black made 4K video capture up to 30fps a reality for everyone, and for those that need to run a lav mic into their GoPro, the folks at MXL have released a wearable lav microphone specifically designed for GoPro Hero4 and older models of the camera like the popular Hero 3+ and Hero3+ Black.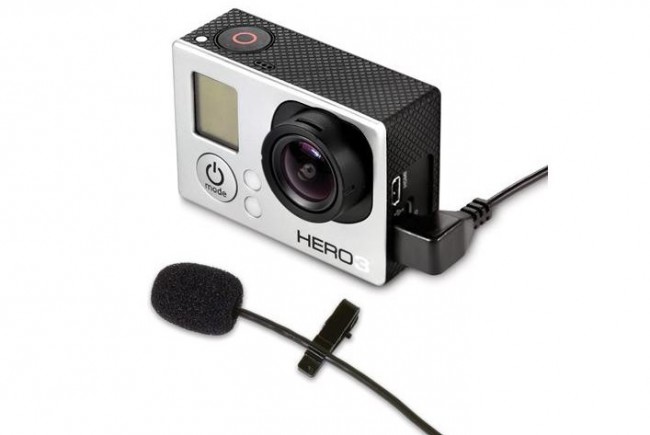 The MXL GoLav is an omni-directional microphone, with clip and features a 1.5m Mogami cable. The GOLav is quite a unique lavaliere mic, the first of its kind to feature a mini USB connector built directly into the cable, with a right-angle connector that's compatible with GoPro's protective cases. The mic also comes with its own foam windsock and an extra fuzzy windsock for use in high-wind situations.
MXL Sales and Marketing director Perry Goldstein had this to say about the GoLav:
The GoLav is really a point-of-view microphone to go with the world's most popular point-of-view camera. It puts the mic closer to the user's mouth to improve the audio quality [allowing users to] record their own commentary and reactions.
GOLav Features:
Omni Directional Microphone with Clip
Low Profile, Right Angle Connector
Plugs Directly into the Camera
Flexible 5 ft Mogami Cable
Noise Minimizing Windscreen
Pouch and Clip Included
The GoLav seems to be a really good fit for people using the GoPro Hero cameras for vox-pops, walkthroughs, event coverage, behind the scenes tours/footage and any other application where audio is required in camera.
Price & Availability
The GoLav will be available in Australia next month, with a retail price of AU$149.99 inc GST, which translates to about $115 US or £75 GBP. US, EU/UK pricing is yet to be confirmed. We'll keep you posted once those become available.
[via Video & Filmmaker]
Claim your copy of DAVINCI RESOLVE - SIMPLIFIED COURSE with 50% off! Get Instant Access!