It's been almost a year since we first got a glimpse of the DJI Ronin 3-axis handheld gimbal stabiliser. Unveiled at NAB 2014 in Las Vegas, the DJI was and still is quite possibly the only real competitor to the Freefly Systems Movi M10 in the land of premium gimbal stabiliser systems. Originally available on pre-sale for about $4,500, last July DJI dropped the price on the Ronin by a hefty $1,500 and now just less than 3 weeks before NAB 2015, they are at it again.
Just until a few hours ago, B&H were selling the DJI Ronin for $2,249 (another massive $750 price drop), and now the price seems to have anchored to about $2,499 ($500 off), which is still a helluva deal. With NAB around the corner who knows that DJI might have up their sleeve – a Version 2 maybe? Lighter, smaller, even cheaper version for mirrorless cameras maybe?
Even at $2,499 the Ronin is still an absolute steal considering the Movi M10 costs more than twice as much!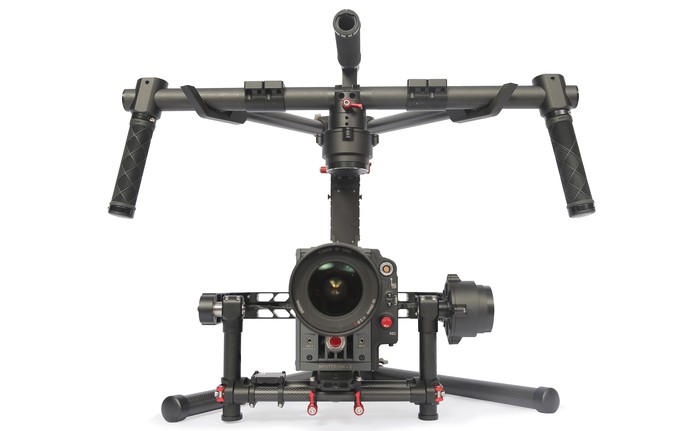 Easily the most popular gimbal stabiliser in rental houses in the UK, rivalled only by the Movi M10 (maybe not so much on price, but spec). However, most productions and rental house choose to stock the DJI Ronin due to its lower price, easier balancing, and ability to support larger cameras up to 16 lbs. including basically everything from DSLR's like the Canon 5D Mark III up to cameras like the RED Epic and Canon C300 – two of the most popular hire kits in the UK at least.
Recently the price drop on the DJI Ronin was reflected by some UK resellers (see links at bottom of the article) from about £1,800 +VAT down to £1,499 + VAT. The timing of this across the board price slashing, just weeks before NAB, as well as bigger price drops/limited time promos like the one B&H just did yesterday with the $750 discount, is usually signalling a newer model may be looming just around the corner.
As resellers are trying to move current stock of the Ronin in anticipation of the possible "newer" model. All of this is just my opinion of course, and it may not turn out the be the case, but its worth to consider. It is also not known at this point, how long the US/UK price drop will last. We expect it to stay until NAB at least.
Whatever DJI end up releasing/announcing or not announcing at NAB, at these prices the DJI Ronin is once again an downright steal. Here's a brief rundown of what this gimbal stabiliser can do.
Features & Highlights
Supports Cameras up to 16 Pounds
Precision of Control: ±0.02°
Transmitter for Remote Pan/Tilt Control
Tool-Less Balance Adjustment System
Assistant Software for iOS and Windows
Bluetooth Wireless Interface for Setup
15mm Rods + Mount Points for Accessories
USB and PowerTap Power Outputs
Gimbal Tuning Stand Included
Included Hard Case Holds Gimbal and More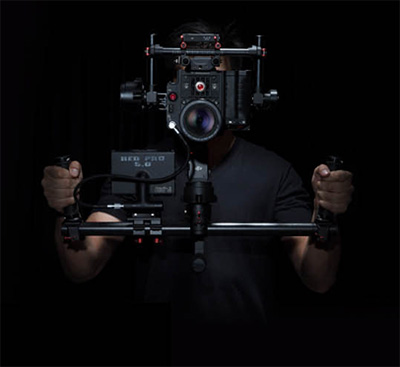 The DJI Ronin Includes Three Operation Modes
1. Upright Operation Mode
Upright Mode allows the gimbal to be flipped over so the camera can be operated closer to eye level without straining to lift the gimbal. This can be used in various situations, such mounting on the top of the vehicle.
2. Underslung (Suspended) Operation Mode
Suspended Operation Mode is the standard operation mode for Ronin. Low slung, close to the ground, or simply holding the gimbal in front of you offers stabilized handheld footage. This mode would also be used when mounted the gimbal on a flying platform such as a multi-rotor RC helicopter.
3. Briefcase Mode
When a slimmer gimbal profile is needed – such as when moving through doorways or narrow paths – Briefcase Mode is ideal. It allows the gimbal to be held to the side and close to the legs, much like a briefcase.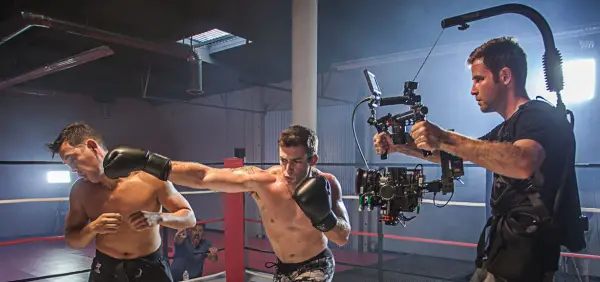 * Second Operator Control – A second operator transmitter (radio controller) is included with the package. Featuring the form factor of an RC aircraft radio controller, the 2.4 GHz Ronin transmitter provides pan and tilt control as well user-assignable speed settings and operation modes via two toggle switches. If you would rather use a third-party transmitter a D-bus port is provided.
* Optional Joystick Pan/Tilt – Single thumb control is possible for the Ronin Handheld Gimbal System. These Pan and Tilt movements are controlled via the optional joystick attachment, available separately. Additionally, SmoothTrack Mode can be turned on or off using the joystick interface.
B&H: DJI Ronin 3-Axis Brushless Gimbal Stabilizer – $2,499
UK: Visual Impact, Pro AV, Production Gear – all at £1,499 + VAT (£1,798 incl. VAT)
Claim your copy of DAVINCI RESOLVE - SIMPLIFIED COURSE with 50% off! Get Instant Access!