Dead pixels are a common issue that many filmmakers face and need to deal with eventually, no matter whether they are using an entry-level DSLR or a high-end digital cinema camera. Those bright colored tiny spots in your footage can be annoying and frustrating as they continually draw your attention and are impossible to overlook once you see them.
Fortunately, MTI Film already got the remedy. The CORTEX bundle of products includes solutions for on-set and post-production workflows with a fully featured dailies application with ACES and ACS CDL compliance, IMF deliveries along with 4K upres and edit capabilities. At the upcoming NAB Show in April this year the company will unveil a major update to its software products.
CORTEX v. 2.0 will introduce new features and media support that will significantly expand its usability as a post-production workflow utility.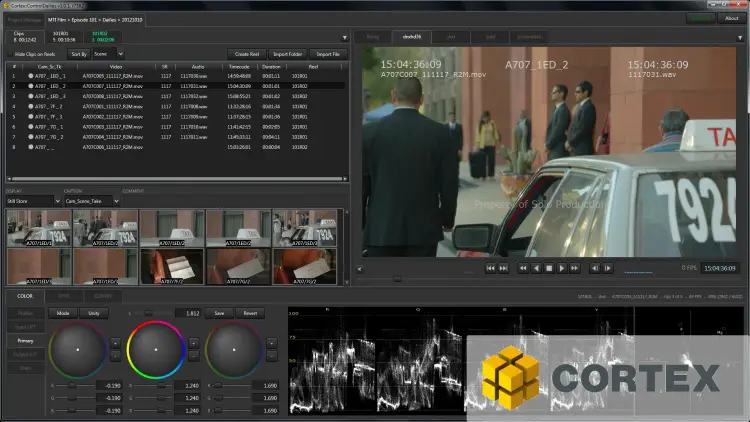 MITFilm will also release a new free, on-set version of the software Cortex D.I.T that will include a first of its kind feature for detecting and correcting dead pixels. Dead Pixel Detection can automatically identify dead pixels in the sensors of your camera. Information about dead pixels is stored in the CORTEX Manifest file for delivery to post production.
The new CORTEX D.I.T. will also perform comprehensive media offload and backup functions, apply color takes as basic looks or with full ASC CDL primary color, and output color information and other metadata for use downstream. This metadata can be exported in the form of a CORTEX Manifest file, for complete media tracking and guaranteed color coherence in post, or in industry standard LUT and CDL files for cross-compatibility.

Among the new features, the CORTEX v. 2.0 provides is support for IMF, JPEG2000 and HEVC formats. The expanded format support is aiming at the growing demands of broadcasters and filmmakers for covering new UHD/4K delivery requirements.  CORTEX Enterprise 2.0, on the other hand, continues to include MTI's high-quality UpRes to a 4K algorithm for up-converting VFX shots as well as the ability to convert entire existing libraries for 4K delivery.
CORTEX v 2.0 will be released at NAB in April 2015.
[source: MTI Film, via SHOOT]
Disclaimer: As an Amazon Associate partner and participant in B&H and Adorama Affiliate programmes, we earn a small comission from each purchase made through the affiliate links listed above at no additional cost to you.
Claim your copy of DAVINCI RESOLVE - SIMPLIFIED COURSE with 50% off! Get Instant Access!