US-based Eeyeconic Inc, are crowdfunding a new gimbal stabiliser that has a pretty unique feature compared to others. The Origin, as they call it, features a 4th axis dampening systems that is also fully detachable. Designed for mid-sized DSLRs, and perfectly suited for mirrorless cameras like the GH4, Sony A7s, and the Samsung NX1, as well as camcorders weighing up to 5 pounds, including the lens. The Origin weighs in at 4.5 pounds making it light enough for travel and less operator strain.
Designed for rugged environments with the outdoor shooter in mind, the dampening system on the Origin helps eliminate bumps from uneven terrain, which is a common issue with most other gimbals and stabilisers.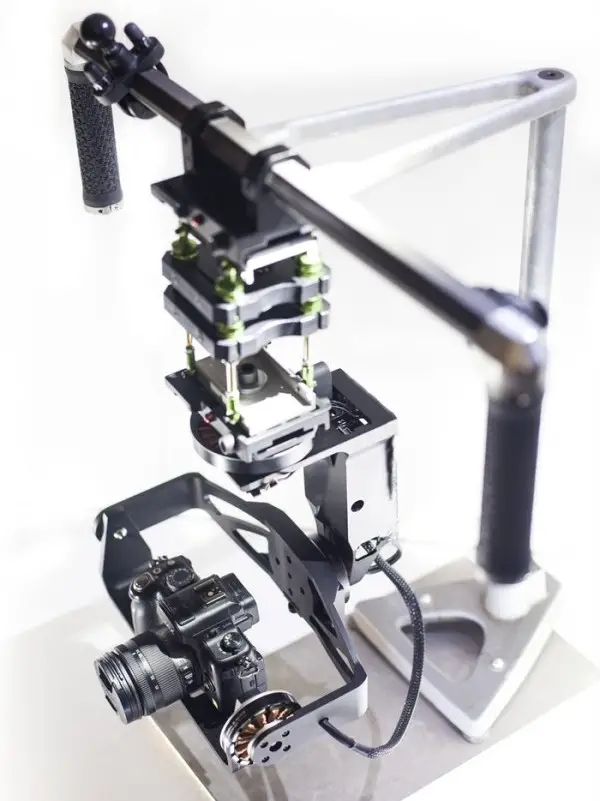 A next generation camera stabilizing system that pushes the boundaries of gimbal technology through a new innovative dampening system.
The Origin Dampener – reduces the up and down movement and has a quick detachable mount system and universal mount system for all different gimbals on the market. The dampener can be integrated in other platforms.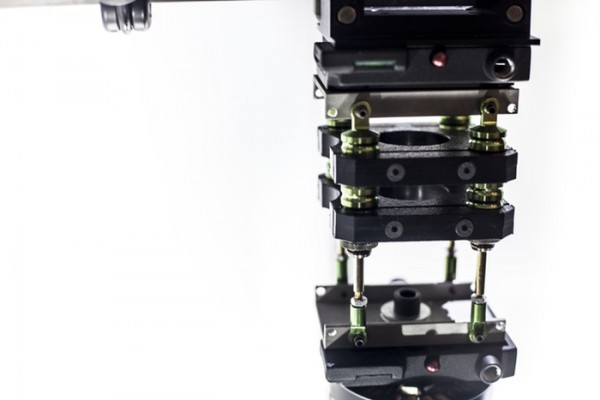 The system supports single- or dual-operator control. The single mode has an attached joystick to control the pan and tilt. This will come standard with the system. With the dual operator mode we will provide a remote control while one person walks around with the camera and Origin Stabilizer, the second person is nearby with a monitor controlling the camera movement.
The Cage area of the Origin camera platform measures in inches at (D x W x H) 5 x 8 x 6". The D is for depth forward and back. The final design has the right side open, which allows a wider space. The design of the Origin draws inspiration off of the ship Tom Cruise flies in the movie "Oblivion."
Features & Tech Specs
Singe and Dual Operator mode
Supports camera/lens combos up to 5 lbs.
Forward thinking in all aspects.
Battery Information – 14.8V 5Ah (74Wh) with PCM (6)
Battery Dimensions: (L x W x H)   105mm (4.2″) x 72mm (2.8″) x 36mm (1.4″)
Weight 1lb or (539 grams)
Li-Ion battery lasts at least 5.5 hrs.
The battery is rechargeable from a wall outlet with the charger which will come standard with all the stabiliser packages.
Eyeconic plan to use the Phobotic Centerpiece control boards, which is a leap in gimbal performance and easy to configure. It is an incredibly stable platform, allowing for the gimbal to be slung above you for higher perspectives and down low one handed without any issue. Uses existing quick detachable mounts for all filming uses.
More Specifications & Dimensions
Origin Stabilizer Weight:           3.5-5 lbs. 2.3 kg
System Type                               3-axis with 4th axis removable dampening.
Pan Range                                   360°
Title Range                                 ±180°
Roll Range                                  ±180°
Crowdfunding is never easy, so to help with their pre-launch campaign, Eyeconic are giving away some awesome perks:
The first 20 people who donate or back us for $1,000 towards our campaign will get the "Origin stabilizer." That is half off the original early bird special.  We would like to have these in production sooner than later. If this goes well, we may continue the special.  If nothing changes we may need to cancel this campaign and regroup for another day.  We really don't want to do that!!!
Complete Origin packages include 2 x 5 1/2 hour batteries, a charger, and a unique stand and start at $2,399. They expect to be able to deliver the Origin gimbal stabiliser in July 2015. I really like the design of this gimbal and think that they may be on to something quite unique here with this removable dampening feature.
To claim your Origin gimbal stabiliser with removable dampening and support these guys head over their Kickstarter campaign here.
Claim your copy of DAVINCI RESOLVE - SIMPLIFIED COURSE with 50% off! Get Instant Access!