Convergent Design just released the latest firmware update for their Odyssey family monitor/recorders. Firmware version 5.10.100 (download link in the bottom of the article) adds the very welcomed Apple ProRes LT and ProRes 422, in addition to the already existing ProRes 422 HQ. LT and 422 are very useful as you can save disk space, while still maintaining 10bit 422 quality in your footage. LT and 422 are both over 100Mb/s in 1080p and at 10bit more than enough for most productions.
Another addition in the new firmware release is 4K/UHD to 2K/HD supersampling (or downsampling as it's most often referred to) for 4K cameras like the Sony A7s and Panasonic GH4 and FS7. Keep in mind that only the Odyssey7Q+ can provide 10bit recording over HDMI, as opposed to the Odyssey7Q and 7 models.
Also, the GH4 and FS7 can take advantage of DCI 4K at 4096 x 2160, while the A7s is limited to UHD at 3840 x 2160, however with the downsampling conversion to 2K/HD, the 1080p image you end up with will be definitely improved compared to a natively captured 1080p in camera.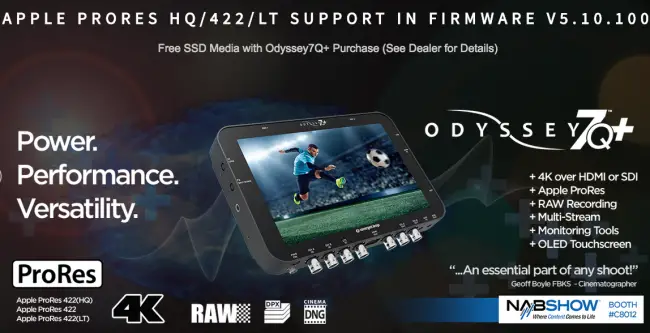 Frame rates are standard frame rates up to 30p in 4K/UHD, and also 50p/60p in 2K/HD/720p depending on camera capabilities.
From Convergent Design:
HDMI 4K->2K / UHD->HD Supersampling
An HDMI-based 4K (4096×2160) or UHD (3840×2160) video signal can be supersampled in realtime in the Odyssey7Q+ to a 2K (2048×1080) or HD (1920×1080) video signal and recorded in Apple ProRes (HQ, 422, or LT).
Some cameras that, over HDMI, can output 4K or UHD can also output 2K or HD. But many of the smaller cameras are limited in the quality of their lower resolution outputs. Some truncate the bit depth to 8-bit, and some lower the resolving capabilities due to either limited circuitry space within the camera or to protect the internal recording codecs that cannot handle highly detailed imagery.
The Odyssey7Q+ devotes considerable computational power to supersampling the 4K or UHD video signal to yield superior resolution 2K or HD results in realtime, without aliasing or "false resolution." The resulting images out-resolve the in-camera processing available in many small cameras.
Another advantage is if the camera is limited to 8-bit output, the Odyssey7Q+ supersampling will result in a pseudo-10-bit color sampling for improved color reproduction. Use Apple ProRes 422 (HQ) to take full advantage of these improvements.
Examples of cameras benefitting from the 4K->2K / UHD->HD Supersampling include the Panasonic GH4 and the Sony a7S.
With this update we are adding expanded support for Apple ProRes, Remote Trigger Support, High-Quality Supersampling of 4K/UHD video signal over HDMI and more. Read below for more information on added features, fixes & improvements, etc.
More Apple ProRes Support
In addition to Apple ProRes 422(HQ), Odyssey now supports Apple ProRes 422 and Apple ProRes 422(LT) allowing you to select the best bitrate for your workflow and deliverables.
4K/UHD/2K/1080/720 resolutions all supported 4K/UHD up to 30p; 2K/1080/720 up to 60p
4K/UHD Supersampling
High quality supersampling of 4K/UHD video signal over HDMI yields 2K/HD video superior to that available directly from cameras like the GH4 and A7S.
Remote Trigger Support
The Convergent Design Odyssey Remote Trigger is a pushbutton active remote start/stop trigger for Odyssey monitor/recorders. Remote Trigger feature has been enabled in firmware version 5.10.100 for HD Apple ProRes recording only.
Download firmware 5.10.100 here.
Claim your copy of DAVINCI RESOLVE - SIMPLIFIED COURSE with 50% off! Get Instant Access!