I've been a Miller tripod user for a number of years now, having owned my trusty Miller DS20 1514 carbon fibre system for over four years. I got it used on ebay and I am not surprised it is still working fine; Miller stuff is top notch quality and lightweight enough to carry around without breaking your arms or shoulders. I've been eyeballing some larger tripods and noticed that Miller were at IBC 2017 launching their new CompassX series.
Similar to other Miller fluid heads, the new CX series have been designed with speed, balance and strength as their cornerstone, and Miller will offer five models to choose from in these new series – CX2, CX6, CX8, CX10 and the CX18, depending on the payload you need to carry.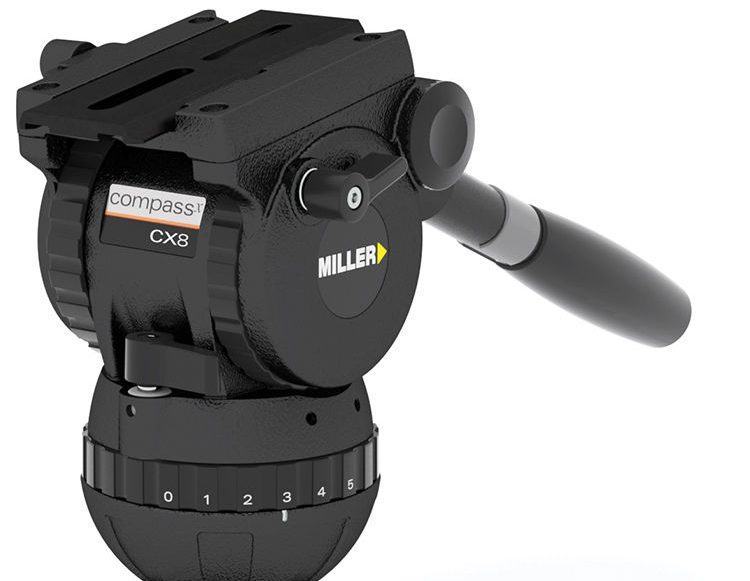 The new CX fluid heads incorporate Miller's CB PLUS enabling technology, which takes traditional counterbalancing a step forward. All five models feature 16 positions of counterbalance for fine, rapid adjustment and the side loading base plate enables fast and easy mounting and alighting of camera rigs.
The inherent wide payload range (CX2 the smallest one goes from 0-8kgs, while the CX18 doubles the max payload to 16kg or 35.2lbs) of the CompassX series provides maximum flexibility when switching cameras or adding accessories. Its robust construction guarantees a long, low maintenance service-life and low cost of ownership.
"In our continued goal towards meeting our customers' needs, Miller is delighted to present the CompassX series, the most flexible and durable fluid head solution for today's videographers and their professional requirements," says Charles Montesin, Global Sales and Marketing Manager, Miller Camera Support Equipment.

"This new series is the result of intensive user research and innovative design. We are excited to launch the CompassX fluid heads at IBC and eager to see our customers use them to their full potential."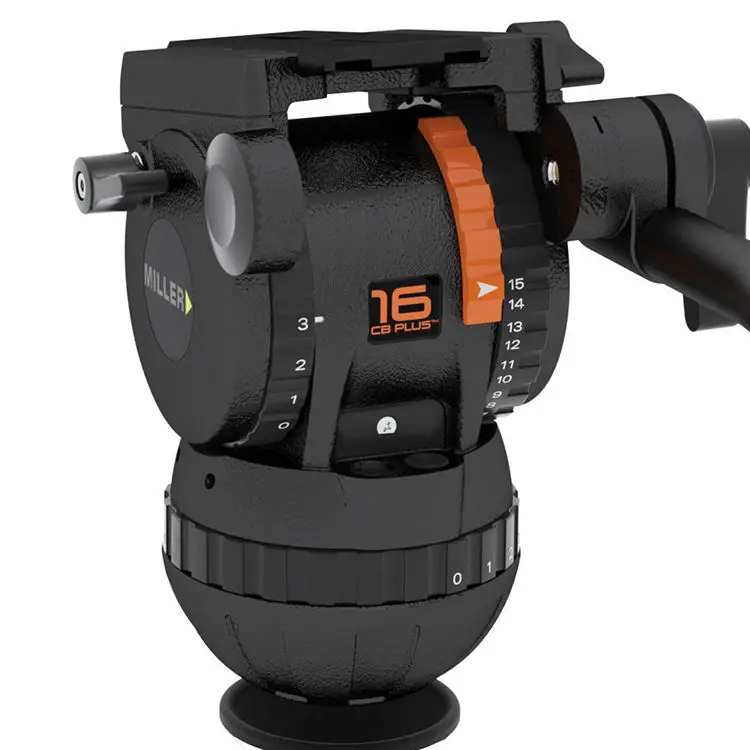 The CX2 and CX6 boast a payload range of 0-8kg and 0-12kg respectively, 16 positions of counterbalance and 3+0 pan-and-tilt drag positions with a 75mm ball levelling mounting base for lighter rigs where portability is important.
Where more fluid drag is required, the CX8 and CX10 both support 5+0 drag positions, a 0-12kg payload range and a 75mm and 100mm ball levelling mounting base. The models top out with the CX18, which features a 0-16kg range, 5+0 positions pan-and-tilt of drag and 100mm ball levelling mounting base.
Miller CompassX CX8 Features
Compact, uncompromised performance
Perfect for payloads to 0-12kg (26.4bs)
15+0 CB Plus selectable counterbalance positions
Ergonomically located CB Plus switch
5+0 selectable positions of fluid pan and tilt drag
Positive selection radial ring controls
Illuminated bubble level
Precise floating pan-tilt calliper locks ensure bounce free on-off performance
Side loading, 60mm balance travel camera plate with 1/4" + pin, 1/4" and 3/8" screws
Robust construction for rugged outdoor shooting conditions
Side mounting point for viewfinders and accessories
Optional second pan handle mount
3 year warranty
Price/Availability:

approx $1800 for the CX8 fluid head only
£1,500 + VAT UK
December 2017
While all CX models are designed for strength and durability, the range offers standard features to suit most applications, as well as distinguishing characteristics to each model.
The set of fluid heads in this five-option series deliver on Miller's "right feel" and are backed by a three-year warranty promise that videographers and cinematographers have come to expect.
I am looking forward to checking out the Miller CX8 or CX10 at my local reseller soon as I feel it would be the perfect match for my Canon C300 Mark II, as I am now using the DS20 more and more with the Canon 5D mark IV.
Disclaimer: As an Amazon Associate partner and participant in B&H and Adorama Affiliate programmes, we earn a small comission from each purchase made through the affiliate links listed above at no additional cost to you.
Claim your copy of DAVINCI RESOLVE - SIMPLIFIED COURSE with 50% off! Get Instant Access!