Some of you may be familiar with Portkeys Technologies, makers affordable on-camera monitors like the Portkeys HH7, and BM5, in addition to an excellent EVF that works with a variety of popular Sony, RED, Canon, and other cameras. Recently, the company announced a new and very affordable Portkeys P6 HDMI on-camera 5-inch monitor with 3D LUT support and quite a few monitoring tools for your mirrorless rig.
The Portkeys P6 may not be built as rugged and tough as the more upscale Portkeys BM5, but despite its plastic construction, it still features a full range of monitoring tools that would certainly make your life on set a lot easier. Mirrorless cameras are great because of their compact form-factor and incredible image quality, but when it comes to more pro monitoring tools, the built-in features are often lacking.
This is where something like the Portkeys P6 can come in very handy. The monitor has a decent 500nits brightness, which may not be much compared to the 2200nits display on the BM5, but it costs a lot less than the BM5 monitor.
The Portkeys P6 is very light at just 130grams, and sports a compact 5.5-inch 1080p display surrounded by a very thin bezel so as to be as unobtrusive to your rig as possible, while still giving you a video feed you can depend on.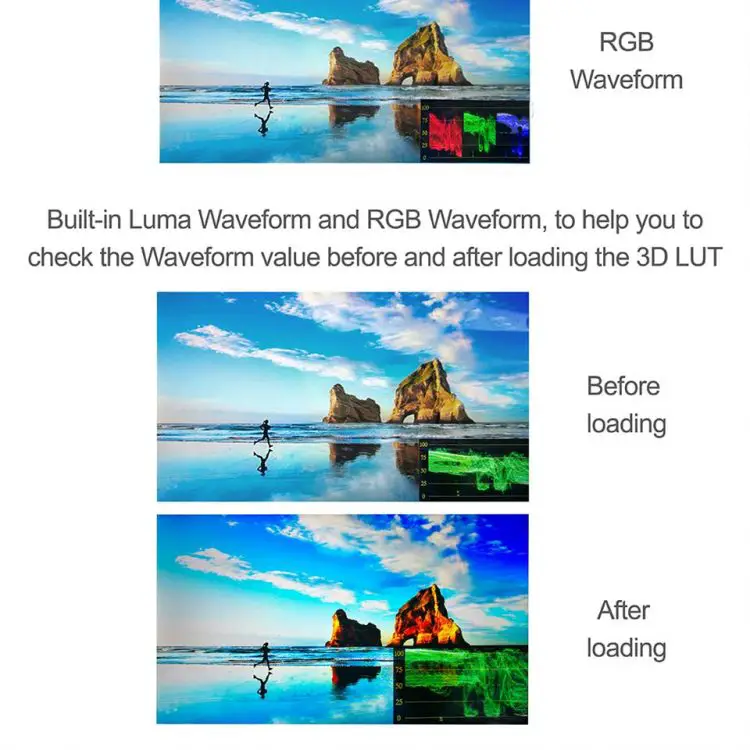 The included set of monitoring features and 3D LUT support is where this monitor really shines. Users can upload up to 20 custom 3D LUTs and the built-in Luma and RGB Waveforms allow you to check your image before and after loading the LUT, which can help you get a more accurate exposure.
Other monitoring tools included feature Zebra, Check Field, Grids, Audio Meters, Image Flip, Colour Temperature, Peaking, Zooming, Cross Hair, Display Flip, False Colour, Histogram, and more.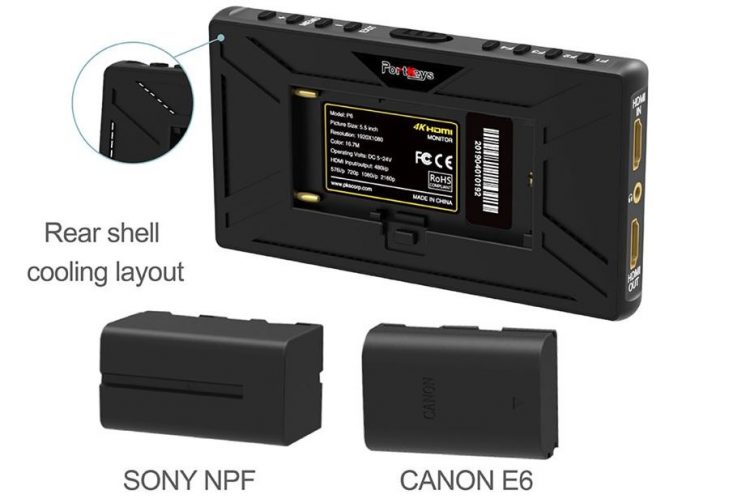 The P6 features an HDMI in and out, that supports a 4K signal, and also has a few assignable buttons on top. You can power the monitor via standard Sony NP-F style batteries or Canon LP-E6, which are cheap and readily available.
Portkeys P6 Monitor Features/Specs:
5.5″ 500nit 1080p IPS Display
ABS Engineering Plastic construction
4K HDMI support In and Out
Advanced Monitoring Functions:

3D LUT, Luma and RGB Waveform
Zebra, Check Field, Grids, Audio Meters, Image Flip
Peaking, Zooming, Cross Hair, Display Flip
False Colour, Histogram, Custom RGB

3.5mm Headphone Jack audio output
USB-A port for Firmware Update and to load 3D LUTs
Power Input / Output

DC 7.4 – 24V (support power supply to camera)
Can use a 5V power bank to power monitor

Supported Battery Models:

Sony NP-F970/F960/F750/F550
Canon LP-E6

Weight: 130g
Dimensions: 142x78x16.5mm
Price: $169/€199
The Portkeys P6 HDMI on-camera monitor is priced at $169 US / €199 (at Portkeys EU store) and some pre-orders may ship before 25th December, according to Portkeys so better get that pre-order in and you may get lucky and get your monitor before year end. For more info head over to Portkeys Technology.
Claim your copy of DAVINCI RESOLVE - SIMPLIFIED COURSE with 50% off! Get Instant Access!