The Insta360 Titan Cinematic VR Camera that is capable of recoding resolutions up to 11K is now officially shipping!
Back in January this year, Insta360 unveiled the Insta360 Titan, the world's first 11K unibody VR camera tailored towards video creative professionals and high-end productions with the promise of shipping the camera later in the year. And looks like the time has come as just earlier today, Insta360 announced the Titan is now shipping worldwide.
The Titan combines an eight-lens camera setup with eight Micro Four Thirds sensors designed to take your VR productions to a cinematic standard, combining ultra-high-quality imagery with an efficient, streamlined workflow.
Insta360 also debuted a series of sample clips that showcase Titan's unrivalled resolution, dynamic range and colour depth. The sample clips include 8K/2D, 10K/3D, and 11K/2D footage and can be downloaded here and are viewable at full quality using Insta360's CrystalView playback technology on the free Insta360 Moment app. 
"Our work in the field requires excellent adaptation to varied lighting conditions, and Titan handled it with ease," said Chris Fischer, founder and CEO of the wildlife-focused 360 video production company The All Around Project, who participated in pre-launch field testing that put Titan in the hands of a range of professional VR filmmakers. "On the locations that we tested this camera, it didn't fail to impress with its excellent dynamic range, beautiful colour reproduction and sharp image quality."
JK Liu, Insta360 Co-Founder and CEO, said that Titan was the culmination of five years of R&D and close collaboration with the VR filmmaking community. 
"We've worked together with VR creators to build the hardware platforms they need — from the cinematic quality of Titan to the versatility of the Insta360 Pro series," said JK Liu. "Our roadmap this year doesn't include any new professional cameras. Our full focus is on bringing users of Titan and Pro series cameras an even greater edge, through continued updates and integrations with key ecosystem partners."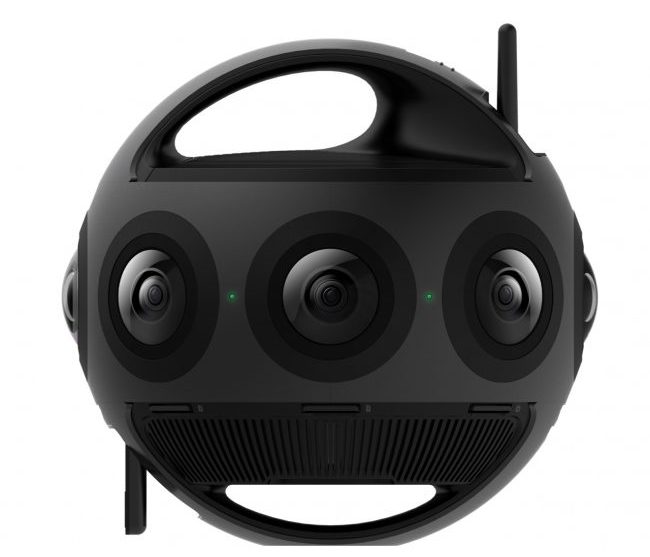 8x Micro Four Thirds Sensors
Titan stands out from the competition thanks to its setup using 8x Micro Four Thirds sensors, the largest available in any unibody VR camera.
As we know, MFT sensors, especially those of the latest generation in cameras like the BMPCC 4K and GH5S (not implying that Insta360 is using the same sensors, rather just using the size and generation as reference; no idea what exact sensors Insta360 is using in the Titan) can have impressive low-light performance and dynamic range giving your VR footage a more organic look.
VR cameras in general, at least on the consumer level, don't usually offer great image quality due to the small chips they use and limited processing. The Titan however is quite different from those.  
The Titan is the first standalone 360 camera ready to record in 11K. Key shooting modes include 11K monoscopic at 30fps, 10K 3D at 30fps, as well as 11K 360 photos in 3D and monoscopic formats. Additional shooting modes include 8K/60fps and 5.3K 360 video at 120fps for some sublime super-slow motion.
FlowState Stabilization + Farsight Live Monitoring
The Insta360 Titan offers a range of features designed to overcome bottlenecks at every step of the VR workflow. 
FlowState Stabilization is an amazing feature that lets creators achieve gimbal-like stabilization without any gear or post-production headaches, while the Farsight live monitoring system gives them a long-range, low-latency preview that allows for directing scenes from a safe distance. Seamless integration with Adobe Premiere Pro means that creators can jump into editing a new project before they spend a second stitching footage. 
11K VR is Impressive and All, but How Can I Watch It? 
8K and above? Yeah, great, but viewing it properly today is impossible, so the question remains: How do you watch it?
Common players like YouTube max out at 8K, and their aggressive compression algorithms severely degrade 360 degree footage most of the times, so naturally, there is a need for a proprietary player in this instance. At least for now. 
Insta360 took matters into its own hands and designed their proprietary CrystalView player that lets you play back your Titan footage at full 11K quality on mainstream iOS and Android devices. The trick for getting so much juice out of mainstream devices is to render only the part of a scene that a viewer is watching at any given moment — with no power wasted rendering what's behind their head.  
The upshot is that creators can deliver work at the quality they captured. Download the CrystalView-enabled Insta360 Moment app today and check out Titan footage as it was meant to be viewed.
Priced at $14,999 USD, the Insta360 Titan is now shipping globally, with no reservation necessary.
The Titan is available directly from Insta360.com, and authorised dealers such as B&H Photo as well as other select retailers.
Claim your copy of DAVINCI RESOLVE - SIMPLIFIED COURSE with 50% off! Get Instant Access!