After weeks of teasing a new lens, the final missing piece of the puzzle has been revealed by Korean optics manufacturer Samyang. The company announced their latest addition to their lens line-up – a 100mm T3.1 Macro lens for video use, and a corresponding f/2.8 macro lens for stills photography. The new lens is a welcomed addition to the already impressive Samyang range of cine lenses, which already includes the recently announced 135mm telephoto and 50mm portrait lens.
Usually found also under the Rokinon/Bower brands, the Samyang cine lenses feature a fluid aperture ring and a 0.8 pitch geared focus ring among other features. The Samyang cine lenses are the one of the most affordable for video use, as they already come "cine-vised" by default by the manufacturer, this way one saves both money and time instead of cine-vising old vintage glass by Nikon or Zeiss Contax for example.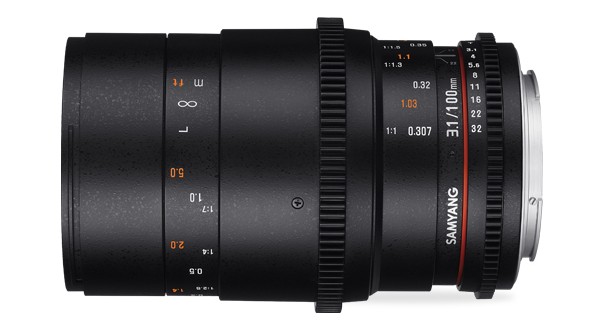 Features
Macro Telephoto Manual Focus Lens
Bright T3.1 aperture
High refractive (HR) and extra low dispersion lens (ED)
Uncoupled aperture and focus gear ring
Ultra Multi Coating (UMC) technology of Samyang Optics
Circular aperture with 9 blades
VDSLR II CINE LENS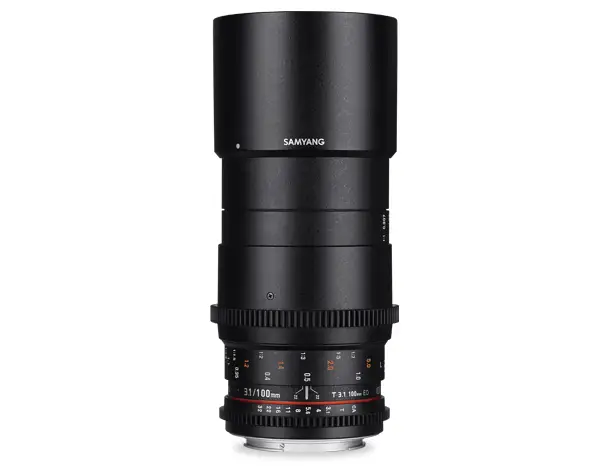 The new 100mm T3.1 macro lens from Samyang is part of the Cine DS line and covers the full frame image circle so it's perfect for full frame DSLR's like the Canon 5D Mark III or their mirrorless counterparts like the Sony A7s. The lens can achieve 1:1 magnification, has a minimum focus distance of 1 foot, a 67mm front filter diameter, 15 glass elements in 12 groups, as well as Ultra Multi-Coating (UMC) to minimize ghosting artefacts and flares.
Here are some sample shots from the Samyang 100mm T3.1 VDSLR ED UMC MACRO that Samyang released:
The Samyang 100mm T3.1 macro will also have a f/2.8 stills counterpart, of course without the 0.8 pitch gearing, but still same optical performance. The lens will be available in almost any modern mount imaginable, including Canon EF, Nikon F, Pentax K, Sony Alpha, Sony E-mount, Samsung NX, Canon M, Fujifilm X, Four thirds, and Micro Four thirds mounts.
According to B&H, the lens will be available on 16th April. See pricing below for some of the mounts.
B&H:
Rokinon 100mm f/2.8 Macro Lens for Canon EF – $549
Rokinon 100mm T3.1 Cine DS Lens for Canon EF Mount  – $599
Rokinon 100mm T3.1 Cine DS Lens for Sony E-Mount – $599
Press Release
April 2, 2015, Seoul, Korea – The global optics brand, Samyang Optics (http://www.syopt.com) today announced macro lenses for full frame sensors with 1:1 life-sized reproduction ratio – Samyang 100mm F2.8 ED UMC MACRO lens and 100mm T3.1 VDSLR ED UMC MACRO cine lens. These new products will be the first macro systems, housed under the 40 years Samyang's class-leading core optics technologies.
Focusing on the Essence of Nature – Samyang 100mm F2.8 Macro Photo
The Samyang 100mm F2.8 ED UMC MACRO photo lens realizes 1:1 life-sized image with superior image quality. It enables to capture the essence of nature with the minimum focusing distance of 0.3m (1 feet). It is a versatile lens which can be used both as macro lens for close-ups and telephoto lens for portraits and landscapes. The bright F2.8 aperture offers the best level quality images under various exposure conditions.
Free Your Action! – Samyang 100mm T3.1 Macro Cine
The Samyang 100mm T3.1 VDSLR ED UMC MACRO cine lens is the ideal lens for close-up videos with greater quality. This lens is optimally designed for professional follow focus system thanks to the quiet and smooth uncoupled focus and aperture gear rings.
Also, the distance scale and T numbers are marked on both sides of the lens for convenience when filming. Also, the Samyang 100mm T3.1 lens is one of Samyang Optics VDSLR II Cine Lens Line Up which produces the matched image color and has identical location of aperture and focus gear rings.
Based on exceptional optical technology of Samyang Optics, the Samyang 100mm series features 15 glasses in 12 groups, including high refractive lens (HR) and extra low dispersion lens (ED) to minimize the unnecessary light dispersion and deliver high resolution throughout center to corner of image.
Ultra Multi Coating (UMC) of Samyang Optics is used to optimize the light penetration and minimize flare and ghost. The Samyang 100mm series comes in 10 camera mounts: Canon EOS, Nikon, Pentax, Sony ∝, Sony E, Fujifilm X, Canon M, Samsung NX, Four-Thirds, and MFT.
The Samyang 100mm series will be available globally from the end of April 2015. Suggested retail price is 100mm F2.8 for EUR 549 and 100mm T3.1 for EUR 599.
For more information, please visit Samyang Optics official website, Facebook page (http://www.facebook.com/samyangoptics) and Instagram (http://www.instagram.com/samyanglensglobal).
Claim your copy of DAVINCI RESOLVE 16 - SIMPLIFIED COURSE with 50% off! Get Instant Access!