Having a precise and reliable follow focus system on set can benefit just about any production. The upcoming Aputure DEC Wireless Follow Focus & Iris Control Solution will give the former Canon DSLR shooters that currently own a camera with Micro 4/3 or Sony's E-Mount whether it's the BMPCC, GH4 or Sony A7s the ability to utilise and control remotely their well-trusted kit of Canon EF lenses.
The Aputure DEC provides efficient way to pull focus and change the aperture of any EF lens remotely along with the ability to start and stop recording of the camera. The company is planning the release of two versions of the adapter – one that works with Micro Four Thirds mounts and another for the Sony E-mount cameras.
Fenchel & Janisch had a chance to test a prototype of their upcoming DEC lens adapter attached to a BMPCC and here's what they've got to share.
The system provides two OLED displays on both the adapter and grip that give users the information about the attached lens, current focal length and aperture. On the back side of the grip, there is a wheel dedicated to the iris control of the lens. To use the follow focus, the lens has to be set into autofocus (AF) mode.
On the front of the grip, there is a Start/Stop button below which the focus pulling control is located. The speed of the focusing depends on how fast the button is pushed in either direction. Plus, the remote control vibrates when the end of focusing of the lens is reached.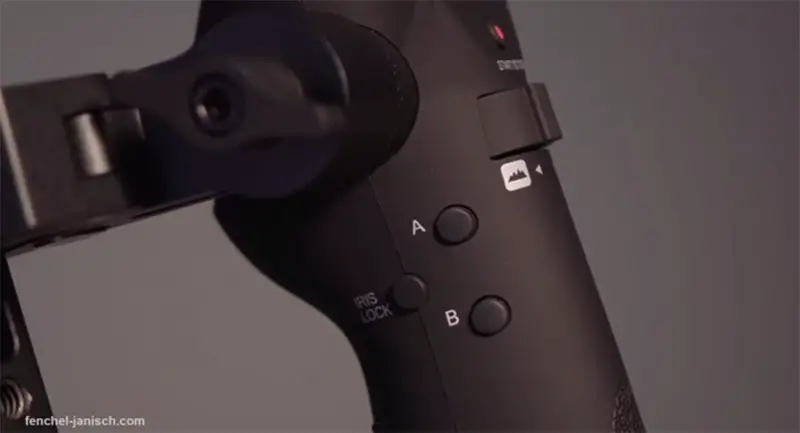 Another useful feature is the ability of the Apurture DEC to choose between two focus points due to the Mark/Stop mode. There are two A and B buttons on the left side of the remote control that enable that feature, thus making fast and precise focusing between two objects in a frame a breeze. Furthermore, to avoid accidental iris change the grip provides a dedicated button that locks the setting.
Both the adapter and grip can be charged and updated via micro USB port. The battery status of the system can also be seen on both displays on the adapter and the grip.
The Aputure DEC also does not increase the aperture or reduces the crop factor like a Metabones Speed Booster or some other optical focal reducer/adaptors. As for the image stabilization, at this point, the function is supported only on some lenses. However, this will be addressed to a future firmware updates of the system.
The Aputure DEC is set for release at the end of this month at a retail price around $399 which is an extremely competitive price considering the different features and the decent performance the solution provides.
[source: Fenchel-Janisch Blog]
Claim your copy of DAVINCI RESOLVE - SIMPLIFIED COURSE with 50% off! Get Instant Access!