If the aerial videography is your real passion and you are going to attend the upcoming NAB Show make sure you drop by the Aerial Robotics and Drone Pavilion located in the South Hall, booth SU12702. The US-based company Amimon mostly known for its zero latency wireless video solutions just introduced its new CONNEX high-performance wireless HD video link for multi-rotor drone platforms.
In a nutshell, CONNEX is a breakthrough transmission product that provides professional drone users the ability to outfit virtually any size and shape aerial drone with long-range full-HD video transmission capabilities with zero latency. Amimon's technology is already being successfully used in various film and television productions in industry leading transmitters such as the Teradek Bolt and Paralinx Tomahawk.
The CONNEX is available for pre-order at the highly competitive and attractive retail price of $1,599.
The system provides real 1080p encrypted and secured 5GHz wireless video transmission up to 60fps by supporting a range of up to 1000m or 3300ft. One of the absolute essential requirements, when you fly a drone, is to have a no latency live video feed to be able to control your UAV in real-time.
Imagine a situation where you can monitor the HD video feed of your camera whether it's a GoPro HERO4, GH4, NX1, a7S or BMPCC mounted on a drone flying 3000ft up in the air on a 21" monitor on the land. Plus, the system is easy to install and takes the overall experience of flying drones to a whole new level.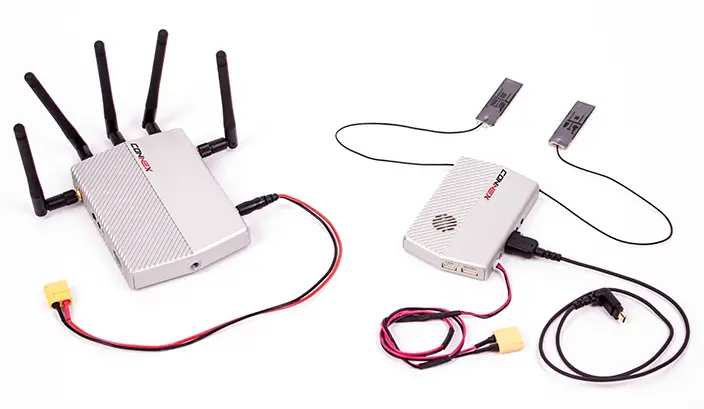 The CONNEX utilises 5GHz radio transmitting frequency, 2×5 MIMO and automatic channel selection ensures resilient connectivity, free from interference, specifically from UAV controls and 2.4GHz links. CONNEX is also capable of displaying telemetry information using its built-in OSD as well as sending control commands via an S-Bus protocol to the gimbal in the air unit.
The small and lightweight package includes a multicast feature that supports up to four screens simultaneously, each receiving flawless HD stream in real-time.
CONNEX by AMIMON from airV8 on Vimeo.
Key Features
True full HD 1080P at 60fps
Up to 3,300ft/1,000m range (LoS)
Zero latency, real-time video
Extremely resilient 5GHz. Digital link with AFS
Encrypted and secured
Built-in OSD view (MAVLInk based telemetry)
Gimbal control over Futaba ® S.Bus
Plug-and-Fly, out of the box setup and operation
For those of you attending NAB 2015, Amimon will participate in two flying cage presentations demonstrating the CONNEX system in action. The events will take place on Tuesday, April 14th- 1:45pm-2:15 pm in collaboration with Intelligent UAS and on Thursday, April 16th 11:30am-12pm  in partnership with Aerialtronics respectively.
[via Cinescopophilia]
Claim your copy of DAVINCI RESOLVE 16 - SIMPLIFIED COURSE with 50% off! Get Instant Access!