The new SmallHD 502 5-inch on-camera monitor is continuing to score a lot of points with filmmakers with the latest announcement from the company that reveals a really cool and useful feature – the Sidefinder. This add-on basically turns the 5-inch display into a fully functional viewfinder, this way you get two devices into one – a similar feature they had on the original DP4, but this time the 502 raises the stakes quite a bit with its 1080p display, 3D LUTs and a ton of other totally awesome features.
Check out more features of the new Sidefinder from SmallHD below.

The Sidefinder is a fully featured HD viewfinder with a flip-out 1080p display. It's an innovative, natural union between the SmallHD 500 Series Monitor and a cleverly designed, patent-pending, EVF loupe. The Sidefinder gives shooters all the benefits of using a field monitor AND an EVF, without compromising speed, agility, or quality of the image. The Sidefinder represents the highest resolution EVF and the highest resolution 5-inch on-camera monitor in one device.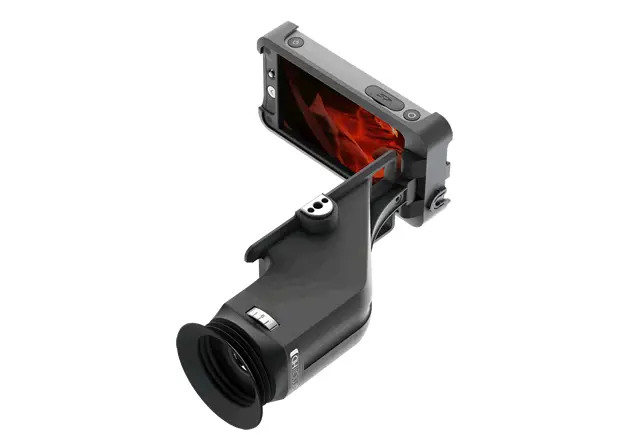 At its core, the Sidefinder is a 1920 x 1080 resolution on-camera monitor. The EVF loupe uses a 1366 x 768 portion of that display to create a crisp, clear image in a truly immersive environment. The Sidefinder's pixel density prevents pixelization (you can't see individual pixels) when magnified by the optics. In addition, the Sidefinder is equipped with a wide range adjustable diopter (-2 to +4) for a customized focus.
Cinematographers can create a personalized viewing experience by quickly adjusting the field-of-view on the Sidefinder EVF. Shooters can now choose a wide field-of-view for greater immersion into your shot, or a narrow one to reduce eye strain. At the 40 degree default, the experience is like watching a 60-inch television from 6.8 feet away.

A universal viewfinder requires more than one acceptable mounting solution. The Sidefinder has the most robust list of EVF mounting options currently available. Using a carefully engineered, well-balanced bracket, the Sidefinder allows shooters to attach the viewfinder extremely close to the camera using all the popular mounting solutions  – NATO rail, ARRI Rosette, 15mm Rod, and 1/4" 20 mounting holes.
GH4 and Sony A7s shooters and just about anyone else looking for a portable EVF or on-camera monitor should definitely check out the SmallHD 502. More details on pricing and availability will be released at NAB in the next few days, until then head over to SmallHD to get more info on this awesome new EVF/monitor.
UPDATE 10/04/2015
Pre-order at B&H for $1,199 – SmallHD 502 only
Pricing with sidefinder $1,499 – Coming this Summer
Disclaimer: As an Amazon Associate partner and participant in B&H and Adorama Affiliate programmes, we earn a small comission from each purchase made through the affiliate links listed above at no additional cost to you.
Claim your copy of DAVINCI RESOLVE - SIMPLIFIED COURSE with 50% off! Get Instant Access!