As expected, the Atomos Shogun will support the newly announced Canon C300 Mark II 4K camera. The Australian external recorder/monitor maker, today confirmed this, just as they did a few days ago with the other 4K camera from Canon – the XC10. The C300 Mark II is one of the most anticipated cameras to hit the market this year, and after months of speculation, wild rumours and all sorts of craziness, Canon finally stepped up to the plate and delivered. Whether the images will match the impressive spec sheet is yet to be seen, but if the success of the original C300 (now selling at the lowest price ever of $6,499) is an indication, the Mark II may be a home run. Although the large sensor 4K pro camcorder market is very competitive and some may even say pretty saturated, long-time Canon shooters as well as those looking to step up to a serious 4K pro camera may have to dig a bit deeper in their pocket and wait until September/October to receive their camera. Until then, see the benefits the Atomos Shogun will offer future Canon C300 Mark II shooters.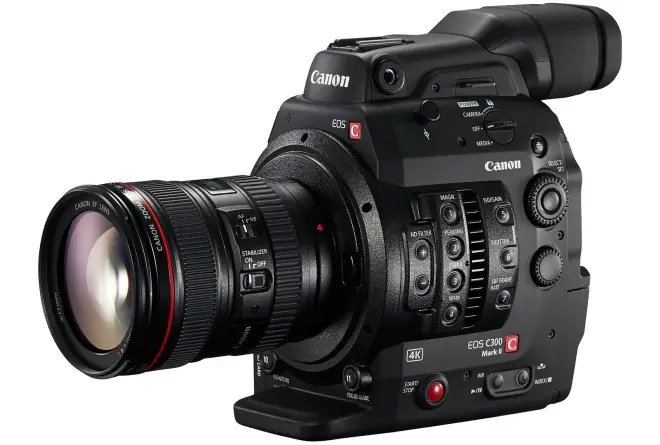 Atomos Shogun and Canon C300 Mark II:
10bit from the C300 MkII 4K Raw output direct to ProRes 4K, Avid DNxHR 4K or Cinema DNG up to 4K and UHD 30p. Available Q2 2015.
Record 10 bit HD 1080p up to 60fps video from the SDI or HDMI outputs.
Note: Canon Cannot output 4K or UHD over HDMI or SDI only 1080p60 video
Does output 4K raw over single SDI 3G.
Usual monitor features
Atomos CFast cards ready for action!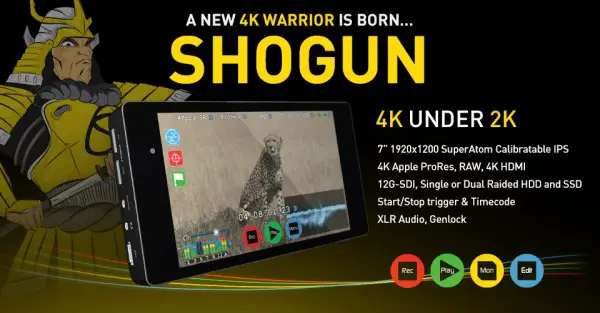 From the Press Release
Melbourne, Australia – 10th April 2015: Confirming recent rumours Canon have announced the C300 Mark II 4K movie camera, based on the previous C300, but more durable and with the Dual DIGIC DV5 processor. By adding an Atomos Shogun to the C300 MkII filmmakers have the perfect internal MPEG and external 4K raw to Apple ProRes/Avid DNxHR or Cinema DNG combo.
"The Cinema EOS range is the workhorse of the modern production environment. The Shogun turns the C300 MkII workhorse into a race horse, recording direct from the RAW sensor output of the camera to Apple ProRes or Avid DNxHR." said Jeromy Young CEO and co-founder of Atomos. "We can now process from sensor to record and all the way to final production covering industry standard edit codecs and RAW workflow – Shogun is a must for this camera."
The Shogun brings a host of monitoring, playback and deck functionality all designed to make camera setup, shot setup and work in post production easier. And new C300 MkII users can stock up on Atomos CFast cards available in both 64GB and 128GB to keep production costs even lower.
About Atomos
Atomos exist to help creative professionals cut through technology barriers by creating easy to use, cutting edge products including 4K & HD Monitor-recorders, a pocket size ProRes recorder, signal converters & power management solutions. Each product serves a different need but all share the common benefit of enabling a faster, higher quality and more affordable production schedule for video professionals.
Atomos is based in Australia with offices in the USA, Japan, China and Germany and has a worldwide distribution partner network. Further product information can be found at www.atomos.com with the Atomos community active on Facebook (/atomosglobal), Twitter (@Atomos_News), Vimeo (/atomosvideo), YouTube (/AtomosVideo) and Videogram (atomos.videogram.com)
Claim your copy of DAVINCI RESOLVE - SIMPLIFIED COURSE with 50% off! Get Instant Access!