CineSummit CS5 "Directors Edition" is the world's largest online event for filmmakers from all over the world and it is approaching fast. This year, 9 world class directors, from Hollywood directors to top commercials directors, who've worked with instantly recognizable brands such as Google, Adidas, Twitter, BMW, MTV, NFL, Apple and many more, share their craft and practical wisdom with you on March 1st and 2nd. The best about it that you can actually attend from anywhere in the world, and join 60,000 other fellow filmmakers just as long as you have an internet connection and you can do so for FREE! The event is now open to register.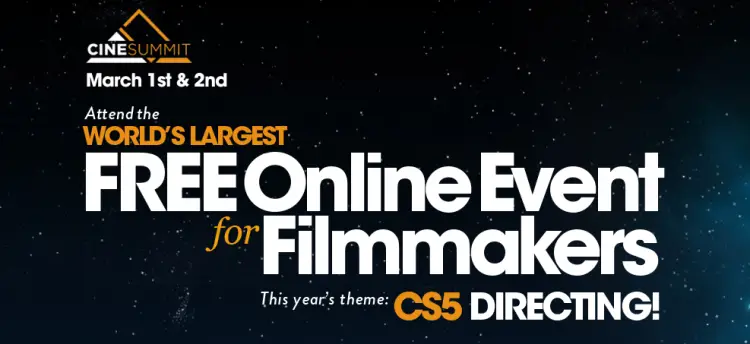 While previous editions of CineSummit have focused on Cinematography, with notable expert cinematographers such as Shane Hurlbut ASC (We Are Marshall, Need For Speed, Deadfall, Into the Badlands) and Bruce Logan (Star Wars, 2001, Tron) as presenters among many others, this year the focus is purely on Directors.
And I think this is a huge deal, as there are many events for Cinematography, but not many events where you can actually learn a lot from experienced and accomplished directors.
"As a cinematographer, it is critical to hear the perspective of many directors to expand your mind and understand their unique thought process in communicating their vision. Over the course of my career, I have worked with thousands of talented filmmakers, and it has taught me to be a better storyteller. Imagine an event where you have access to incredibly talented filmmakers from around the world revealing their storytelling secrets. This is what CineSummit is all about." – Shane Hurlbut
Check out the video below in which CineSummit founder Aviv Vana explains it a lot better than me.
This year's CineSummit is shaping up to be the biggest one yet, with past edition attracting over 60,000 filmmakers. The roster of presenters for CineSummit CS5 is pretty impressive given their resumes.
CineSummit CS5 presenters include Hollywood director Juan Solanas (Upside Down), who will be presenting THE FILMMAKERS SURVIVAL GUIDE
where you can discover real tricks of the trade from a Hollywood director.
Check out the trailer for his 2013 feature Upside Down, starring Kirsten Dunst below.
How to Create Your Own Feature Film – from Script to Screen is the title of the presentation by award-winning Director Kobayashi ("Only for the Weekend", Sony, Smirnoff):
The super-talented Brandon Li (you know that guy who travels all over the world and makes incredibly moving videos that almost always get picked by Vimeo) will be teaching you How to Create a Captivating Film with a Simple One-Person Shoot. You've can see some of Brandon's work. Many times. In case you haven't here's a reminder.
To see the full list of presenters and to register for your free ticket, head over to CineSummit CS5 here.
And as a reminder, once registered, you will have access to all content for the full 48 hours starting at 11:00 AM EST on March 1st. To get free access to the full 2-day event and see all the presentations click here.
Claim your copy of DAVINCI RESOLVE - SIMPLIFIED COURSE with 50% off! Get Instant Access!