If you already own the Atomos Shogun Recorder/Monitor you are probably quite familiar with its versatile capabilities being one of the most popular 4K recorders right now, however like any other device, it's not perfect. Some users share the recorder feels a little bit cheap regarding build quality, especially compared to some other competitor devices. The Shogun is easy to drop too as the slick plastic body is a bit slippery and the absence of grip makes the things even worse.
Fortunately, the dedicated PVGear Kaval Cage for Shogun seems to be a decent solution that provides extra stability and protection for the device. The system not only secures the Shogun, but it also protects its ports through dedicated locking mechanisms that keep the connections solid eliminating the possibility of accidental damages and disconnection. Here is a quick video produced by CheesyCam that covers some of the main features the Kaval Cage provides.
One of the great things is that you can easily fit the Kaval Cage in the original case of the Shogun as there is some extra room for additional accessories and you can flawlessly carry both in there. Two mounting screws hold the Shogun intact, one at the top and one on the bottom of the cage.
The Kaval Cage also comes with some additional rubber pads that provide further stability and hold the Shogun tight and snuggled up eliminating any play while the HDMI locks on the side of the cage secure the attached HDMI cables preventing accidental disconnection.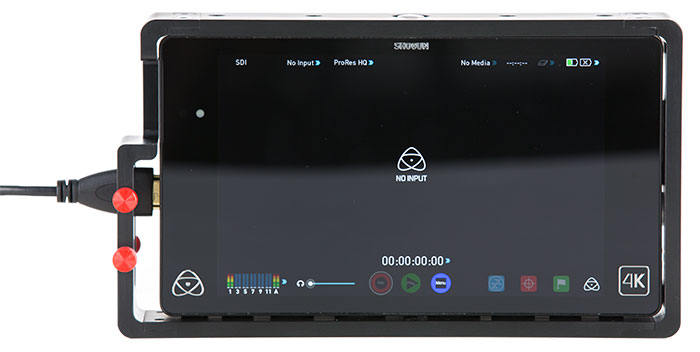 Furthermore, an optional solid metal cover block slides over the locking XLR Audio Cable to further protect the Shogun from possible damage while locking in the DC Adapter Cable as well. The 1/4″ threaded mounts above the cage can be utilised to attach accessories such as external battery power or wireless audio receivers when using the Shogun as an audio pre-amp.
Kaval Cage is expected to be available next month in May at $169.99, however now the product can be pre-ordered at the discounted price of $129.99.
[via Cheesy Cam, source: PVGear]
Claim your copy of DAVINCI RESOLVE - SIMPLIFIED COURSE with 50% off! Get Instant Access!