In the last couple of years, the 3-axis handheld gimbal stabilizers inevitably changed the way we shoot video by giving us unparalleled creative options for more stable footage to use in all sorts of productions. They gave us more creative freedom to make more innovative decisions on set, to plan even more complex camera movements, thus achieving better results and increasing the production value of our work. Many of the most popular gimbals continue to gain more and more popularity with both video professionals and hobbyists alike. Meanwhile, there are plenty of new gimbals entering the market. We've covered various sizes gimbals before capable of carrying larger cameras such as the ever popular DJI Ronin, new entrants Gremsy Technology with their gStabi H14 as well as smaller compact camera/lens combos like the Nebula 4000 Lite for example.
There's some many handheld gimbal stabilisers on the market that it is hard to choose between the various payloads and price points. Some more established gimbal stabilizer systems like the Freefly Movi M5 and M10 tend to be more pricey than others, and today we'll look at a very affordable option for the more DIY inclined shooters. It's called the Minigimbal "Tiyaga" and it comes from the folks over at Cheesycam.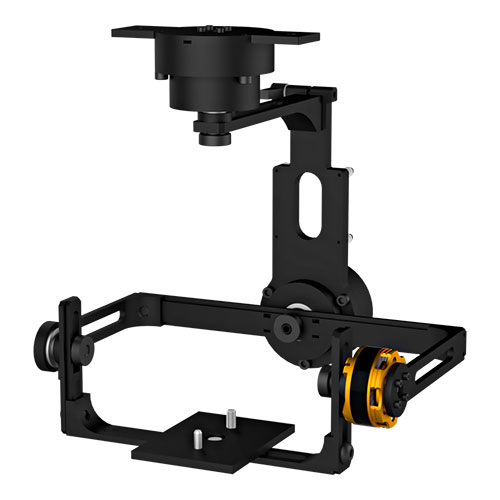 The MiniGimbal 'Tiyaga' is an easy to assemble DIY 3-Axis Gimbal Frame optimized to work with small cameras around the size of the the Panasonic GH4, Sony A7s or smaller cameras. The total weight of the Frame, Motors, and Manfrotto 577 QR base sits at just 3.5lbs (without battery and top handles).
Machined from aluminum, the Tiyaga is sturdy, yet compact, and lightweight. It's design carries many desirable features found on more expensive systems such as tool-less adjustments on all 3 Axis, support for a quick release system to mount/dismount camera, clearance to access HDMI ports and media card slots, and quick dis-assembly for travel.
This system requires (3) Motors and a Gimbal Control Board and a few accessories to complete the project. For a complete parts list and instructions on how to assemble your own 3-Axis Portable Gimbal Stabilizer visit their Build Page here.
Here are some instructional and demo videos:
DIY 3 Axis Mini Gimbal Step by Step Build Instructions Part One:
How to Run Wiring for Tiyaga Mini Gimbal w Basecam Alexmos 32 Bit Gimbal Controller
Balancing the Tiyaga 3-Axis Gimbal Frame
Setting up Follow Mode on Alexmos SBGC Controller
Adding a Joystick to Tiyaga Mini Gimbal Kit with Alexmos SBGC Control Board
And finally here's some reasons why this gimbal may be the right option for your or not. These guys have done a fantastic job at explaining everything you need to know how to build one yourself, but again this may not be a viable option for some of you out there. If you want a complete solution that you don't have to assemble, better to head over to our Gimbal Stabiliser section here, or check out some of the older posts on Gimbals I've linked in the beginning of the article.
For those of you who don't mind a bit of DIY, assembly skills and a hefty dose of patience, this very well could save you a lot of money.
Top Reasons to Build the Tiyaga
The Tiyaga is compact making it easier to travel, yet large enough to balance a variety of camera and lens setups while providing room for HDMI cables.
The lightweight frame allows you to handle and shoot longer than heavier systems.
Tool-less adjustments allow you to quickly change your setups. Quick Release system allows you to get your camera on/off the system for setup and breakdown.
Top Reasons NOT TO BUY the Tiyaga Gimbal Kit
This kit requires skills in assembly, soldering, and PID tuning.
The Tiyaga is not made for aggressive use such as mounting to the hood of a car. It's optimal use is to stabilize average handheld shooting.
You plan to use camera setups heavier than 3.0 lbs.
Suggested retail is $650 (the $495 promo pricing sadly ended on 2nd Feb, so we kind of missed on that) but I highly recommended checking them out at Minigimbal.com for updates on when the unit will be available.
Disclaimer: As an Amazon Associate partner and participant in B&H and Adorama Affiliate programmes, we earn a small comission from each purchase made through the affiliate links listed above at no additional cost to you.
Claim your copy of DAVINCI RESOLVE - SIMPLIFIED COURSE with 50% off! Get Instant Access!