It seems that Blackmagic Design haven't been wasting their time in the past few months as they've just announced not two or three, but six new cameras! An impressive number, indeed! The Australian manufacturer has also been working on a multitude of new products (a total of 38 new products announced at NAB just today!) that were officially revealed on their press conference taking place in Las Vegas.
Let's just start off with the Blackmagic Micro Cinema Camera the world's smallest digital film camera with Super 16mm sensor and 13 stops of dynamic range that is designed to be operated remotely. The camera features a revolutionary expansion port with Pulse Width Modulation and Serial Bus inputs so it can be used with a model airplane remote control to operate the camera wirelessly.
The Blackmagic Design Micro Cinema Camera records Cinema DNG RAW or ProRes 1080p on an SD card, has an MFT lens mount and operates up to 60fps in a rolling shutter mode. The availability of a global shutter mode (the recording is limited to 30fps) on this camera is mandatory when shooting aerials as it will result in significantly better videos free of nasty jello artifacts.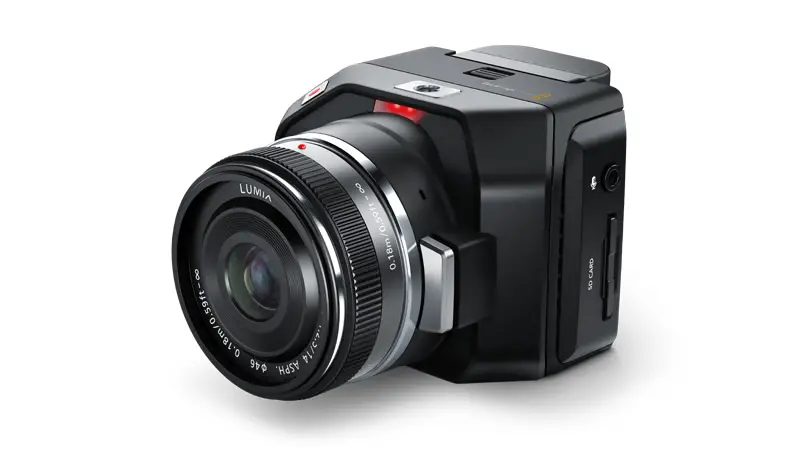 Here are the official specs of the Blackmagic Micro Cinema Camera that we've already covered earlier today.
Maximum resolution: 1920 x 1080
13 stops of dynamic range
Switchable 60 fps rolling shutter or 30 fps global shutter.
12-bit RAW and ProRes recording (422HQ, 422/LT, Proxy)
Active Micro Four Thirds lens mount
Includes remote camera management, using the expansion port remotely start and stop recording, adjust focus, change the iris and also connect to video transmitters to monitor recording status, battery life, and audio levels.
HDMI connector
Removable battery
3.5mm stereo input for connecting external microphones
Price: $995 / £709 UK
Availability: July 2015
The new Micro Cinema Camera addresses almost all the needs for shooters requiring high-quality Raw recording for drone footage, or from angles, where other cameras would be difficult to mount. Up until now, the GoPro Hero cameras, which are still predominantly used in large scale productions, had the upper hand. However, things may change after July.
Of course, enthusiasts and snowboard thrill seekers, for example, will still be using their GoPro's but chances are productions using multiple high-end cameras like ARRI Alexa, C300's, Sony F55's, etc., will prefer to have high quality grade-able raw footage to mix and match with footage from other "big boy" cameras.
Blackmagic Micro Studio Camera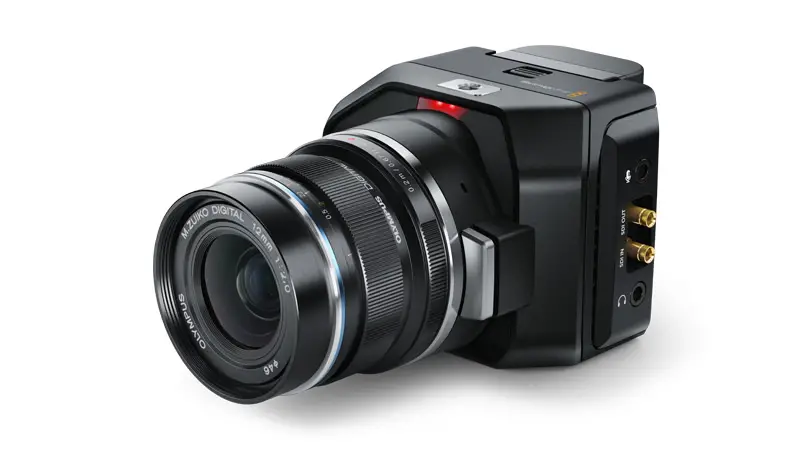 The Blackmagic Micro Studio Camera 4K looks the same as the new Micro Cinema Camera, but it's a completely different device. With its 4K sensor the new Blackmagic Micro Studio Camera 4K can be used for both HD and Ultra HD production and features a built-in color corrector, talkback, tally indicator, PTZ control output, B4 lens control output, and an extremely flexible MFT lens mount that is easily converted to other lens mounts via third-party adapters.
The camera also provides 6G-SDI output and a return program input that allows it to be controlled remotely from a switcher using Blackmagic's SDI control protocol. This approach lets customers change camera settings, color balance, black levels, gamma, lens focus, iris, zoom and much more from any ATEM switcher.
Micro Studio Camera 4K features:
Sensor Size: 13.056mm x 7.344mm
UltraHD 3840 x 2160 up to 30fps, 1920 x 1080 up to 60fps
Supports SDI camera control protocol allowing full remote control via single SDI connection.
Compatible with high-quality Micro Four Thirds lenses.
Includes built-in buttons along the front for quick access to menu navigation and settings.
12V power input/ LP-E6 compatible battery for backup power.
DB-HD15 connector for power, reference, PTZ and B4 connections.
Expansion port supports multiple control connections such as PTZ serial output
Built in, two-way digital quality talkback connector using iPhone compatible headsets.
Compatible with ATEM range of live production switchers for full SDI control of cameras.
Price: $1,295
Availability: July 2015
[via Blackmagic Design]
Claim your copy of DAVINCI RESOLVE - SIMPLIFIED COURSE with 50% off! Get Instant Access!