NAB 2015 Day 2 is in full swing, and Vision Research, a leading manufacturer of digital high-speed imaging systems and Phantom Flex4K in particular, today announced a new wave of upgrades coming to its popular Phantom Flex4K digital cinema camera. The camera of choice for big-budget commercials that require super-slow motion, the Phantom Flex4K just got even better with some fascinating upgrades. The super high-speed camera gets 4K ProRes HQ 422 as an alternative in-camera codec to the camera's native raw recording, in addition to sound-sync, and 128GB of RAM enabling the camera to record blazing speeds in 4K real-time of up to 1,000 frames per second for 10 seconds.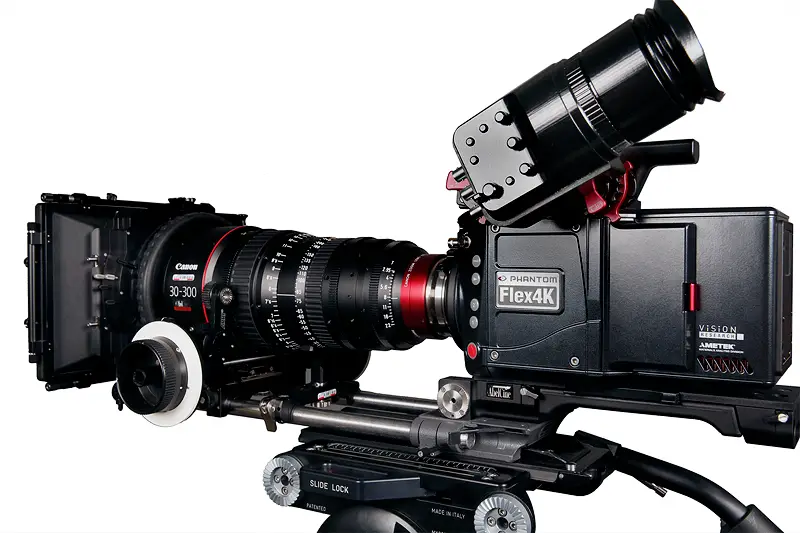 New Upgrades to the Phantom Flex4K:
Internal Apple ProRes 422 HQ recording, as an alternative to the camera's native raw workflow

Audio recording for sync-sound and higher frame rates

Double the memory, with up to 128GB of RAM, enabling longer high-speed capture
"The Phantom Flex4K has quickly become the go-to camera for high-speed projects in the cinema industry" says Toni Lucatorto, Media Product Manager at Vision Research. "With the upgrades that we are announcing at NAB, we give Flex4K users even more flexibility in the way they can use the camera. No longer does it have to be considered purely as a specialty tool."
These new features benefit both high-speed and standard frame rate capture. With a RAM size of 128GB, the camera now can capture 10 seconds of real time at 4K/1000 fps. The additional RAM also enables more segments in a multi-cine workflow, often used to support continuous recording and playback in a live sports replay environment.
Check out this 4K super-slow motion piece by Jacob & Katie Schwarz captured on the Phantom Flex4K (make sure to view in 2160p)
Naturally, one of the downsides of high-speed 4K recording is the extremely high volume of data created. A typical one-day shoot will end up with several TBs of raw files. Hence, why the addition of Apple ProRes 422 HQ as an in-camera codec now provides a high-quality 4K recording alternative that saves well over half of the required storage space and ultimately provides a faster, simplified workflow.
Users now can leverage the audio capabilities of the camera, making the Flex4K the first high-speed camera with integrated audio. The audio is recorded as uncompressed .wav files at frame rates at or above 23.976 fps and saved as separate files within the RAM or CineMag IV. The signal can be monitored via AES output or a headphone jack on top of the Phantom Flex4K, and users can take advantage of on-camera meters during recording and playback.
Additional high-performance features include:
Excellent image quality with low noise and high dynamic range
Up to 1,000 fps at 4K and 2,000 fps at 2K
Phantom CineMag™IV recording media
Multi-channel 3G SDI video system supports 720p, 1080p, 3160p, SDI
and component viewfinders
Full featured on-camera control interface
Interchangeable, optional battery mounts
Lens mount interchangeable between PL, Canon EF and Nikon F/G standards
Vision Research will preview these upgrades to the Phantom Flex4K at NAB 2015 with full availability planned for Summer 2015. Be sure to visit Vision Research booth #C11435 for a demonstration and overview of a broad range of Phantom digital high-speed cameras and workflow solutions.
[via Vision Research]
Claim your copy of DAVINCI RESOLVE - SIMPLIFIED COURSE with 50% off! Get Instant Access!