After a quick teaser by a Kunihiko Miyagi – Director of Panasonic, Professional Imaging on Sunday, the day before the exhibition floor at NAB officially opened, in which he asked us if we remembered the revolutionary (for its time) DVX100, which was the first affordable camera at that point to shoot 24 frames progressive. The teaser threw most people off in thinking that this would be the long-awaited AF101 replacement (which had a Micro 4/3 sensor/mount and interchangeable lenses) and was a fantastic camera 5 years ago, Panasonic went even further back 11 years ago and took the wrapper off their AG-DVX200 4K/60p fixed lens camera to befuddled folks (and prior AF101 owners) like myself.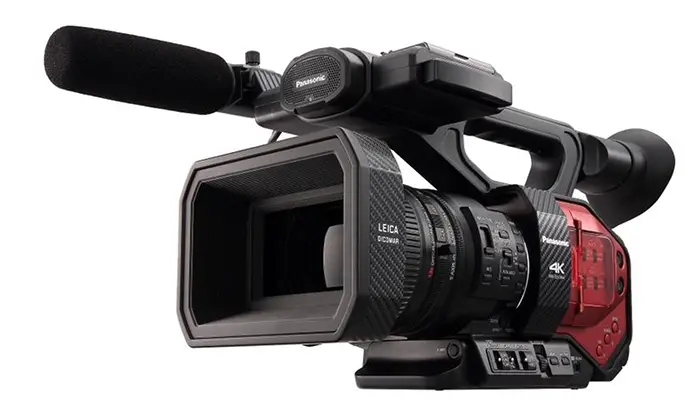 Here's a quick list of AG-DVX200's features:
4K Four Thirds sensor
4K/24p & UHD/60p internal in .MP4/.MOV
1080p/120p in variable frame rates onto SD cards (UHS Class 3)
Leica Dicomar 13x Zoom 4K optimised f2.8 lens (fixed)
V-Log L gamma curve
12 stops DR
5-Axis In Body Stabilisation
Price around or slightly below $5,000
Available at some point later in 2015
That is what we know so far about the camera, as full official specs have not yet been released. We'll keep you updated when they become available.
On a personal note, I am massively disappointed, even though it will probably produce lovely images, but any fixed lens on a large sensor like Four thirds is going to limit the capabilities of this camera severely. Panasonic have plenty of fixed lens, small sensor camcorders perfectly capable of catering to event and ENG/wildlife shooters who require the zoom ergonomics and an "all-in-one" package. However, when it comes to 4K and large sensors users demand lens interchangeability. It's that simple – large sensor – requires different lenses for different purposes. Fixed lenses belong only on small chip cameras; that's my personal take on things.
Fixed lens on a large sensor is going backwards not forwards, and its quite a strange move coming from a company that gave us the GH4. Hopefully, there is an actual AF101 replacement around the corner soon.
Agree? Disagree? Let me know what you think in the comments below.
PRESS RELEASE
LAS VEGAS, NV (April 13, 2015) – Panasonic has announced the AG-DVX200 4K large-sensor, 4/3" handheld camcorder here at NAB 2015. The DVX200 will offer many top-end features including 4K/60p* recording, a 13X optical zoom and a V-Log L gamma curve (12 stops of latitude, target).
Delivering a shallow depth of field and a wide field of view, the DVX200 is the ideal companion camera to the company's groundbreaking VariCam 35 4K camera/recorder. With an integrated lens design, the DVX200 will excel in independent film and documentary production, as well as event videography.
The DVX200 will be optimized for 4K/HD production, and shares the esteemed VariCam family characteristics of filmic tonality and colorimetry, with natural, subtle rendering of skin flesh tones, and a V-Log curve emulating the natural greyscale rendition of the VariCam 35. The camcorder will incorporate a newly-developed 4/3" large-format MOS sensor and offer variable frame rate recording up to 120fps in FHD mode, enhancing the DVX200's utility in sports and VFX production.
The new handheld 4K camcorder will offer an array of professional features including a newly-designed Leica Dicomar 4K F2.8~F4.5 zoom lens (4K/24p: 29.5 mm ~ 384.9 mm, HD: 28 mm ~ 365.3mm, 35 mm equivalent), time-code in/out, 3G HD-SDI and HDMI 2.0 (4K) video outs, easy focus and zooming, and programmable user buttons. 
The DVX200 will record 4K (4096 × 2160) / 24p, UHD (3840 × 2160) / HD (1920 × 1080) 60p / 50p / 30p / 25p / 24p in either MP4 / MOV file formats. There are two SD card** slots, facilitating backup and relay recording. For professionals working worldwide, the camera's master frame rate is selectable between 59.94Hz (23.98Hz) / 50.00Hz / 24.00Hz.
The DVX200's three manual operation lens rings—13x zoom (Cam driven), focus and iris—will provide a comfortable manual control similar to an interchangeable lens camera, but without the need for actual lens changes. The zoom ring's solid feel and smooth action allow delicate ultra-slow zooming. Also, the camera's multi-step zoom control provides fast response and smooth zoom action, yielding the creative freedom every camera operator desires. The zoom control on the handle enables variable speed zoom, allowing excellent zoom control even for low angle shots.
The DVX200 also features an enhanced Image Stabilizer, including a five-axis Hybrid Image Stabilizer and 4x correction-area Image Stabilizer that produces clear images without blurring, and a micro-drive focus unit that improves focus speed, tracking and capture performance, facilitating 4K focusing and shallow focus shooting. 
The new Leica Dicomar 4K zoom lens with F2.8 aperture is an optimal choice for 4K video, with the ability to produce elegant imagery and subtle "bokeh" Also, Leica's exacting quality standards serve to suppress the occurrence of ghosting and flare to a minimum. Since the DVX200 is an integrated-lens camcorder, there is no need to perform the flange back adjustments or shading corrections when changing lenses. Even with a large diameter lens, the DVX200's weight and balance have been optimized to facilitate agile, mobile 4K acquisition. With superb center-of-gravity balance, the camcorder will be ideal for such flexible shooting applications as mounting on today's popular stabilized camera rigs.
The AG-DVX200 utilizes a front element lens / filter diameter of 72mm, a very typical size. It is expected that many third party lens accessory manufacturers will announce items such as close-up lenses and other desired options. 
The AG-DVX200 will feature next-generation ergonomics, with the battery positioned in the rear so as not to interfere during handheld shooting. The DVX200 comes with a rugged woven carbon,fiber-like finish, and the recording section is distinctively styled with crimson shading. 
The AG-DVX200 will be available in Fall 2015 with a suggested list price under $5000.
* UHD (3840×2160) resolution, when a 60p mode is selected.
** Requires an SD card of UHS speed class 3 (U3) for 4K recording.
Disclaimer: As an Amazon Associate partner and participant in B&H and Adorama Affiliate programmes, we earn a small comission from each purchase made through the affiliate links listed above at no additional cost to you.
Claim your copy of DAVINCI RESOLVE - SIMPLIFIED COURSE with 50% off! Get Instant Access!