Having the ability to shoot uncompressed Raw video with your hacked Canon 5d Mark III is an excellent option. However, the management of these files can turn your post production workflow into a real nightmare, not to mention the ridiculous amount of storage space you will need to store these huge chunks of data. The only option you've really got in this type of situations is to choose different more efficient format to work with or find a way to reduce the files size of these uncompressed files.
This is where the slimRAW app may turn into a really handy solution. In essence, slimRAW is a fast CinemaDNG compressor that converts uncompressed CinemaDNG raw video to losslessly compressed CinemaDNG. The best part is that this conversion doesn't affect the image quality of the initial files. Furthermore, the losslessly compressed raw video output of slimRAW is exactly the same after decompression as the original uncompressed video.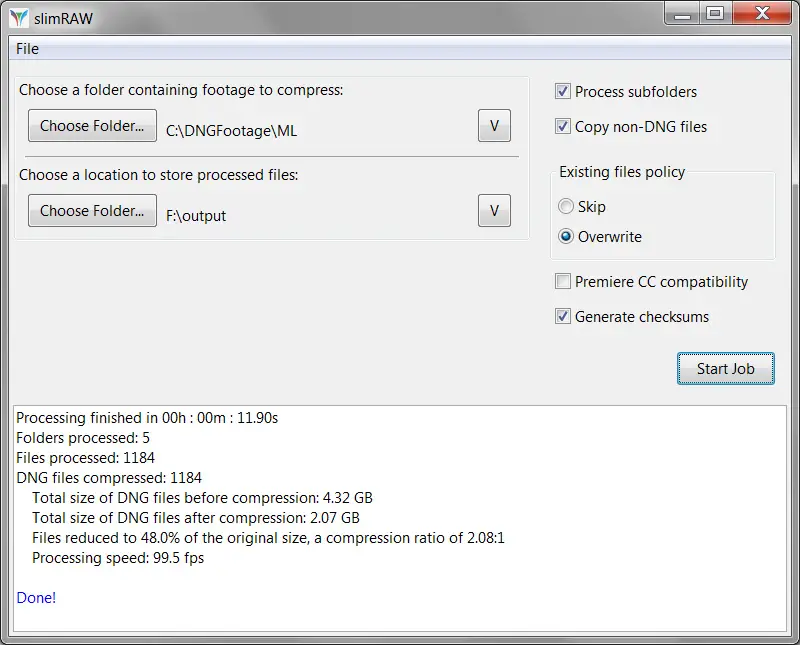 The workflow of slimRAW seems to be very intuitive and straightforward as well. In order to convert your uncompressed CinemaDNG files, you only need to select the folder containing source footage and a folder to save the output into. As-a-rule-fo-thumb, it's recommended to choose a different folder from the one containing the original files. Yet, if you select the same folder for input and output, slimRAW will ask for confirmation as this will overwrite the original files during processing.
In case you have subfolders in your original folder you also can check the Process subfolders checkbox to preserve the existing folder structure at the output folder the selected input folder which is another handy feature. SlimRAW can even move any non-DNG files in the folder of entry, like audio or external metadata files, to the output location.
To convert your files hit the Start Job button to initiate processing once you've selected the desired settings. During processing a Pause Job, button and an Abort Job button are enabled. Since slimRAW may consume a lot of the available CPU resources (as long as the storage system can keep up) the Pause Job button might be useful if you need CPU power and the current job is not finished yet.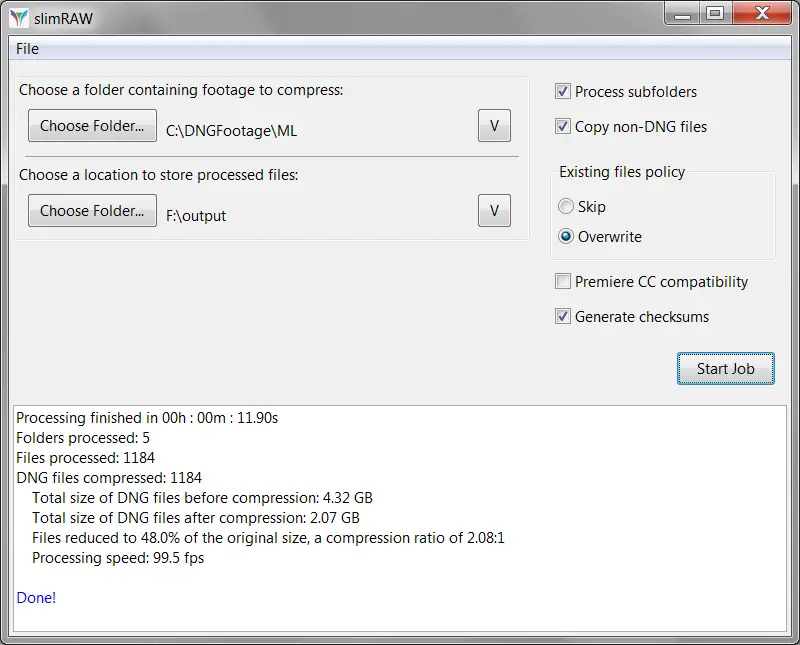 Here is a list of the supported cameras and recorders by slimRAW
Digital Bolex D16,
Blackmagic Design Cinema Camera (pre-firmware 2.1),
Canon DSLR Magic Lantern raw (converted to CinemaDNG/DNG),
Sony FS700/FS7 raw recorded through Convergent Design Odyssey 7Q/7Q+,
Ikonoskop A-Cam dII,
Kinefinity KineMINI 4K, KineMAX 6K, KineRAW,
Indiecam indieGS2K and indiePOV (uncompressed 12-bit CinemaDNG video as exported by Indiecam Instant-RAW software),
uncompressed DNG frame stacks from Fastec Imaging TS and HiSpec series cameras (10-bit in a 16-bit container and 8-bit),
most other standard compliant uncompressed 8-, 12-, 14- or 16-bit CinemaDNG footage.
slimRAW is both Windows and Mac OS compatible. The software is  available now for download for $39.00 or €35.00 (excl. VAT).
[source: slimRAW]
Claim your copy of DAVINCI RESOLVE - SIMPLIFIED COURSE with 50% off! Get Instant Access!