Rotolight launched their new on-camera LED light – NEO last Fall and recently showed off the light at NAB. I had a chance to check out this new LED light at BVE 2015 in February here in London and was blown away by the output and versatility of this light. The NEO is a revolutionary on-camera or location LED lighting fixture designed for the rigours of modern professional video of photo productions. It's small enough to be used as a camera top light, or mounted on a stand or a small tripod and used by photographers and video professionals alike. The colour temperature of the light is adjustable from 3,150K to 6,300K in ten-degree Kelvin steps using a rear rotary knob. A second rotary knob lets you dim the light from 100% to 0% output with no colour shift. An electronic display on the back shows, with an electronic display provided for fast and confident colour tuning. At full output, the 120 LEDs produce a peak brightness of 1,077 lux at 3′ yet draw only 9W of power.
The light is powered by six AA batteries, providing up to 5 hours of continuous use (or 3 hours at 100% power). It can also be powered using the included AC adapter or D-Tap power cable. The light has a 1/4″-20 threaded hole mounting hole and includes a 360° swivel shoe mount.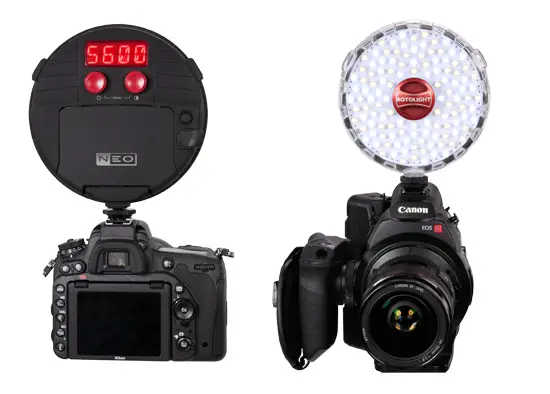 The Rotolight Neo was developed at Pinewood Studios UK, after years of extensive feedback from leading cinematographers and photographers around the world as to what they would most like to see in the next generation on camera light for professional television, film and photographic use. That feedback was crucial for Rotolight who really delivered an outstanding LED light with never before seen technology in a truly unique versatile, highly portable package, that is proudly designed and manufactured in the UK.
Key Features:
On-camera LED light
Suitable for run-and-gun news shooters, filmmakers, or even still photographers on location or in the studio.
120 LEDs produce 50-degree beam angle
Bi Colour, with 3150K to 6300K adjustable colour temperature (ten degree Kelvin steps)
0-100% dimming with no colour shift
Electronic display shows accurate colour temperature and brightness, including F-Stop indications
Dynamic Drift Compensation and Thermal Monitoring
Bright 1077 lux output at 3 feet (4300K)
CRI > 91, Skin Tone CRI > 98
Television Ling Consistency Index (TLCI) = 85
Flicker-free at all frame rates/shutter angles
Power by six AA batteries for up to 5 hours (or 3 hours at 100% power)
AC Adapter and D-Tap cable included
Draws only 9W at full power
Neo builds on Rotolights multi-award winning LED technology which is used by leading broadcasters, filmmakers and professional photographers the world over including BBC, NBC, CNN, Disney and ITV to name a few. Providing a highly versatile solution for run-and-gun news shooters, filmmakers or still photographers, is easy to use and fast to set up, great on location or in a studio. NEO's 120 LED's offer full spectrum colour reproduction with an overall CRI of 95 (Skin tones > 98) and can be accurately dialled from 3150K to 6300K in ten degree Kelvin steps.
Simon Edwards, an experienced Lighting Cameraman and member of the British Guild of Television Cameraman, was one of the first to test out the new NEO light and had this to share:
"I think NEO offers so much to so many people; stills and moving pictures, experienced camera people and those at the start of their careers, DSLR or full size cameras. NEO truly is a light for everyone and with Rotolight's pro-active approach to customer feedback and development I can see this being the beginning of the next generation of LED lighting coming from their Pinewood manufacturing base. I can't recommend NEO highly enough – I see it becoming an industry standard unit."
On the photography side of things, Rotolight brand ambassador and award winning photographer Jason Lanier took the NEO for a test ride on a location video and stills shoot in San Francisco. The NEO is the ideal alternative to flash as a continuous lighting system and enables you to see your results live, perfect for DSLR users.
"The Rotolight Neo's are quite simply the most amazing, beautiful, versatile portable continuous lights I've ever used. I couldn't recommend them more highly and think that anyone who shoots portraits, weddings, or fashion photography should own multiple sets. They are also perfect for me and my videography team for our video camera lighting purposes. They are stunning lights."
The Rotolight NEO is currenlty available in the UK for £299 from authorised dealers, €310 in the EU, and B&H in the US for $400. A Three light NEO kit, including stands and a case, is available for $2,000 as well. The NEO started shipping in April 2015 in the UK, and is expected to hit US shores very soon. Order yours from the links below.
Rotolight Neo 3 Light Kit – $1998.98
Rotolight Neo On-Camer LED Light – $399.95
Claim your copy of DAVINCI RESOLVE - SIMPLIFIED COURSE with 50% off! Get Instant Access!