Canon DSLR bodies might have been left in the dust by the rise of mirrorless cameras, offering superior image quality, 4K recording, smaller form factor, and better value for money compared to the expensive Canon DSLR bodies like the 5D mark III or the even more expensive 1DC. However, Canon EF lenses have been one of the most popular choices for video shooters using a GH4 or a Sony A7s. Adapting these lenses in general is not such a big deal on the A7s, which is a full-frame camera, but when it comes to the Micro 4/3 format (2.0x crop to FF), the difference in focal field of view becomes apparent.
Getting a really wide angle on a Panasonic GH4 isn't as easy as on an A7s, but on the other hand Micro 4/3 users can benefit from longer field of view on lenses compared to full frame. You lose on the wide end, but gain on the long end. Up until now, GH4 had to use either the Speed Booster "S", which offers electronic aperture support on EF lenses, or the Mark I EF to MFT adapter, which offers 5V external power support – handy for those BMCC MFT shooters.
The Speed Booster XL 0.64 will be available in two versions – Nikon F/G to MFT and Canon EF to MFT. The Nikon Speed Booster XL is currently priced at $479, while the Canon version is more expensive at $599 as it does support Electronic aperture control and Image Stabilisation, unlike the Nikon version, which features a manual aperture ring and does not support electronic functions.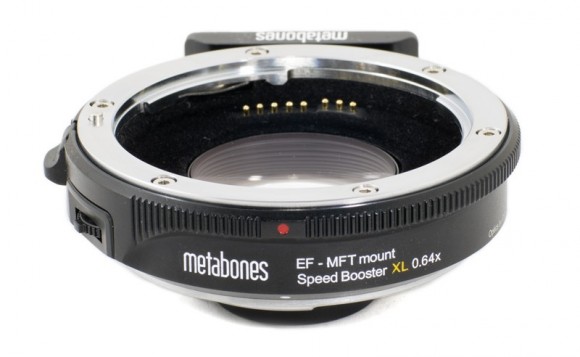 Earlier this week Metabones announced their latest addition to the Speed Booster lineup – the XL model, which has been specifically optimised to work with the Micro Four Thirds Panasonic GH4. Long awaited by the GH4 crowd, the Speed Booster XL has a 0.64x crop factor, which translates into a 1.28x crop to FF in Full HD, or 1.5x in 4K Cinema mode – which is the equivalent to the industry standard Super 35 format, highly desired by most video shooters.
Compared to the Speed Booster S EF to MFT (currently $599) for example, which was the go-to adapter for GH4 users who wanted to use Canon EF mount glass, has a 0.71x crop.
From Metabones:
Speed Booster XL 0.64x 
A new Micro-4/3 mount Speed Booster® adapter designed exclusively for the Panasonic GH4 and other selected Micro Four Thirds cameras (refer to the below camera compatbility table), with a magnification of 0.64x.  The Speed Booster XL 0.64x uses an advanced 6-element optical design to achieve extraordinary optical performance at apertures up to an incredible f/0.80, a new record for Micro Four Thirds format.
The new Speed Booster XL 0.64x reduces the full-frame crop factor of the Panasonic GH4 from 2.0x to 1.28x, thus effectively transforming these cameras into APS-H format.  When the GH4 is used in Cinema 4k video mode the horizontal full frame crop factor is reduced from 2.34x to 1.50x, thus effectively transforming the GH4 into a super-35 format 4k cine camera.  In addition, the speed of any attached lens is increased by 11/3 stops, with a maximum output aperture of f/0.80 when an f/1.2 lens is used.  For example, a 50mm f/1.2 becomes a 32mm f/0.80, which is the fastest aperture available for full size Micro Four Thirds format. (More information can be found in the press release here )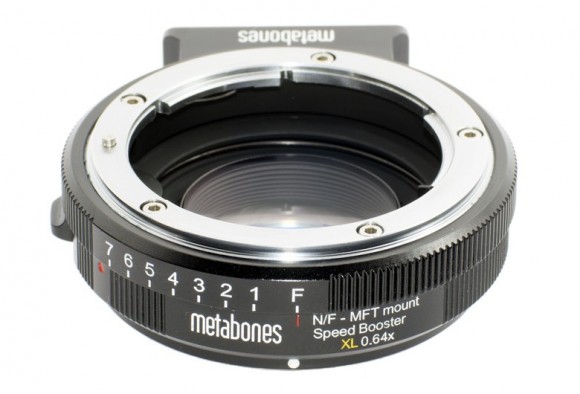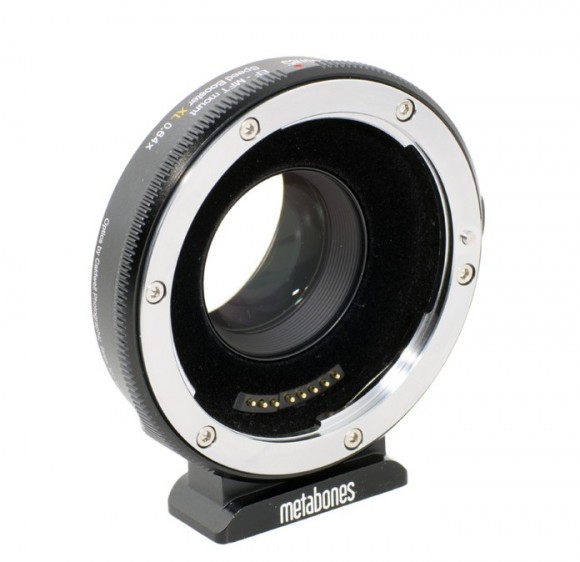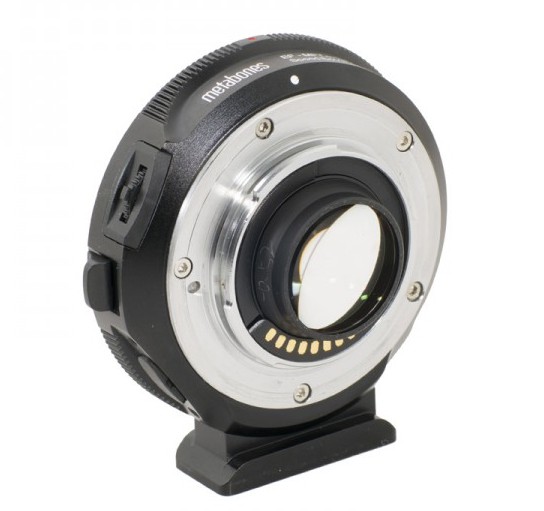 Key Features
Increase maximum aperture by 11/3 stops
Increase MTF.
Makes lens 0.64x wider.
Build-in electronics to control lens aperture.
The lens aperture is set by the controls on the camera body.
Powered by camera body. no external power source required.
High performance 32-bit processor and efficient switched-mode power supply.
The interior is painted with flocking coating to further reduce the internal reflection.
The tripod foot is detachable and compatible with Arca Swiss, Markins and Photo Clam ball heads.
Support Panasonic GH4, GH3, G3, G5, G6, G10, GF3, GF5, GF6, GX1, Olympus E-PL7, Blackmagic Cinema Camera with Micro Four Thirds mount**, Blackmagic Pocket Cinema Camera***
Metabones Speed Booster XL 0.64x Specifications:
Magnification:  0.64x
Crop Factor for  Micro 4/3:  1.28x
Crop Factor with GH4 in Cinema 4K (4096 x 2160) Video Mode: 1.5x
Maximum Output Aperture:  f/0.80 (with f/1.2 lens attached)
Rectilinear Distortion:  < 0.8%
Lens Elements/Groups:  6/4
Length Reduction:  6.2 mm
Camera Mount:  Micro 4/3
Image Format:  17.3 mm x 13.0 mm (Micro 4/3 format)
Here's more from Metabones:
The new Metabones Speed Booster XL 0.64x is similar to the Blackmagic-specific 0.64x BMCC Speed Booster (MB_SPEF-BMCC-BM1), but has been completely re-designed to meet the following requirements:
The working distance has increased by 1mm to permit use on the Panasonic GH4 and a number of other Micro Four Thirds cameras without touching the flexible outer cover of the camera's shutter mechanism.
The optics are optimized for a standard Micro Four Thirds filter stack thickness of 4mm rather than the 2.4mm found in Blackmagic cameras.
The image circle diameter has been increased to 21.63mm so that the full 17.3mm x 13mm Four Thirds format is covered.  This has been achieved while maintaining unusually high image quality over the 17.4mm image circle used by the Panasonic GH4 in its Cinema 4k video mode.
Although the Speed Booster XL 0.64x has extra clearance compared to the 0.64x BMCC Speed Booster, there are still a number of Micro Four Thirds cameras that are not supported due to mechanical clearance issues.  This is summarized in the table below, which is colour-coded so that Green means the camera is supported and Red means the camera is not supported.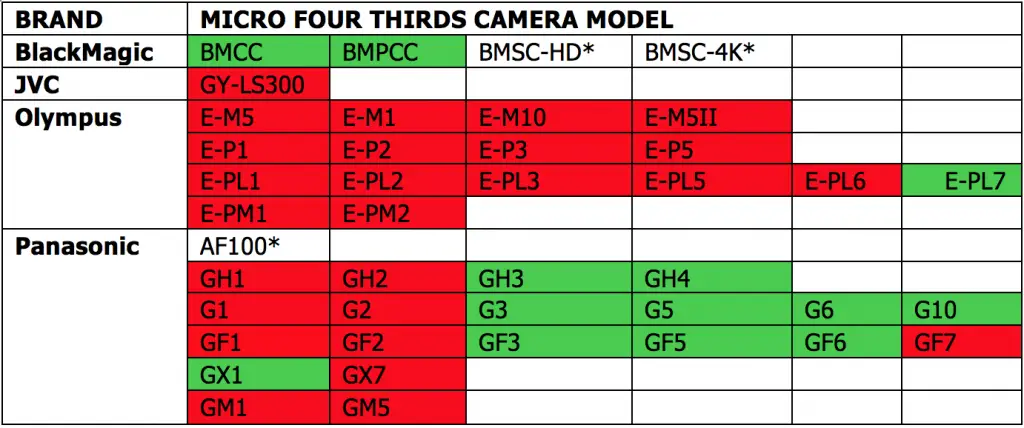 This is certainly good news for those like me who have a GH4 but held off on buying a Metabones Speed Booster, and looks like the wait might just pay off. For those who already own one, it shouldn't really be such a big deal as the FOV is comparable. Still having a dedicated adapter is a safe choice. Now, the only thing left to be improved on the GH4, in my opinion, is the addition of V-Log L, which will hopefully be released soon sometime this Summer.
For more information visit Metabones.
Claim your copy of DAVINCI RESOLVE - SIMPLIFIED COURSE with 50% off! Get Instant Access!