The Atomos Shogun 4K recorder just keeps getting better and better. The company continues with the schedule of releasing free firmware updates to give the unit even more functionality and now they are doing a new promo, which includes some really neat accessories thrown in for free to those who purchase the full version of the unit from authorised resellers and register their Shogun on Atomos' website (in addition to which users also get a 3 year warranty).
Dubbed the Shogun Action Pack – the included accessories are as follows:
Shogun Travel Case (Soft case)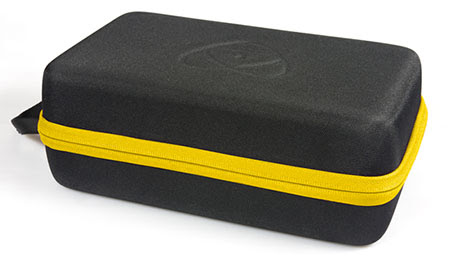 Shogun Armor – a Silicon bumper cover with a stand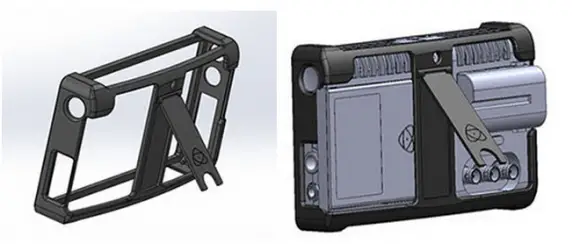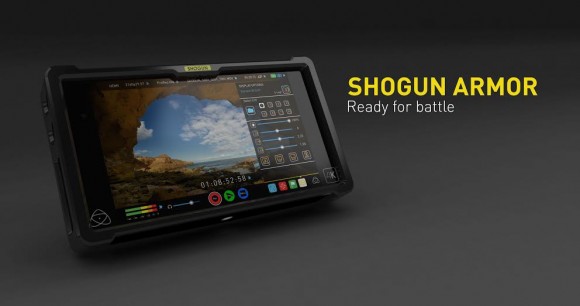 Matte LCD Protector – Anti-reflective, scratch resistance and removes polarisation through diffusion. This is a perfectly clear material and premium quality.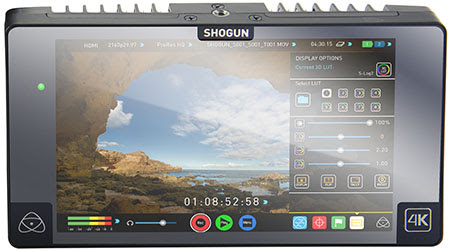 The Free Action Pack Promotion runs from 1st June to 30th June 2015. The Action Pack is sent from Atomos and is expected in July as items become available. All items will be sent at once in one package directly to the registered users address. Shogun users who have purchased the unit during the promo time will need to make sure that they register and provide a proof of purchase (upload receipt via the Atomos Registration portal).
The Action Pack is valued at $240 / £169 / €229 respectively and items will be available to purchase separately or together as a kit. These are substantial savings and right now may just be the best time to buy a Shogun, so if you were on the fence by now, this month is a good time to save yourself $240 and get those accessories for free, plus the full version does include a really nice HPRC hard case, the XLR break-out cable, and extra SSD caddies.
Existing Atomos Shogun users can also get 50% off the Shogun Action Pack in July. For more details head over to Atomos here.
Links:
Shogun 4K HDMI/12G-SDI Recorder and 7″ Monitor (Full Version) – $1,995 (B&H)
PRESS RELEASE
Melbourne, Australia 4th June – Newly announced Atomos have created a range of add on accessories designed to make the popular 4K Shogun monitor recorder even more battle ready in the field. The new accessories, together bundled as the Shogun Action Pack, include;
– Shogun Armor Case. A custom bumper which gives extra protection to the recorder/monitor from knocks and scratches.
– Matte LCD protection panel which reduces reflections, protects against scratches and diffuses light eliminating polarization.
– Lightweight and durable travel case. The perfect size for a camera bag in cases when you need to travel light.
– Custom fit Shogun sun hood (available in yellow or black) which maintains LCD clarity even in bright sunlight
Available to purchase separately or together as the Action Pack, Atomos are also sweetening the deal by offering the $240 Action Pack for free to users who purchase and register the full accessory version of the Shogun during the month of June.
"One of the advantages of having sold over 15,000 Shogun units is that we have passionate end users telling us what they need" said Jeromy Young CEO of Atomos. "The Action Pack accessories are a direct result of Shogun users reaching out to tell us what they want, and of course we listen and act"
The Atomos Shogun Action Pack is available now to registered purchases up to 30th June 2015, see www.atomos.com/shogun for details.
Claim your copy of DAVINCI RESOLVE - SIMPLIFIED COURSE with 50% off! Get Instant Access!