Getting a DSLR ready for serious field work isn't always as fun as it sounds. By the time you strap on an external audio recorder or an XLR pre-amp box, get your 15mm rails in, QR plates, shoulder support, counter-balance (or have your V-mount/AB plate will do that for you instead if your rig allows for it) the whole point of "small and nimble" setup for a run-n-gun style shoot has gone out the window. Getting a proper balanced rig for hand held use has always been a challenge for most, not just with DSLR users, but most large sensor camera shooters as well. Audio is the other big problem – as DSLR form factor cameras (including mirrorless in this category due to their size), at least up until recently didn't have many good audio options for getting professional audio into the camera.
The Sony A7s has an XLR kit which mounts to the hot-shoe, and the GH4 has the YAGH expansion unit, which does allow for pro audio I/O as well as SDI outputs, but that's not always a viable solution. The other options is to mount a pre-amp like Juicedlink or Beachtek for example, which will give you synced audio with pro XLR inputs, but this usually brings up issues with mounting such devices on rigs with magic arms flying around, wires dangling and all sorts of things that can be quite a hassle.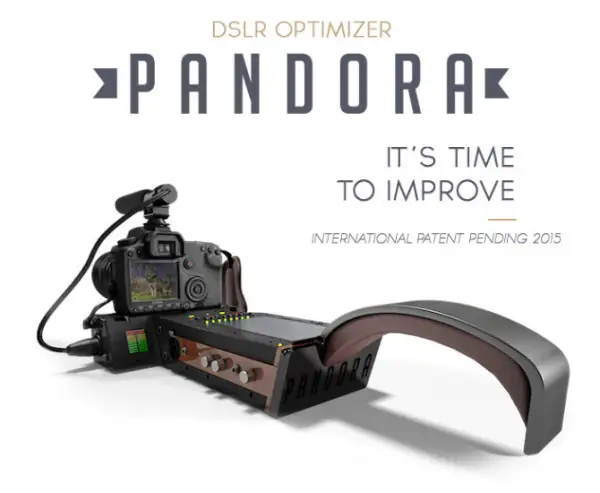 Rigs usually bulk up to monstrous proportions by the time all add-on have been connected, hence why the Pandora DSLR Optimizer will hopefully alleviate some of those issues. These guys just launched their Indiegogo crowdfunding campaign and are offering some impressive perks to backers.
The Pandora DSLR Optimizer is an all-in-one solution for your DSLR shooters looking for professional audio inputs and monitoring, long-lasting battery life, all in the form of a compact form factor which can serve as a stabilising rig while on the go.
The Pandora is compatible with all major DSLR manufacturers like Sony, Canon, Nikon and even Blackmagic cameras. So regardless of you have a Pocket Cinema camera or a 5D Mark III, you can get solid audio plus multiple monitoring tools, Phantom power, and so much more control over your audio. In addition, the unit features a Solar Panel, which lets you utilise the sun to charge your unit in addition the a standard micro USB port, which lets you use any cell phone battery pack or USB charger to charge your rig.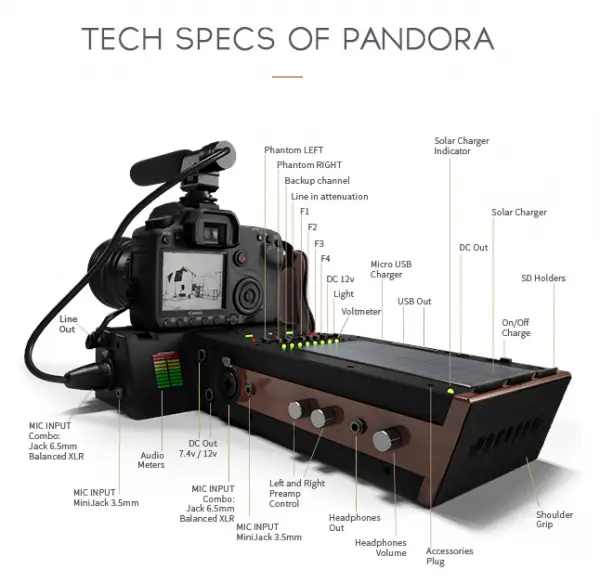 Pandora DSLR Optimizer Features
Audio
Dual Channel pre-amps
Audio bracketing – for safety track
Headphones output with volume control
Dual Channel VU Meters
-20db Attenuator
2 x XLR Balanced Inputs
2 x 1/4″ Inputs (6,5mm)
2 x 3.5mm Inputs
Phantom Power +48V for Left and Right channels
Gold connectors
Power
More than 14,000 mAh / 103 Wh power
Powered by 10 x 18650 Lithium-ion batteries
2 x USB 5V Outputs
2 x 7.4V DC Outputs for accessories
1 x 7.4V Output to camera
Solar Charger
Dual Voltmeter
There are also optional accessories such a Shoulder Bracket and a Top Handle as well. Early bird specials start at just $249 (a whopping 70% off expected selling price of $799) but it's only for the first 25 backers, so you might want to hurry up and claim yours. To help these guys out and find out more about the Pandora their campaign head over to Indiegogo..
Claim your copy of DAVINCI RESOLVE - SIMPLIFIED COURSE with 50% off! Get Instant Access!