With the latest technological advancements some quite exciting ongoing innovations in the world of Unmanned aerial vehicles (UAVs) are attracting more and more the attention of filmmakers and enthusiasts alike. I was literally blown away by the work and recent achievements of Nod – a creative hi-tech company based in Mountain View, California. The modest enterprise is found by a team of extremely talented engineers, scientists, and product managers who are actually former employees of companies like Amazon (Lab126), Apple, Google, Facebook, Jawbone, Samsung, NASA, Zee Aero, and HP Labs among others.
Last year Nod released the gestured controlled Nod Ring that could work with almost any Bluetooth-enabled smart device, some high-end drones included. Now the company has raised $13.5 million in Series A funding to continue developing and marketing the next iterations of their gesture recognition and motion tracking products.
Here is a sneak peek of what this piece of technology is capable of.
DJI Inspire and Nod Ring prototype integration from Eric Cheng on Vimeo.
In collaboration with DJI and Spark Aerial, Nod engineers managed to turn this futuristic concept into reality and showcased how by using the Nod Ring and Google Cardboard ( a live 360 video stream controlled by one's head) they can control the DJI Inspire 1 drone in real-time.
In essence, Nod Ring can seamlessly transform one's movements using precision skeletal tracking to fully experience VR environments, can command drones with a wave of a hand, and is able to even interact with user's favourite smart devices.The idea of natural interaction and making a product that essentially changes people's life is one of the main goals of the Nod team.
In the product design folio of Nod, you can also find the Nod Backspin. Just as Node Ring, Backspin seamlessly integrates motion tracking along with hand presence and traditional joystick in an all-in-one solution. The Nod products feature advanced algorithms providing the lowest latency among any other wireless controller you can find on the market these days.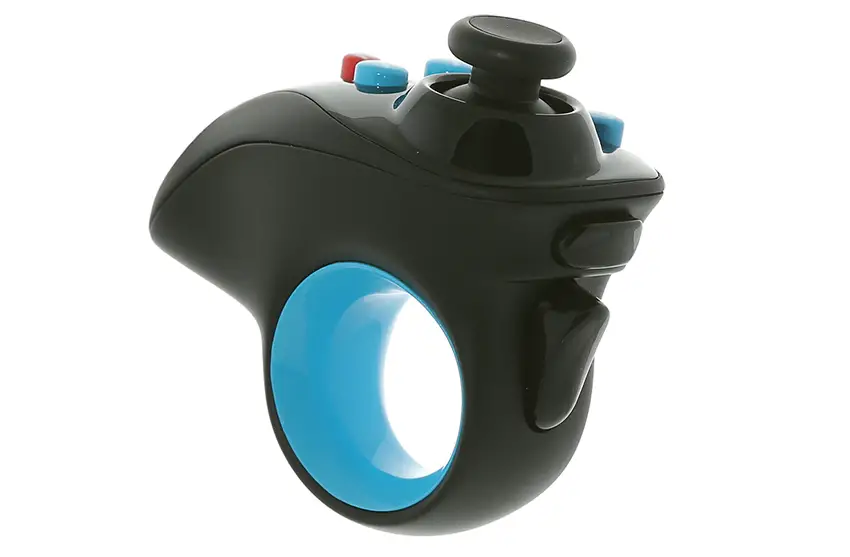 The devices are ergonomically designed to be worn for hours providing natural hand pose and seamless integration with your smart devices. The Nod Ring and Backspin work on all operating systems along with multiple VR platforms such as GoogleCardboard, Gear VR, Oculus, Zeiss VR One and others.
Although the use of the Nod and DJI drone interacting each other is very much at the prototype stage, the possibilities of controlling a UAV or any other similar smart device only with hand gestures is very exciting and is something that we will see more and more in the near future as the gestured controlled technology continues to evolve.
You can learn more about Nod products and claim yours by visiting Nod's website here. For better, or worse, it seems that the future is far closer than we generally think.
[via:Cinescopophilia, source: Nod]
Disclaimer: As an Amazon Associate partner and participant in B&H and Adorama Affiliate programmes, we earn a small comission from each purchase made through the affiliate links listed above at no additional cost to you.
Claim your copy of DAVINCI RESOLVE - SIMPLIFIED COURSE with 50% off! Get Instant Access!