Kessler Crane's brand has been synonymous with high-quality sliders, cranes, jibs and motion control systems for quite some time now, and universally embraced by professional filmmakers and enthusiasts alike. Their gear may not be considered quite affordable by conventional standards, but one thing is certain – Kessler make some seriously great quality kit, which will not only last a lifetime (as its backed by their Lifetime Guarantee) but also make your life on set a lot easier. Continuing the tradition of world-class quality and durability, Kessler recently released their new Pocket Dolly 3 camera slider.
The Kessler Pocket Dolly 3 still features the integrated drive belt for motion control but, the latest generation Pocket Dolly is now lighter, and comes standard with an integrated cart brake. The Pocket Dolly 3 features even more options for mounting accessories on the end blocks and has a built-in accessory lug for use with the optional crank handle and HD Flywheel, which will be released in the near future.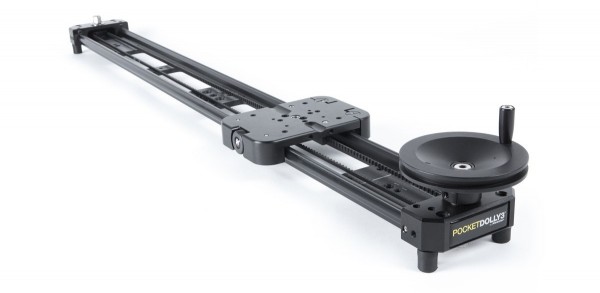 The new Pocket Dolly has a payload of up to 15 lbs. (about 7 kg) is ultra-portable and versatile and can also be fully motorised with any of Kessler's motion control systems and continues to provide the quiet, consistent and smooth camera movement that every generation of Pocket Dolly has been known for.
The Pocket Dolly 3 will be available in three sizes – Mini, Traveller and Standard with respectable lengths and travel of 21.25″ (13″) / 27.5″ (19″) / 39.5″ (31″).
Pocket Dolly 3 Features
Choose the perfect length for you out of 3 available sizes: Mini (21.25″), Traveler (27.5″) and Standard (39.5″)
The Pocket Dolly™ 3 was designed and built to last and can handle rigs up to 15 lbs. Using the highest quality, custom made components ensure when you're ready to work, your Pocket Dolly is too.
REMOVABLE CRANK/WEIGHTED FLYWHEEL
The included crank can be used for manual control and also acts a weighted flywheel to ensure smooth start and stops.
Now integrated into the cart for easy carrying and static shooting.
Easily add-on accessories like the Adjustable Crank Handle, HD Flywheel and more.
Several 1/4″-20 and 3/8″-16 holes placed carefully on the rail and end blocks for easy accessory rigging.
Adding on a motion control system is an easy upgrade. The Pocket Dolly 3 is compatible for use with elektraDrive™, CineDrive™, and/or Second Shooter™ motion control systems. Adding a motion control system to your slider will increase precision in movement and provide a platform to capture professional time-lapse, stop-motion and live camera movement.
Rubber feet come standard for tabletop and flat surface use. Upgrade to Outrigger Feet for more support and levelling options.
The Pocket Dolly 3 is capable of moves at any angle. Simply use a levelling device like the Low Profile Ball Head.
With 2 pan/tilt heads you can knock out jib type moves without investing in a separate jib.
Backed by our manufacturer's Lifetime Warranty, we guarantee that it is free from defects in material and workmanship, otherwise we'll fix it.
With the addition of the Parallax bar, easily add a panning axis to the slider.
I am quite fond of the robust All-Terrain Outrigger Feet as it would help levelling the slider on uneven surfaces, and also the fact that you can add accessories on the ends of the slider such as small LED lights or external monitors. If there is one thing that I wish would improve is the availability and price outside the US, as even though the Pocket Dolly starts off at the reasonable $649 USD, by the time it gets to Europe for example that price shoots up exponentially due to import taxes, VAT and high shipping costs.
I wish there were more reliable and cost-effective resellers in Europe, as over here in the UK the price on this slider would be close to a 8-900 GBP when you factor in VAT and such. So for those of you in North America, you could be getting a hell of a deal considering the quality of kit you're getting.
For more information head over to Kessler.
[via Cinescopophilia]
Claim your copy of DAVINCI RESOLVE - SIMPLIFIED COURSE with 50% off! Get Instant Access!