Recently, Dave Dugdale from LearningVideo.com had the chance to play around with two of the most popular pistol grip gimbal stabilisers available on the market today the PilotFly H1 Plus and CAME Single. He put them side by side for a quick comparison test. As a result, you can see the extended video review below he came up with. It will definitely give you some useful insights on both gimbals, especially if you still haven't got the opportunity to try them out on your own.
The video may also help you to make a  better informative decision which one of these gimbals is the most suitable for your personal workflow as there are certain differences between the two, not only in terms of features, design and form factor but also in the way they perform in a real-life shooting scenarios.
One of the obvious variations Dave spotted right off the bat was the way both stabilisers are calibrated. CAME Single is a tool-less gimbal which means that you only have to mount your camera, turn the device on and wait until it does the rest. Whereas the PilotFly H1 requires a lot more software tweaking mainly dependent on the camera and lens you choose to mount on it.
Yet, the CAME Single provides superior design and significantly longer battery life. Pilotfly H1, on the other hand, comes with a build in battery that will give you roughly about two hours of running time at the most. The latter also features an inverted mode, something that you won't find on the CAME Single.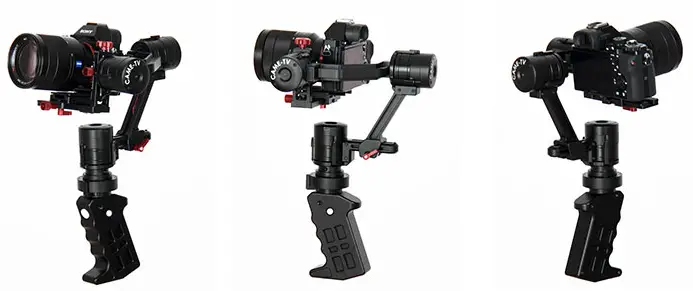 Regardless of the tool-less setup, Dave also noticed that balancing a camera with a heavier lens on the CAME Single may become an issue on certain occasions. This wouldn't be a problem if you were allowed to mess around with the PID settings of the device. Unfortunately, CAME-TV warns users not to modify or amend the PID settings of their gimbal under any circumstances.
As Dave concludes CAME Single is definitely more suitable for beginners, as an out-of-the-box solution, for those who simply want to mount their cameras and start shooting right away. Here are some of the other differences between the two pistol grip style stabilisers.
| | | |
| --- | --- | --- |
| | PilotFly H1+ | CAME Single |
|  Payload |  1,200g | 1,000g |
| Battery Life |  approx. 2 hours | 10 hours |
| Weight of Unit | 870g |  1,200g |
| PID Settings |  Various options available |  no modifications allowed |
| Board | 32-bit, dual IMU | 32-bit, dual IMU |
| Inverted Mode | Yes | N/A |
| Calibration |  requires further adjustments |  tool-less setup |
| Case | compact and light | Pelican case style |
| Price |  $791 |  $988 |
It's worth mentioning that if you really want to achieve super steady and smooth shots for your production with any of the devices you'd definitely need to use a camera with integrated IBIS system or, at least, a lens that provides some sort of image stabilisation. This is a major requirement that will significantly improve the workflow and final results while shooting on either of the gimbals.
All in all, these pistol grip stabilisers are extremely powerful and efficient filmmaking tools. As Dave claims once you start using them, you will never go back. For more insights and information on the topic head on over to LearningVideo.com
[source: LearningVideo.com]
B&H Order Links:
PILOTFLY H1+ Handheld Stabiliser
CAME-Single 3-Axis Handheld Camera Gimbal
Claim your copy of DAVINCI RESOLVE - SIMPLIFIED COURSE with 50% off! Get Instant Access!