Being a one-man-band and shooting a wide variety of projects can be pretty brutal at times, especially when you have to travel and lug around most of your kit. For many, grabbing your DSLR or mirrorless camera is not a big deal, but when you try and fit a dolly/slider, extra lenses, a tripod, a cage, sound kit, extra batteries, LED lights and anything else you'd need for a shoot, the weight adds up and portability becomes an issue. That's why, UK based outfit Scratch Ideas have turned to the worldwide filmmaking community for support on Kickstarter for their latest multi-purpose accessory for your Sony A7s, or Panasonic GH4 for example. Their creation is called LOKI and it combines a camera cage, a table dolly, an underslung and a shoulder rig all wrapped into one.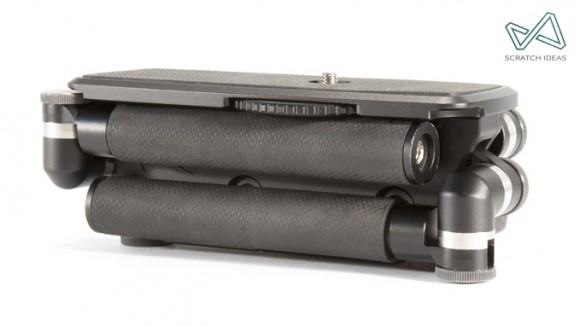 You can fold the LOKI to the size of the battery grip for your DSLR and best of all it can all fit in your camera bag. LOKI can then be set-up or transformed between modes in a matter of seconds, with the hand grips and shoulder stock ergonomically positioned to suit just about any type of shooting style, the three points of contact create a stable base for filming anything from documentaries to extreme sports.
LOKI features a rosette mount style steel locking plates on all the joints to offer loads of articulation, but more importantly, to ensure that once your rig is set-up, it will not move or slip. LOKI also allows users to capture more dynamic handheld shots, fold away the shoulder stock and rotate the handles up to create a Basic Cage. To add accessories such as monitors, light or microphones, attach the Cage Bar Module to the handles for extra 1/4″-20 mounting points.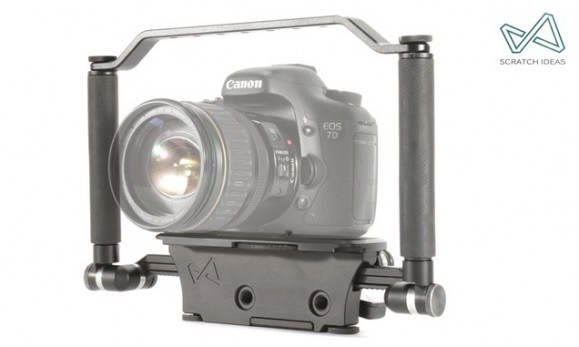 Low-angle shots and more difficult and obscure camera angles are possible thanks to the Underslung Module. This small unit quickly locks onto your camera's hot shoe and you can reposition one of LOKI's hand grips to complete the rig. The serrated steel locking plates allow you to vary the handle position through 180 degrees to create a simple, light weight and dynamic rig.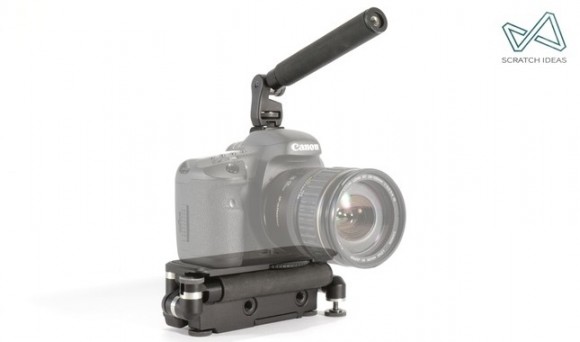 The LOKI features a custom quick release mechanism on the hand grips allows for the handles to be replaced with the LOKI Dolly Modules for smooth linear and radial tracking shots. Simply set the angle of the wheels and the pitch of the camera and away you go.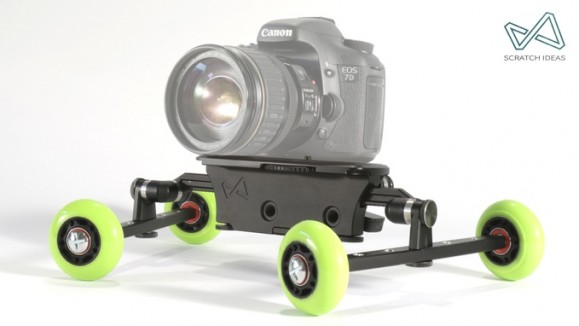 As well as being able to transition between all of these rigs, the creators behind LOKI wanted to make sure the unit can fit a variety of production workflows. A tripod mount on the bottom is included, so that users can attach a quick release plate or monopod and move between static and handheld shots in seconds. Industry standard 15mm LWS rods that screw into the front of LOKI are also present, so you can add accessories such as matte boxes or follow focuses to bulk up and customise the rig as you need.
LOKI has a standard 1/4″-20 thread meaning it can attach to almost any camera such as the Blackmagic Pocket or BMPC 4K, or even cameras like the Canon EOS C100 and/or mirrorless cameras and even GoPros or smart phones.
Scratch Ideas are looking to raise £25,000 for tooling and production costs and are offering LOKI full set packages at special Kickstarter backer prices starting at £350. The LOKI is expected to ship in January next year. For more information and to claim yours head over to their Kickstarter page.
Claim your copy of DAVINCI RESOLVE - SIMPLIFIED COURSE with 50% off! Get Instant Access!