IBC 2015 is officially underway and what would be a major industry trade show without new lenses. We've already seen the SLR Magic announcing new affordable Anamorphic lenses, and now Zeiss just announced Milvus – a new line-up of prime lenses for stills and video work. The new Zeiss Milvus line-up includes a 21mm f/2.8, 35mm f/2.0, 50mm f/1.4, a 50mm f/2.o Makro, 85mm f/1.4, and 100mm f/2.0 Makro primes. The lenses will be available in both Canon EF and Nikon F mount and offer full-frame 35mm coverage, which is great news for Canon 5DS, Nikon D810, and even Sony A7R II shooters out there, who can benefit from the short flange distance of their E-mount and adapt the new Milvus lenses via appropriate adapters like the Metabones Smart Adapter Mark IV/Speed Booster or other more affordable variants.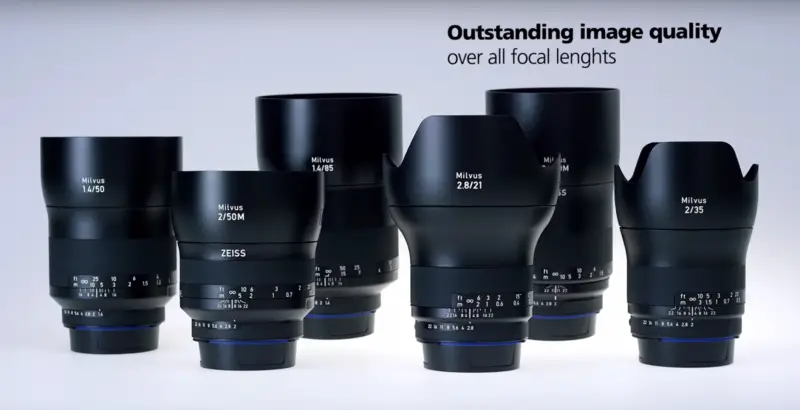 The new Milvus line of primes continue the now trademark super-slick Zeiss futuristic design resembling something out of 2001: A Space Odyssey. The Milvus primes continue the design tradition that started with the Touit line, then through the Otus and more recently the two Batis 25mm and 85mm primes for E-mount Sony cameras.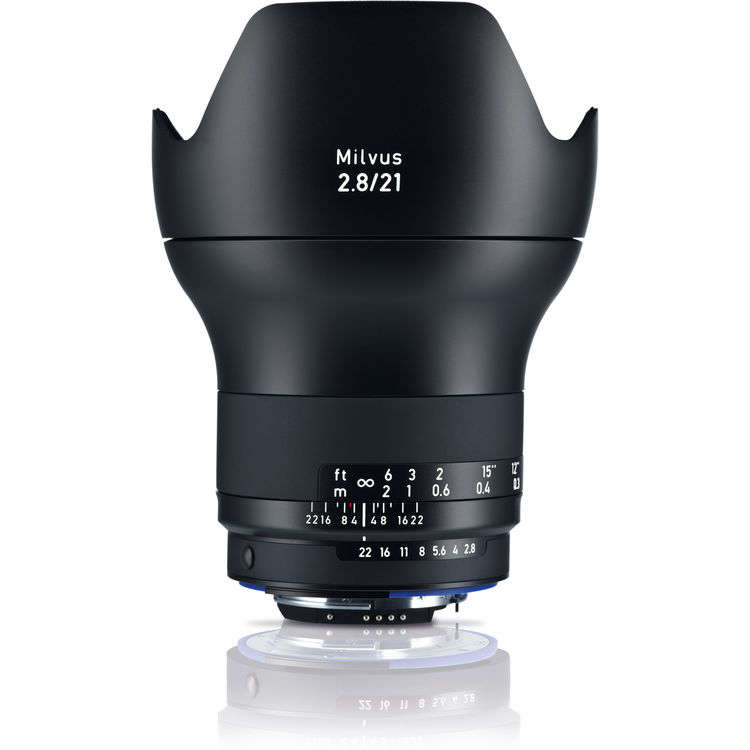 Features (Milvus 21mm f/2.8 Nikon F mount)
This 21mm f/2.8 lens is designed for FX format Nikon F mount DSLRs, and can also be used with DX models where it will provide a 31.5mm equivalent focal length
Distagon optical design incorporated four anomalous partial dispersion glass elements to greatly control distortions and aberrations, as well as increase sharpness and clarity.
Floating elements system maintains consistent performance when working with both close-up and distant subjects.
Enhanced Zeiss T* anti-reflective coating controls ghosting and flare for high contrast, color-neutral imagery.
Wide-angle perspective pairs with a minimum focusing distance of 8.7″ for exaggerating foreground subjects and creating a broad sense of space.
Manual focus design is benefitted by laser-engraved focusing and depth of field scales, along with an IR position dot and hard stops at both infinity and minimum focusing positions.
The manual aperture ring has clicked indicators throughout aperture range. Using the included De-Click Tool, this ring can be mechanically 'de-clicked' for smooth, silent rotation throughout the aperture range; making it ideal for video applications.
Weather-resistant construction includes internal seals to guard against dust and moisture as well as a blue sealing ring at the lens mount to protect the lens-camera interface.
All-metal lens barrel has a frosted, anodized surface along with a rubberized focusing ring for both durability and improved tactile control.
Here's more photos of these beauties:
According to Duclos Lenses, Zeiss has designed the new Milvus primes to cope with gigantic modern sensors up to 50mp, "which means that there will be absolutely no problem using these on 8K+ sensors for cinema work. There are improvements in the control of ghosting and flaring throughout the entire focus range and colour matching to boot."
Unique to the ZF.2 Nikon F mount Milvus lenses is the ability to de-click the apertures, enabling smooth control that is well suited to video shooting. This is something that is probably familiar to those who've used the Loxia lenses for Sony mirrorless cameras. Sadly, the Canon EF versions of the Milvus lineup, do not have an aperture ring so you have to change it through your camera. Keep in mind these lenses are based on the classic ZF.2 optical designs, which has not been around for decades and these lenses are fully manual. So no autofocus here.
The new 50mm f1.4 (non-Makro) and 85mm f1.4 feature improved optical designs compared to the classic ZF.2's from years past. The 50mm has Distagon-type optical construction that uses 10 elements in nine groups, with four elements using anomalous partial dispersion glass and one using an aspheric design. This should improve performance when shooting wide open, along with exceptional control over ghosting and chromatic aberrations.
The 85mm, on the other hand, implements a Planar-type design with 11 elements in nine groups with seven anomalous partial dispersion elements. This portrait-length prime has a spherical design that allows great control over depth of field, with a smoother transition between the areas in and out of focus. Additionally, Zeiss points out that these lenses are the best in their class, second only to its own top-of-the-line Otus.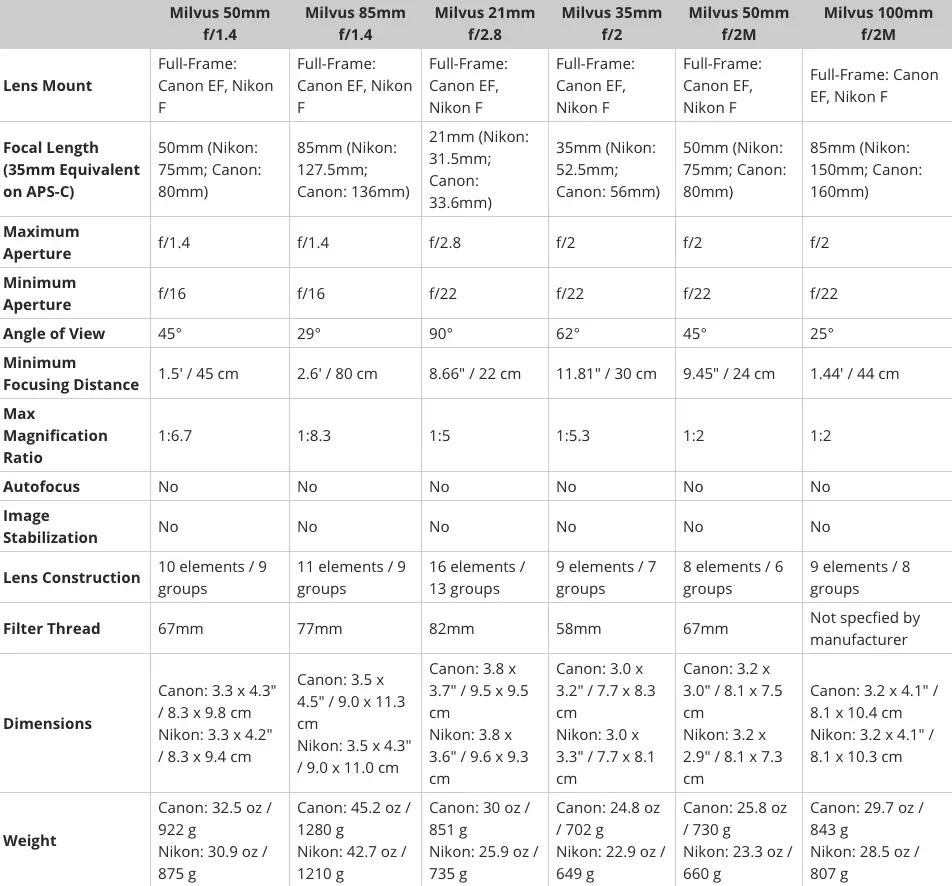 The new Zeiss Milvus primes can be pre-ordered from B&H here, with pricing ranging from $1,117 for the 35mm f2.0 to $1,843 for the 100mm F2 Makro.
[via B&H Explora/Duclos Lenses]
Claim your copy of DAVINCI RESOLVE 16 - SIMPLIFIED COURSE with 50% off! Get Instant Access!