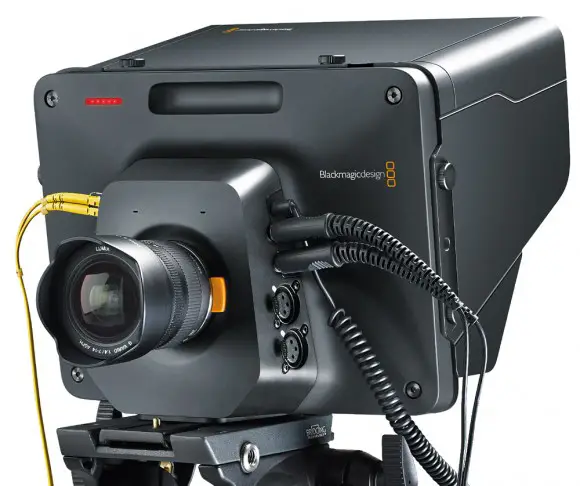 According to Blackmagic Design, the price drop resulted from user feedback as "…many customers are not using the optical fiber connection and had asked if a model without this premium and costly option could be released. With the optical fiber now excluded from the camera, the camera can be sold for a lower price. This suits the many customers who simply want to use the camera via its regular BNC SDI connections. The SDI connections on the Blackmagic Studio Cameras feature cutting edge technology and are 12G-SDI for up to 2160p60 on the Ultra HD model."
When a customer decides they want to add optical fiber, they simply purchase any SMPTE standard optical fiber SFP module and plug it into the camera. This then allows extremely long cable lengths which means that cameras can get close to the action and be located as far away from the switcher as required.
The HD Blackmagic Studio Camera model is now $1,695 and the Ultra HD Blackmagic Studio Camera 4K model is now $2,495. Both models are available now, from Blackmagic Design resellers worldwide.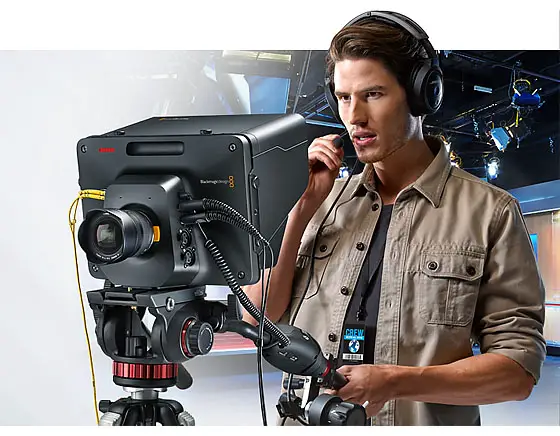 In case you're not familiar with the Studio cameras from Blackmagic here's more info below:
Blackmagic Studio Camera is one of the most advanced broadcast cameras for live production because it includes features specifically targeted at the requirements of live production, such as large viewfinder, talkback, tally, user installed optical fiber and a super strong metal design.
Inside the incredibly tough and lightweight magnesium alloy body, the Blackmagic Studio Camera features a very large 10" viewfinder, long duration 4 hour battery, talkback, tally indicators, phantom powered microphone connections and built in SDI connections. The Blackmagic Studio Camera includes a massive 10 inch screen that allows incredible creativity when framing and accurately focussing. The viewfinder's LCD is extremely bright and has a very wide viewing angle so it is perfect for use even in direct sunlight.
The Blackmagic Studio Camera features an active Micro Four Thirds lens mount that is compatible with an incredibly wide range of lenses and adapters. This allows customers to use high quality photo lenses for smaller setups or fixed camera use.
The Blackmagic Studio Camera supports the tally SDI standard used on the ATEM range of live production switchers and tally lights illuminate automatically with a light on the front for talent, and a light above the viewfinder for the operator, making it easy for the cast and crew to see which cameras are on air.
To allow independent operation when there is no power available at the camera location, the Blackmagic Studio Camera also includes a massive 4 hour battery that means the camera has enough power for use on long live productions as well as setup time before the event starts.
B&H spoke with a Blackmagic Design rep at NAB 2014 about their Studio Cameras.
Key Features
High resolution 1920 x 1080 sensor in HD model and Ultra HD sized sensor in 4K model.
Built in large 10 inch super bright wide viewing angle LCD viewfinder with sun shade.
Optical SMPTE compatible SFP optical fiber socket allowing user installed optical fiber.
3G-SDI on HD model for up to 1080p60 and 12G-SDI on 4K model for up to 2160p60.
Compatible with high quality Micro Four Thirds lenses. Compatible with other mounts via common third party adapters such as B4 broadcast lens mount.
Built in, two way digital quality talkback using high quality affordable general aviation headsets.
Includes front and rear tally indicators using tally over SDI protocol.
Features all standard connections, including dual XLR balanced mic/line audio in with switchable phantom power, headphone and microphone jack for talkback, LANC remote control and standard 4 pin XLR broadcast standard DC 12V power connection.
On screen menus for all camera settings.
Supports 23.98, 24, 25, 29.97, 30 and up to 60 fps in HD model, up to 60 fps in 4K model.
Compatible with ATEM range of live production switchers.
While this is certainly great news for small studios looking to upgrade their cameras for example, the question is – is the price drop somehow related to anything new coming out from Blackmagic Design at UBC 2014? The 2nd biggest industry trade show is just three weeks away and one may wonder what Blackmagic may gave up their sleeve. As a reminder, last year the company announced new PL mounts for their BMCC and Production camera, and in a few weeks time we'll see if any new products will be announced.
Of course we can't go without mentioning the elephant in the room – where are all the new cameras announced at NAB 2015? BMD has held a few events between April and August demoing the new URSA Mini models, but there is no word yet on when the cameras will actually be shipping. July has come and gone, and as usual with new Blackmagic cameras, delays are to be expected. With some resellers expecting shipments in September and even October, at the moment it is nearly impossible to foresee when these cameras will ship. My prediction is there may be a few refreshed versions of some products if anything, but nothing big, as they have to start shipping the previous batch of announced products first…
We'll do our best to get more details from them at IBC and hopefully see the Micro Cinema and URSA Mini cameras trickle down to anxious pre-order shooters.
B&H Links:
Blackmagic Design Studio Camera HD – $1,695
Blackmagic Design Studio Camera 4K – $2,495
Adorama Links:
Blackmagic Studio Camera MFT – $1,695
Blackmagic Studio Camera 4K MFT – $2,495
Claim your copy of DAVINCI RESOLVE - SIMPLIFIED COURSE with 50% off! Get Instant Access!