Having a light-weight and portable, but also dependable and high-quality LED light these days is hard to find. The ones who tick all the boxes are usually quite expensive. However, the good folks at Blind Spot Gear have a really flexible and convenient LED light that may change the way your work. Of course, I am talking about the Scorpion Light, which we've covered before here, but up until now it was only available initially to either Kickstarter backers or to buyers in the UK and EU sold directly trough Blind Spot Gear. We have some great news for shooters based in the US, as you can now buy the awesome Scorpion light from B&H, starting at $269 for a single unit. The lights are available as a kit of 4, including a travel hard case and for a limited time only – you can get 2 Extra Scorpion lights for FREE when you buy a set of 4 for $995.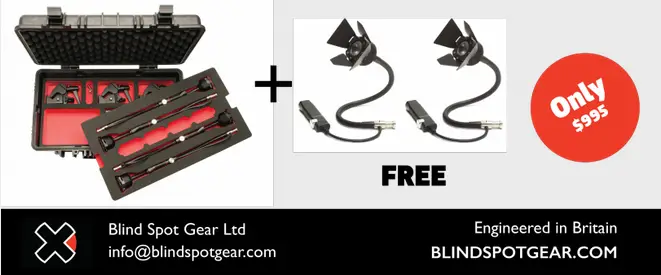 Due to its compact size and flexibility, the Scorpion Light can be mounted virtually in just about any position and used in a variety of ways. Because it features a flexible gooseneck design and battery operation – it can be used to offset the lens as to avoid frontal flat lighting, you'd get normally from on-camera LED lights and provide a more dramatic and pleasing side lighting. Thus making it also ideal for Steadicam/Handheld 3-axis gimbal stabiliser shots, dolly and crane shots where a lightweight fill light is sometimes required.
For those not familiar yet with the Scorpion Light, The project was started by Billy Campbell, a freelance cameraman who's worked for the likes of BBC, BBC3 and Channel 4, where he had a chance to experience some of the best lighting equipment on the market. The idea for the Scorpion Light was born out of the necessity for low-cost lighting systems that meet the quality standards of today's professional filmmaker, which at the moment on the market there are none.
To learn more you can listed to our interview with Billy in Podcast Episode 41.
The Scorpion Light Walk Through from Blind Spot on Vimeo.
Scorpion Light Features
Flexible Gooseneck for Positioning
CRI: 94
75W Halogen Equivalent Output
Color Temperature: 5700K
Beam Angle: 36°
Flicker-Free Dimming from 0-100%
5/8″ Baby Pin with 1/4″-20 Female Thread
Power Draw: 15W
Battery and AC Power Options
Steel, Brass, and Aluminium Construction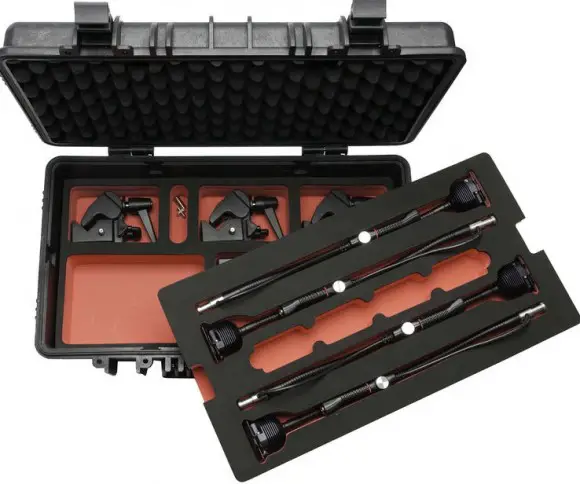 The combination of the 4 Scorpion Lights makes a really versatile interview lighting kit for shooters on the go, such as documentary filmmakers and corporate video shooters. You can virtually set these up on almost any surface thanks to the included Super clamps, built in dimmer, and also possibly most important of all – battery power by Sony NP-F (L Series style) batteries, which are very popular and affordable.
Check out this Interview lighting tutorial by Billy Campbell from Blind Spot Gear on how you can get the most out of your Scorpion lights.
Using the Scorpion Lights for an Interview Set-up from Blind Spot on Vimeo.
For more interview lighting tips check out this post here. The 2 FREE lights offer is also available to EU/UK buyers – you can head over to Blind Spot Gear direct to get your Scorpion Light set.
A set of 4 with the battery power and AC power options will cost you £853 + VAT. If you want just the batter power option on 4 lights with no AC power option – you can have those for £774 + VAT.
The US price is $995 for a set of 4 + 2 Extra FREE Lights (including hard case, super clamps, magnetic gel holders and 1/4″ adapter) at B&H. They expect to start receiving stock of the Scorpion Light in October. The 2 Extra Free Lights promo ends September 30th.
B&H Links:
Scorpion LED 4-Light Set with 2 Extra Daylight Heads (2 Daylight & 2 Tungsten) – $995
Scorpion LED 4-Light Set with 2 Extra Daylight Heads (4 Daylight) – $995
Scorpion LED 4-Light Set with 2 Extra Daylight Heads (4 Tungsten) – $995
Scorpion LED 4-Light Set with 2 Extra Tungsten Heads (4 Daylight) – $995
Scorpion LED 4-Light Set with 2 Extra Tungsten Heads (2 Daylight & 2 Tungsten) – $995
Scorpion Daylight LED Light – $269
Scorpion Tungsten LED Light – $269
Claim your copy of DAVINCI RESOLVE - SIMPLIFIED COURSE with 50% off! Get Instant Access!