The Blackmagic Design Video Assist was announced back at NAB 2015 in Vegas and ever since then it has been some of the most awaited new video products of 2015. With a full HD 1080p touch screen display, 6G-SDI and HDMI connections as well as the ability to record 1080p ProRes internally to SD cards, the Blackmagic Video Assist, priced at $495 became a top item on the shopping list of many shooters. Back in November, the Video Assist received its first firmware update, and now Blackmagic Design just released firmware update 1.2 for the 5-inch Video Assist monitor/ProRes HD recorder adding some very useful new features such as Avid DNxHD codec support, HDMI start/stop recording trigger, timecode support for the Canon 5D Mark III, extended Zebras and a lot more.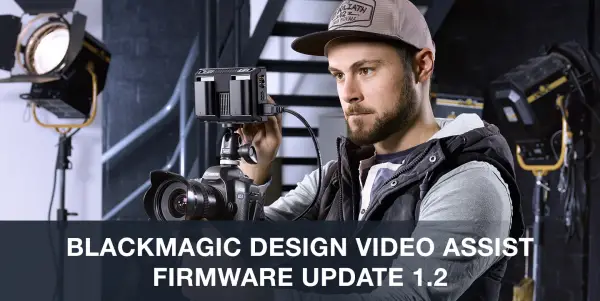 Blackmagic Design Video Assist Firmware Update 1.2 
Adds Avid DNxHD codec
Adds extended Zebra range
Timecode support for Canon 5D Mark III
Adds SD card record time remaining on status overlays
Adds Clip Playback information panel
Adds HDMI Start/Stop record trigger
Support for SDI Level A signals
The latest update also fixed the date bug on the VA and allows users to also use the new and more affordable Lexar 1000x UHS-II SDXC cards, a 2-pack of which can be picked up at B&H for $69.99.
Download Firmware 1.2 for Video Assist from Blackmagic Design here.
Order Links:
Blackmagic Design Video Assist – $495 (B&H)
Blackmagic Design Video Assist – $495 (Adorama)
Claim your copy of DAVINCI RESOLVE - SIMPLIFIED COURSE with 50% off! Get Instant Access!