GoPro is not only the most popular and versatile 4K camera in the world but now it takes the filmmaking experience and marketing of videos captured by the GoPro creators community in particular to a whole new level. If you are a seasoned professional using your GoPro on a daily basis the chances are you can earn some cash from your videos as well.
The company just announced a platform that lets content creators license videos and images to brands and media companies, thus making possible monetization of some of the best well-crafted professional pieces available. The main concept behind the platform is providing only high-quality videos to consumers, so you'd better have some teasing high-production videos if you want to be approved for the program.
The high-end offering is "all about inspiring creative professionals to use beautiful imagery, incredible stories, and rich data created by GoPro and GoPro creators."
The portal is unique in that it offers high production value content eliminating the clutter creative professionals usually come across when sourcing content and dealing with copyrights, licensing etc. The platform also provides enhanced discovery based on rich meta-data, visual watermarks ensuring that the use of the pre-licensed content is secure, ability to download low and high-resolution file formats with batch download functionality,  license request tracking and reporting and more.
To access the platform, you need to apply first. Currently, GoPro Licencing allows registered users to preview videos, download them in different resolutions and formats, as well as look for specific content through the search box. There are only 500+ videos available at the moment, some 4K high-production clips included.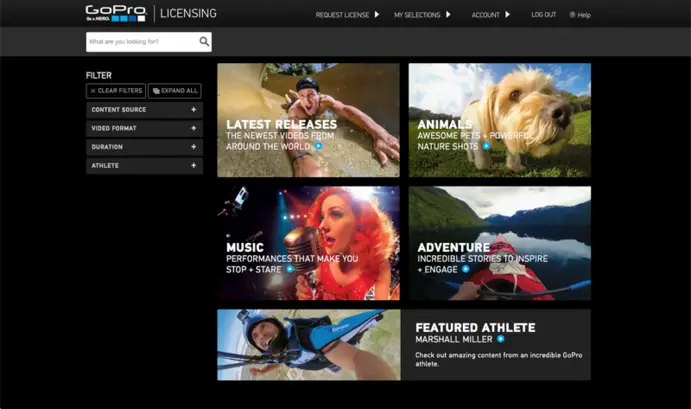 As for the pricing scheme and percentage a content creator will get per download, this information is still not officially disclosed by GoPro. According to TechCrunch, videos will start at $1,000 a piece with a six months license. Yet, it's unclear how much of that fee is retained by GoPro and what is the percentage split for the authors of the videos.
If you are a creative professional and you have some breathtaking GoPro clips on your computer waiting to be unveiled to the world – request access to register through the following link.
[via TechCrunch, source: GoPro]
B&H Order Links:
Claim your copy of DAVINCI RESOLVE - SIMPLIFIED COURSE with 50% off! Get Instant Access!